Mini videographers and photographers are gaining popularity in a world full of cameras. It was from a very young age that Alivia discovered her love for taking photos and admittedly.. I was a little bit scared letting her use my DLSR. After much pleading I would inevitably give in tightening the that strap as much as I could but there's only so much little hands can carry – and my camera is not the lightest out there!
Then we were introduced to the Vtech Kidizoom line… my camera is mine again!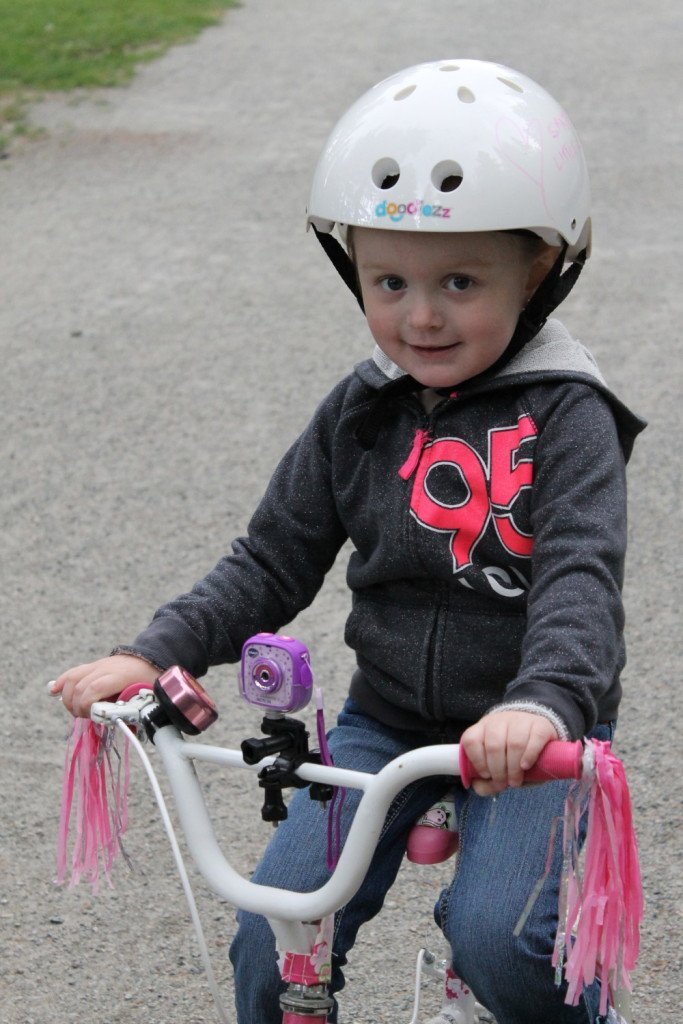 The rise in popularity of action cams and wearable devices is now reaching kids – but in a more durable and affordable way!
I was so thrilled when Alivia received her very first camera last Christmas, a Vtech Kidizoom one that has been well loved – and dropped more times then I can count. It's been her favorite for capturing all her memories on adventures and it grants mom a bit of serenity in the car when she can play the fun games on it.
When I learned of Vtech's newest addition to the Kidizoom family I had to check it out – the new Kidizoom Action Cam boasts the same fabulous features as most Vtech toys – specifically being durable enough to last being a kid but also some fabulous new features – including a waterproof case good for up to 6 feet underwater, 2 mount options and an expandable memory – with all of these new features it's easy to see why this quickly became a favourite in our home. Alivia has mastered taking stop action videos and photos, and playing all of her videos back for mom and dad.
This camera is small enough to fit into little hands but big enough to snap those fun action shots, and of course the best part is being able to add some fun photo frames and share them with their friends!
Alivia had a lot of fun swapping her camera out from on her bike to the waterproof case and carrying it around the lake with us, with the secure strap I wasn't as worried about losing it IN the lake as I normally am when she gets a bit too close. She was able to switch easily between video and camera with the push of a button on the top of the case on her own – she was so proud!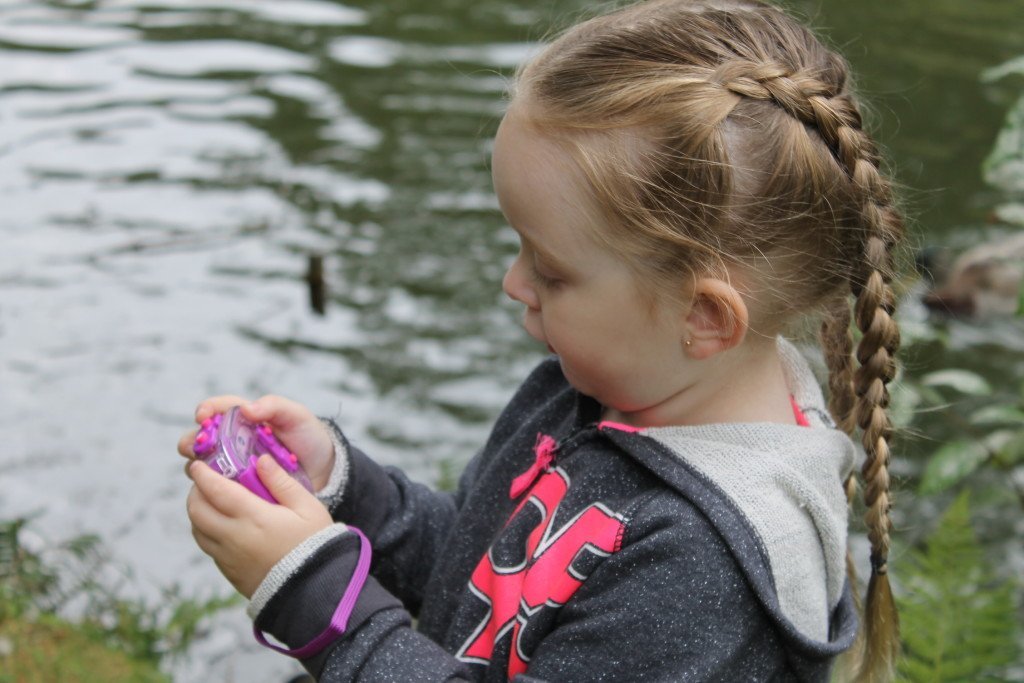 As much as Alivia loved the Kidizoom ActionCam it was me who was most impressed – I absolutely loved how easy the bike mount was to install in the parking lot at the park (because I totally didn't pre-plan!), the different mounting options thanks to the ingenious mount system and how secure the camera felt once clipped into the holder, even over super bumpy uneven trails the camera stayed put! The one button touch to start a video recording was another favourite of mine, there was no stopping to fiddle with the camera on our walk, she could hit the button and keep moving – making it an innovative way for kids to capture their adventures – and quickly!
And as a mom, I can't help but not share my love of the waterproof camera. There's something to be said about fun bath times, trips to the lake and the pool. I always loved taking underwater photos growing up and Alivia is no stranger to the same now! The camera is safe for up to 6 feet underwater, making it the perfect accompaniment for trips that involve water and little scuba adventures.
I expect the Vtech KidiZoom ActionCam will be a hot toy on many lists this year, at a suggested retail price of $69.99 it makes for an affordable gift idea that's sure to please any active kid and any parent – with the Vtech durable toys reputation you'll know this gift will last and grow with your kids. Want to start your Christmas shopping early? Grab yours at Toys R Us, Mastermind Toys, Amazon.ca and Vtechkids.ca.
Product Details:
1.4 inch colour LCD screen (128 x 128 dots)
Photo/video capture (2.24"H x 2.24"W x 0.9"D)
Waterproof case
Mounting accessories for bikes and scooters
Wrist strap
Three built-in games
Stop motion, time-lapse and multi-shot options
Special effects including customized photo frames and color filters
Kid-durable design to withstand drops and bumps
Rechargeable Li-ion Polymer battery (Approximate continuous photo taking and recording time is 2.5 hours)
Micro USB cable for data transfer and battery recharging
Expandable memory up to 32 GB with Micro-SD card (sold separately)
Choice of yellow/black or purple colours
{Disclosure: We were provided with a sample to facilitate our review, all opinions are our own}