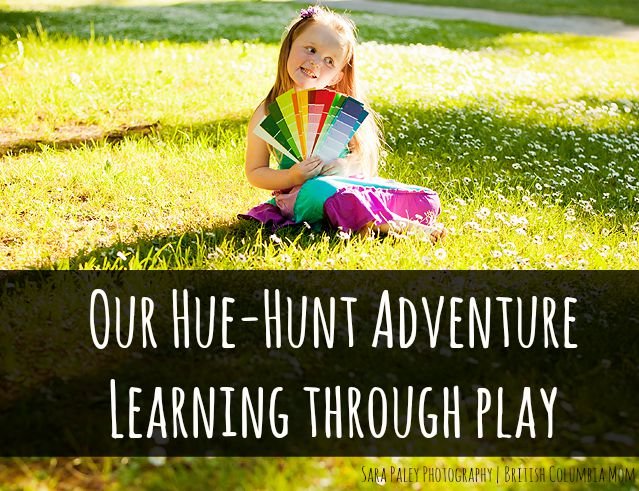 There's something to be said about letting kids just be kids. As parents, we are always in a rush to teach them the next big life lesson. How to spell their name, how to read, how to ride a bike and swim.. I've learned recently that the best way for me to help Alivia learn is to step back and just.. let her learn.
Just recently we went on an adventure to Central Park in Burnaby for a fun photoshoot with Sara Paley from Sara Paley Photography, I met her at a mommy meet-up and think she's pretty fab – so when she asked us to do a fun photo shoot I wanted to try something new! I hit my local paint store and grabbed a bunch of nature colored paint strips and planned our adventure..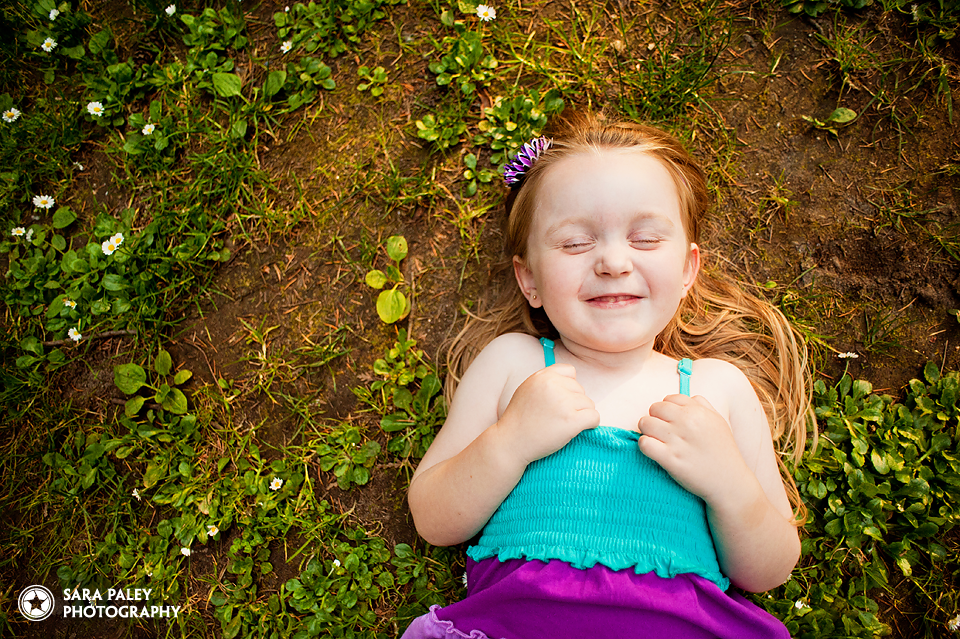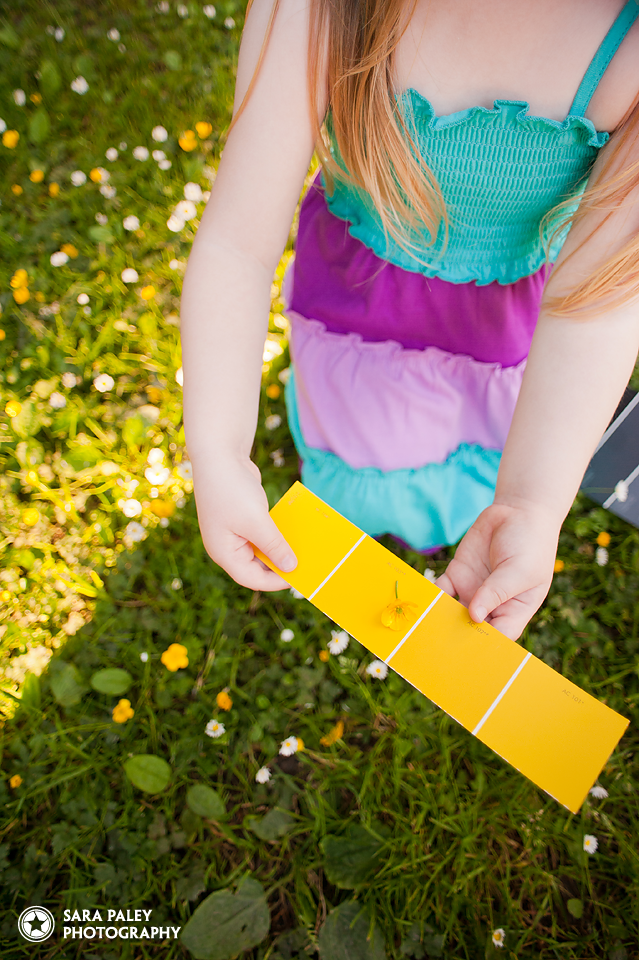 We used the photoshoot as an excuse to explain different shades of colours on her paint strips, she was pretty stoked to see 3 different colours of yellow in a patch of wild flowers.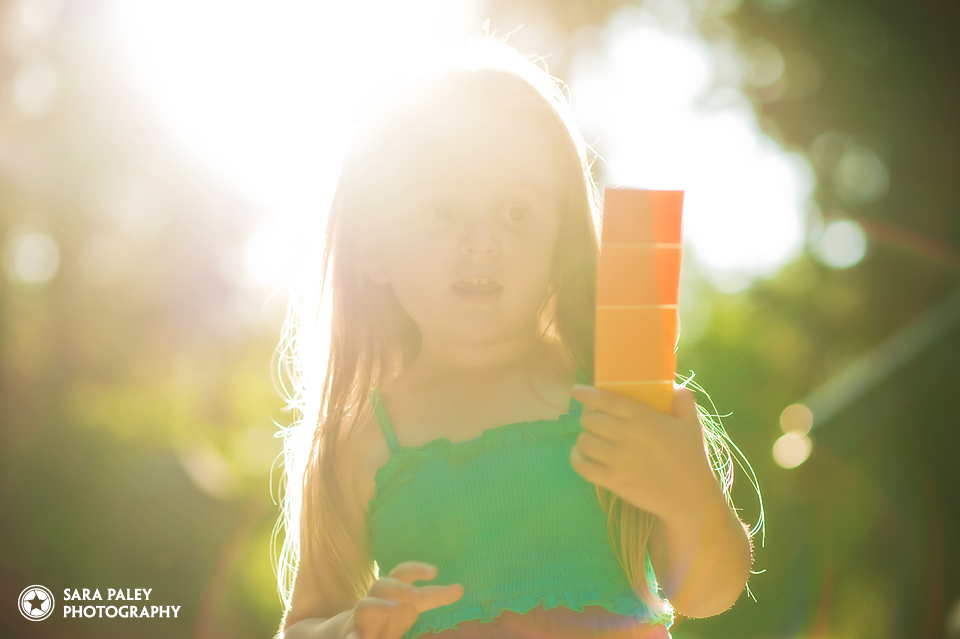 Our strategy for a successful photoshoot was pretty easy – I needed to go away. It was lots of fun watching Sara work with Alivia from afar and seeing the excitement in her eyes when she discovered a new color on her Hue Hunt! Alivia is sometimes quite shy with new people so I was immediately impressed at how quickly she warmed up to Sara and started posing and following her around. Sara is also a mom, so she understood the challenges of a strong-willed 4 year old! She was endlessly patient and let Alivia be her silly self through the whole shoot.
Alivia loves nature, she's most happiest on a nature walk discovering new trees, plants and running down new paths.. She's a hands on getting dirty kind of kid and we wanted the true "kid" to come out – right down to rolling in the dirt, climbing up on rocks and walking through the bush to the biggest trees!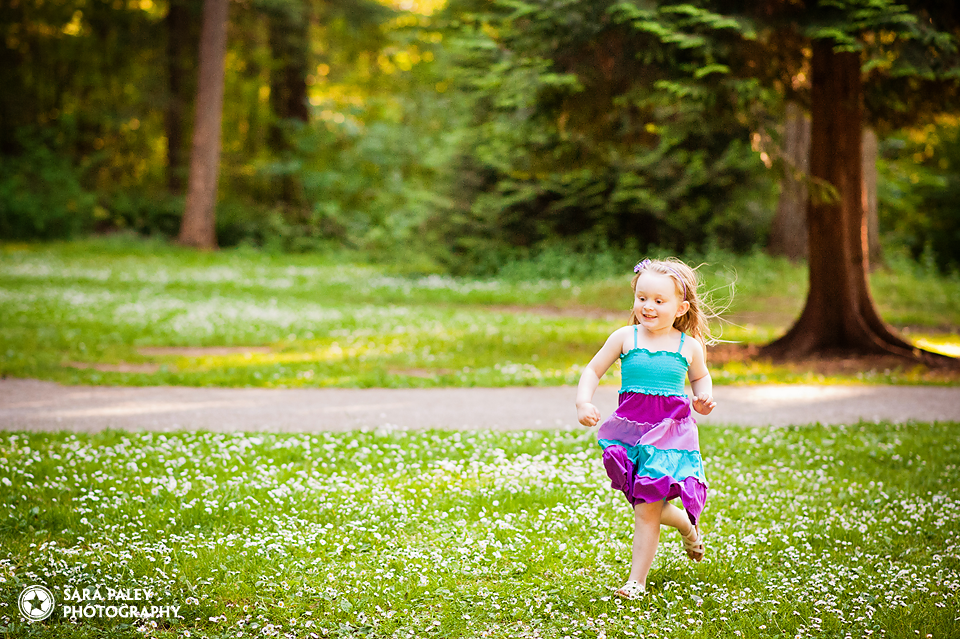 Plan your own Hue Hunt, you won't need very much:
Decide where you'd like your photo shoot, this will be pretty instrumental in picking your paint strip colours. We went with earthy tones for our walk through the woods.
Visit your local home repair or paint store and ask them if they would mind if you took a few paint strip samples – they are usually pretty nice about it if you ask (I think they clue in that you aren't painting your house 30 different colors.. ).
Have FUN with your outfit choice, go bright, silly and comfortable
For a bit of added fun make a scavenger hunt to go along side your paint strips, ask your child to find one yellow flower, one red flower, a bug or butterfly and match their colours.
Try different locations, the park, beach, playground or just a walk around your neighborhood.
We had tons of fun on our Hue Hunt, we hope you do too! If you want to see more pictures of our Hue Hunt – head over to Sara Paley Photography to see more of our shoot!
Do you have a fun photography idea? Share it with us in the comments!