Board games are an incredible way to bond as a family and one of our families favourite ways to spend time together, we like a little bit of competition and laughs, and family board games are where it's at. When our family finally has some downtime, between school, work and extracurricular activities, you can often find us around the table about to bust out a board game. Because of that we have tried many games throughout the years so we wanted to share with you: 13 family board games your family will love, even your teens!
Whether you have tweens or older teens there is a family board game on this list your kids will ask to play over and over again.   And a few even the adults will want to keep playing! A few of the family board games on this list are actually my favourites and ones I always beg the family to play and ones I highly recommend having on rotation!
Strategic Family Board Games
Ticket to Ride & Ticket to Ride First Journey
Asmodee Canada has an incredible line of family board games and the Ticket to Ride game series is one of them. These games are popular with people of all ages with their wide range of locations and themes. Every game you play requires participants to compete for railcards, which allow them to run their trains between famous destinations across the world, depending on your game. Your goal is to earn points for each trip completed, however keep in mind that ticket cards can award extra points if the two cities indicated on the ticket are connected. We recommend starting with Ticket to Ride First Journey for children 8 and under as it's a bit easier to learn the ropes before tackling the big maps.
2-5 Players
Ages 8+ (Jr. 6+)
45-60 min duration (Jr. 15-30 min)
Catan, a hugely popular Asmodee game amongst families and friends, is definitely a crowd pleaser. Winner of multiple gaming awards, this one is guaranteed to be a first choice in any home. Your mission is to lead settlers to success through astute trading and development and become the first player to obtain 10 victory cards. Using resource combinations to purchase useful development cards for the construction of roads, towns, and cities. Resources can be obtained by trades, cards, or lucky dice. However, be cautious since someone may block your path, and you never know how much someone may steal from you!
3-4 Players (Jr. 2-4)
Ages 10+ (Jr. 6+)
60-120 min duration (Jr. 30-40 min)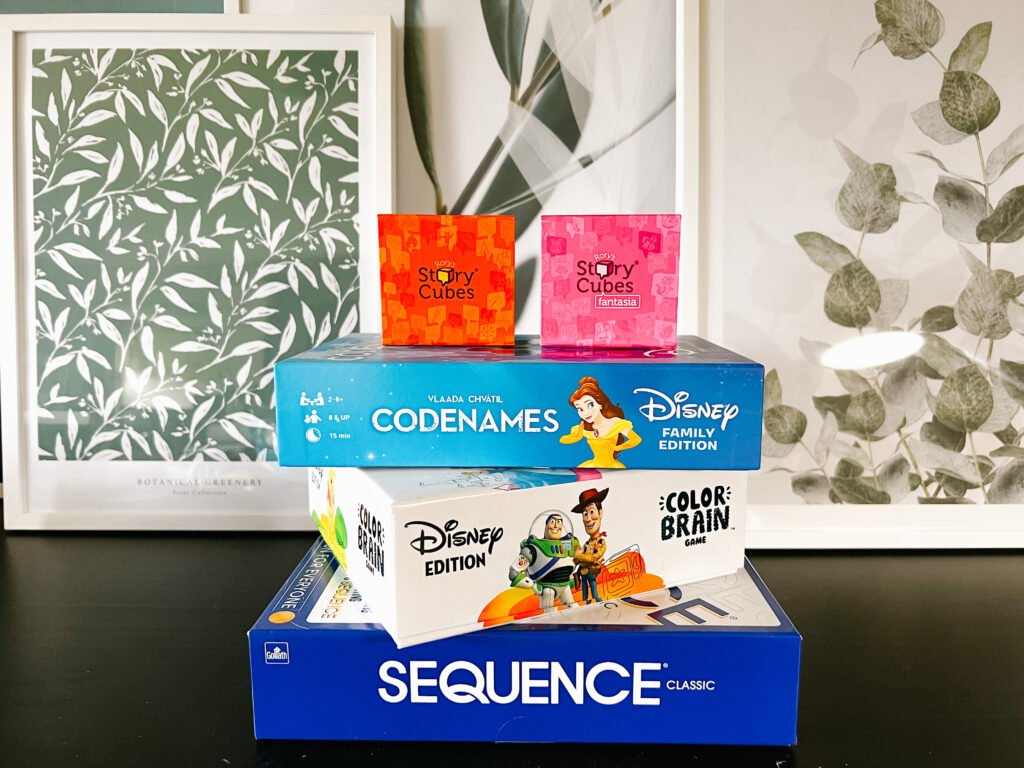 Whether you have 2 people or 12 Sequence is the ideal fast paced strategy game that can be played as individuals or in teams. In fact you can even play beyond 12 players as long as your group number is divisible by 2 or 3 you can split into teams without much trouble. This game is one of my favourites, and one that I always bring to BBQ nights at friends houses. Everyone who's ever played this with me ends up loving it! Since these games are a bit fast we do find that we always want to play more than one or two rounds. It is so much fun and a great way to spend time getting a fun brain workout. Sequence is connect 4, or 5, or however many lines you like with a challenging twist!
2-12 Players
Ages 7+
15 min duration
If you love strategy family board games, but aren't too fond of competition; Mice & Mystics is going to be a new favourite. Not only is this game one of the most beautiful artistically, you have to work together all as one to get through the castle. Similar to D&D in that you follow a storyline, have characters with varying attributes and have to work as a team. With no winners you don't have to worry about rising feelings, it also helps bring you and your kids together with problem solving and exhilarating battles.
Play as smart field mice that must sprint through a fortress that has grown twenty times its original size. Play as the nimble Prince Collin and fence your way past your opponents, or as the hefty smith Nez Bellows. As the wise old mouse Maginos, confound your foes, or defend your allies as Tilda, the castle's erstwhile healer. Every player will play an important role in the effort to warn the king, and it will need careful preparation to locate and defeat Vanestra.
1-4 Players
Ages 7+
60-90 min duration
Educational Family Board Games
One of few games that made the family board games list that only requires 2 players! Mastermind is a basic two-player deduction game that requires little time and provides for a lot of social interaction while playing. It has no "heavy" game mechanics or rules and can be taught in minutes. It is a true classic game that has been around since 1971 and will continue to entertain and challenge future generations; we just know it.
They even have an animal version that is quite popular with the younger kids, but we haven't had the chance to check that one out yet. This version has a bit more of a learning curve to it and the first couple times can be a bit confusing. We know abstract puzzle games can be monotonous at times, but they are enjoyable once you get the hang of them. We love a good challenge as a family, so this game is perfect for us.
2 Players
Ages 8+
15-20 min duration
One of A's favourite games and one we found ourselves using a lot during homeschooling. Though not a typical find you'd see on a family board games list, it's a must-have for creative kids. Rory's Story Cubes are great fun for any enthusiastic young writers out there. A has a love for writing short stories and we love to see her creative side and share in her excitement for creative writing.
Asmodee games has so many amazing themes to this game you can find one that meshes well with what your family enjoys, in fact they even have a Star Wars version I want to get for my hubby. Using the images on the provided dice as prompts to create your own incredible story. Being able to nurture A's love for creative writing is something that means a lot to me, I want to nurture her creative side as much as I can and adding games to the mix that support that is a must.
1-12 Players
Ages 6+
15 min duration
If your family loves the classic game of dominos you will love this more dynamic version called: Tri-Ominos. With 56 triangular tiles with varying numbers; each player's goal is to match up 2 out of the 3 numbers on the tile. Very similar rules to the original classic game many of us know and love but with a numerical twist and shape adjustment. It is simple, fun and travel friendly if you need to take a game on the go.
This game does require a little math making it great practice for A when it comes to practicing our simple math equations. We are big advocates for finding fun ways for you kids to practice their basic math skills. When it comes to math repetition and practice are your best friends and finding as many ways to do that without a worksheet is a win in our books.
2-8 Players
Ages 8+
30 min duration
Just For Fun Family Board Games
Whenever we go to someone's home for a family meal our go to is always Codenames. In fact, we've given this game as a gift 3 times! It's THAT fun! There has never been a more fun addition to game night for all our friends and family than this game, especially the Disney edition of it. I do have to admit that I am particularly amazing at the Disney version, who's surprised?
The Disney one is a particularly good version of the game if you are playing with younger kids since you can rely on images and words not just words like the original Codenames version. Competing in teams your goal is to help guide the other members on your team to choose the correct cards (according to your legend), but be careful what you say, the last thing you want is for your team to pick the wrong card!
2-8+ Players
Ages 14+ (6+ Disney)
15 min duration
Another fantastic game for me to show off my extensive Disney knowledge is Disney Color Brain. This Disney quiz game is a super fun way to spend an evening with your Disney loving kids. Since these questions are all based around colour choices across Disney movies even the biggest Disney fan can find it hard at times. I mean, can you remember the colour of everyone's clothing, hair, eyes in your favourite films? I think this would be the most brilliant selection to make if you are planning any Disney adult events or get togethers cause it will challenge even the biggest fans.
2-12 Players
Ages 8+
20 min duration
Voted as 2020's game of the year by Creative Child Magazine this one is a crowd pleaser and a favourite on the family board games list. You might be familiar with Cards Against Humanity, this is the more child appropriate version. Filled with lots of toilet humour and giggles I can guarantee you and your little ones will be laughing till your eyes fill with tears. It contains age-appropriate potty humour for children aged 8 and up, as well as humorous innuendos for adults.
There are 500 question and answer cards packed into a little box that can be taken on excursions or to a friend's house. The rules are simple: each participant receives 10 white cards with amusing words or phrases on them. Then there's a blue card with a blank on it. Players take turns reading the blue card and selecting the funniest white card offered by the other players to fill in the blank. The person who wins that round receives the blue card, and whomever has 5 blue cards wins!
4+ Players
Ages 10+
30 min duration
A #1 bestseller you and your tweens and up will lose it over how fun this game can be. Maybe sometimes embarrassing for one person or another, but always a lot of fun. This social media enthusiast game is perfect to test your meme making skills. As someone who works in social media I always find this game to be so much fun.
This game is a great excuse to have a group of friends or family over for a long overdue game night. In each round, one person serves as the judge and plays a photo card, followed by everyone else playing a caption card to complete the meme. The judge selects the most amusing match, and the person who played the winning caption card wins the round. Simple, hilarious and sometimes rude it is great fun.
3-20 Players
Ages 8+
30-90 min duration
Now if you and your family prefer a more quiet night, or love to do a little something while you watch a movie then perhaps puzzles might be a great choice. Often when we visit Science World we snag a beautiful Ravensburger puzzle from the gift shop to put away for this exact occasion. Sometimes you just want to get cosy together, enjoy some snacks, a movie and quietly work on a puzzle. There is always a puzzle out there for everyone!
Getting your kids, especially your older kids, interested in hanging out can always be a challenge, we get it. I hope that these family board games suggestions help you make your family game nights something your whole family looks forward to. We always find a large selection the key to keeping interest and we hope that we will always love having family game nights together no matter how old A gets.
{As Amazon Affiliates, we earn from qualifying purchases. Some items were gifted to facilitate this post, all opinions are our own. }