PK Beans released their latest winter styles perfect young children. Our entire family are huge fans. As a pre-planning mom I was so excited to see so many great options for family photos, holiday photos, school photos or even just photos in the park. PK Beans has the perfect pieces to keep kids happy, comfortable, and stylish!
PK BEANS OUTFIT DETAILS
We are currently in the in-between phase for sizes when it comes to our youngest. She's too little to be big and too big to be little. The pieces from PK Beans can be rolled and still look just as cute as can be.
I have waited for a long time for PK Beans to have ruffle bottom pants for littles and they are finally here. The fit of these is perfect to go over a diapered bottom, with plenty of room. The cuffs on the bottom can be rolled up if needed, giving even longer life to the pants. There's even little draw strings that do function, they are not just for aesthetic purposes. If your child has a smaller waist, you can tighten the pants. The floral print with rich colours is perfect to go through Fall, Winter, and right into Spring. I'm now wanting to order these in ever size so my youngest can wear them at every size.
The Lots O-Ruffles Pants go perfectly with the Onesie in Ice Pink. It's the perfect hue of pink to go with the floral print. The onesie is nice and soft for youngsters delicate skin. I appreciate the wide neckline thanks to the shoulder glass at the neck. It makes getting baby dressed and changed so easy. The snaps are also different from what I've ever seen on a onesie, it is called a snap tape with plastic snaps, not metal. These snaps are a breeze to do up and undo, no more fighting with snaps during a diaper change.
The Bean Playsuits also have a great design. Recently my husband and I were complaining about how some suits in our daughter's wardrobe do not have zippers that go all the way down the leg. It makes diaper changes frustrating as we try to get little legs in and out. Not a problem with PK Beans pieces, they have put a lot of thought into what they have created keeping comfort for baby and practicality for parents in mind.
The Bean Playsuit is perfect for bed time or wearing throughout the day, you cannot go wrong. It is made out of a soft jersey that feels like it gets more soft with each wash. There are also fold over mitts so that your little one won't scratch themselves, plus a chin guard to tuck the zipper into so it won't poke your child. The fig colour is beautiful and so rich, perfect for a pop of colour in your child's outfits or in family photos.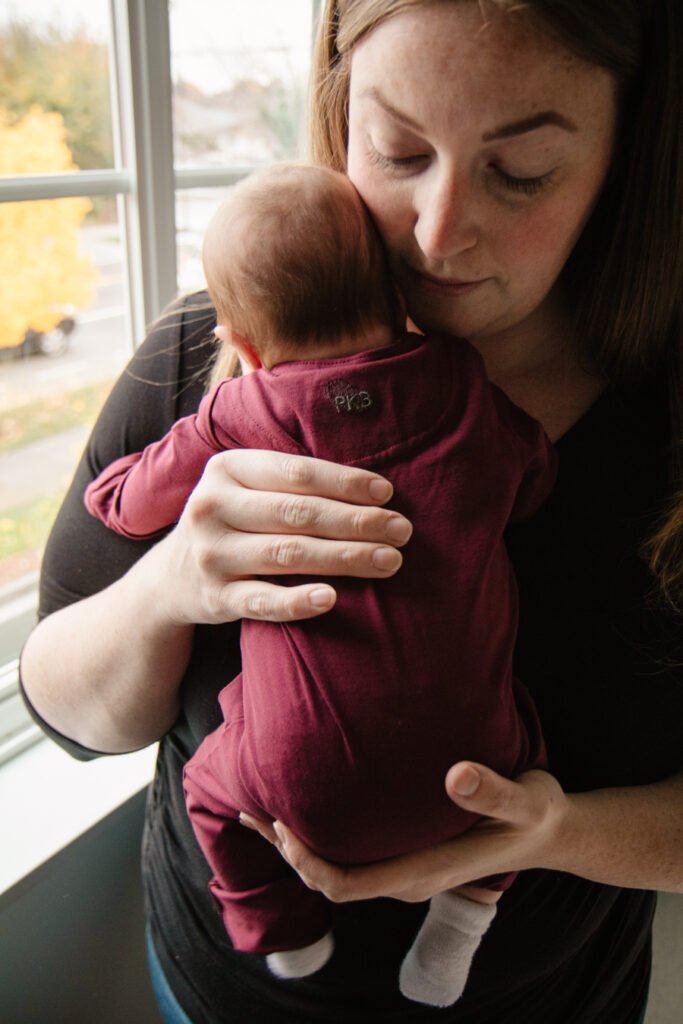 My older girls are always excited to dress up in PK Beans. They know the logo and are quick to pull out pieces from PK Beans to wear every day. When these dresses arrived they were thrilled to have such pretty pieces added to their wardrobe.
The It's A Dream Dress in Fig has a skater dress silhouette. There are hints of ice pink in triangles across the skirt, plus there's pockets your kids can tuck their treasures into. My daughter noticed the pockets immediately and was so happy to declare "I can keep stuff in my pockets!"… I guess the love of pockets starts young. The next thing my daughter checked was if the dress could turn into a cupcake, in other words she needed to perform the ever so important twirl test. Yes, this dress can twirl!
When you think of tulle often we have childhood flashbacks to itchy dresses we disliked wearing during the holidays or for other special occasions. This is not an issue with the Tulle Party Dress. The dress has the same floral fabric as the Lots O-Ruffles Pants, and then a super soft tulle over top styled as an empire waist and a high-low hem. Don't worry, the dress passes the twirl test too. The tulle gives this dress the perfect touch of "fancy" for the holiday season. Let your child add some cute shoes and accessories that they want to dress it up with and make it their own.
PK Beans had proven time and time again that they have put in the thought for practical and stylish pieces for kids. I know that my kids will be comfortable in what they wear from this brand. The whole winter collection goes perfectly together, making it easy to pick out outfits for your kids to wear if you need something for photos. Bring on comfort and style this winter season for your kids!
Tamara is a loving wife, a mom to three sweet girls and a huge Disney fan. She and her family call the Fraser Valley area of BC home, but they love traveling to the surrounding areas. She loves reading a good book while curled up in a blanket, and sipping a cup of tea. Her blog is about her family, and the adventures, and activities they get up to. You can find her at Discovering Parenthood, or visit her on Facebook, Instagram, Twitter, and Pinterest. Check out more of her guest posts here.