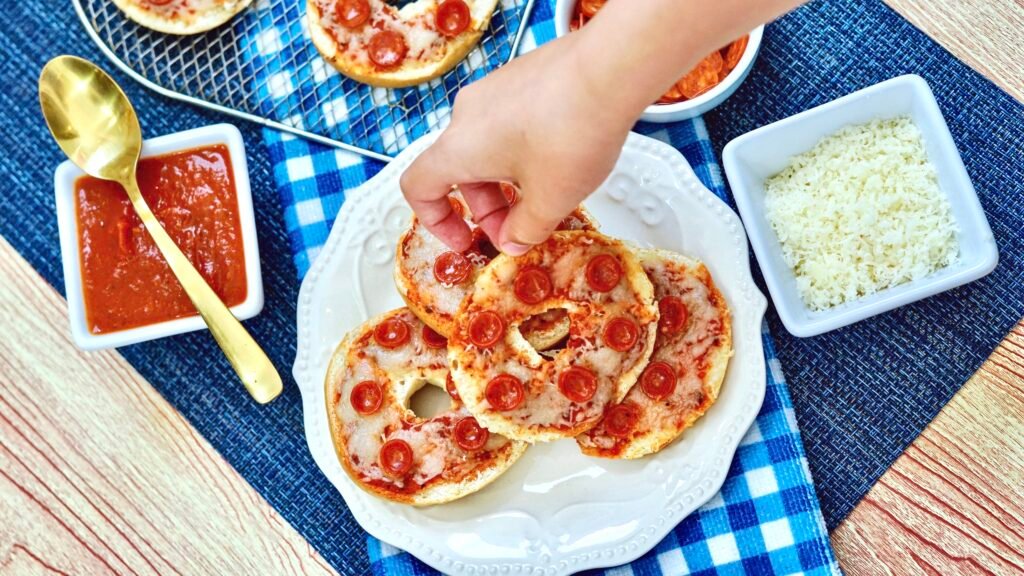 Can you believe that Air Fryer Mini Pizzas bagels were one of the *first* recipes we made in our Air Fryer? Yep. It's true.
Did anyone else jump on the air fryer bandwagon during quarantine like our family did? We cut our visits to the grocery store by 75% and were determined to use up everything we had in our pantry and cupboards so we could stay home as much as possible but I was *tired* of spending hours cooking in the kitchen!
Similarly to the Instant Pot craze, I my air fryer in the box for a little bit until I gathered up the courage to start trying it out. Thankfully mine came with some pretty thorough instructions so I was able to dive in pretty quickly. I am so glad I did! We use our air fryer nearly every single day in our house from breakfast, lunch and dinner right down to snacks and desserts.
My husband wasn't immediately on board though. He scoffed it off as "one more thing on the counter" and dug in his heels about using it. That is… until the first time he used it. Now, he uses it as frequently as I do and loves it just as much! He'll still poke fun at me about "that air fryer thing" but I know deep down he loves using it just as much as I do.
I was definitely intimidated at first, everyone in groups I was in was raving about their favourite recipes and they were flying off the Costco shelves but still, I was a bit of a chicken! I know it's not easy to dive in when it's a new appliance so I hope you'll try out one of my favourite easy weeknight recipes that even the kids can help prepare! Air fryer mini pizzas are weeknight and weekend approved!
I love the versatility of this recipe, switch it up by using English muffins or different toppings, or if you're family is super hungry, try a full size bagel or pre-made pizza crust instead! Best part of this recipe though? It's picky eater approved. There hasn't been a family member who has tried these that hasn't loved them.
We have the Cosori XL AirFryer which has a very generous sized basket and can easily fit enough to feed the entire family in one go, but if you have a smaller air fryer basket then make a couple of batches. Thankfully the pizzas don't take very long to cook so you can easily pop some tinfoil over the finished ones and wait for the second, or third batch to be ready.
Here's what you'll need to make delicious air fryer mini pizzas.
---
Ingredients:
• Mini Bagels (or try it with English muffins!)
• Pizza Sauce
• Mini Pepperoni
• Mozzarella Cheese
Instructions:
1. Slice bagels in half.
2. Coat with pizza sauce.
3. Sprinkle with cheese.
4. Place pepperonis or toppings of your choice on top.
5. Place on the air fryer rack in a single layer and set air fryer for 5 minutes at 360 degrees.
6. Serve & enjoy!
If you're choosing to use fuller sized bagels then you may need to add 1-2 minutes to get a proper "crust" on the bottom of the bagel but you shouldn't need much longer than that. The air fryer mini pizzas come out delicious every time!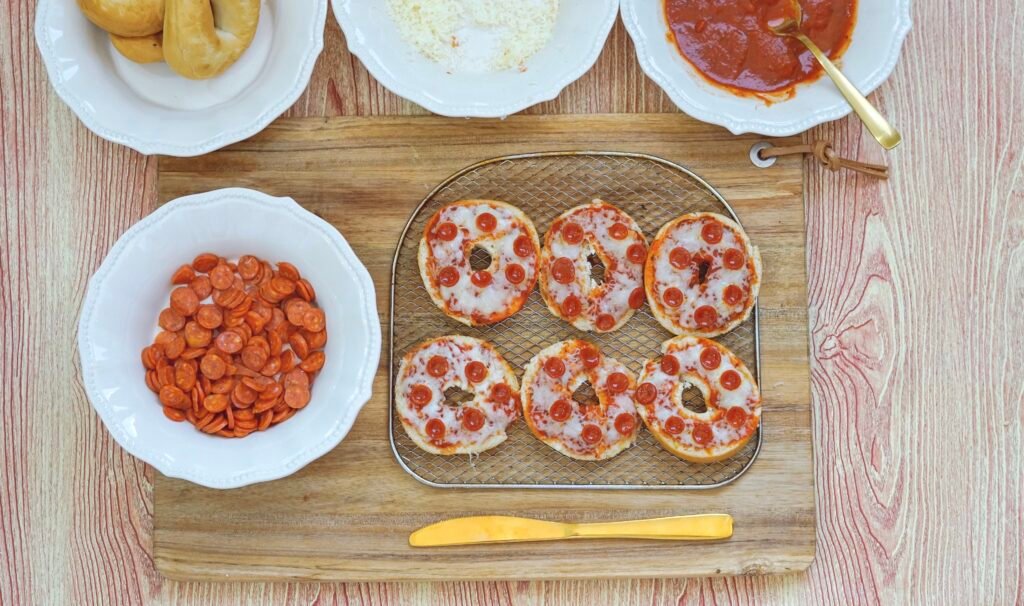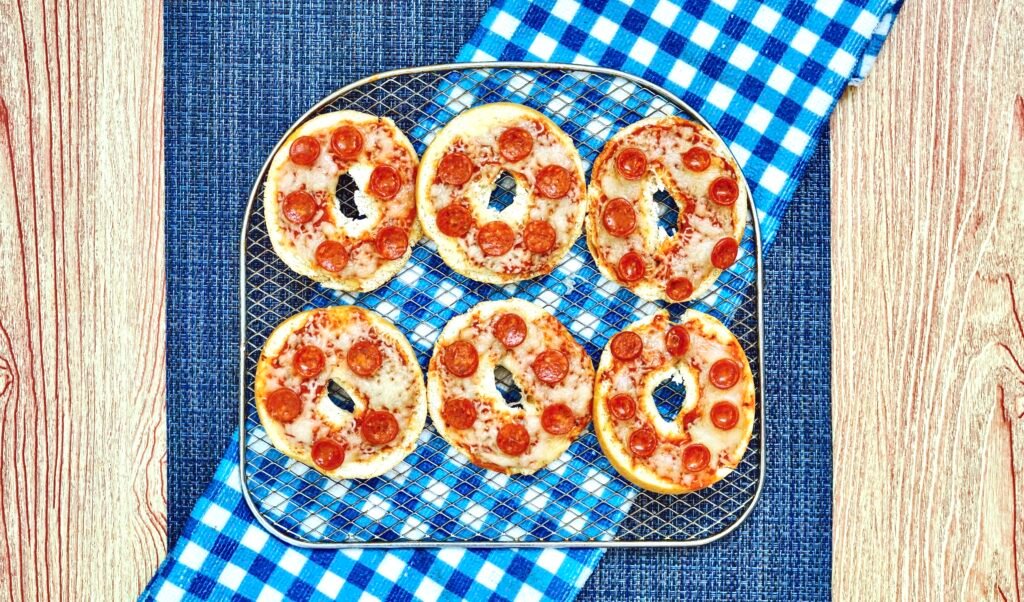 You can customize these little pizzas by adding additional toppings, our favourites are olives and pineapple but you can try it with any of your favourites.
To save time during our busy week, I often keep a ziploc of our favourite ingredients for air fryer mini pizzas in the freezer so we can have dinner ready in minutes.
Whether you're new to the air fryer game or a seasoned chef with one, you'll love how easy these air fryer mini pizzas are to make and how they can make weeknight meals simple and easy. If your kids are older, it's an easy enough recipe for them to throw together themselves for an after school or late night snack.
I can't wait to see what delicious snacks you make in your air fryer!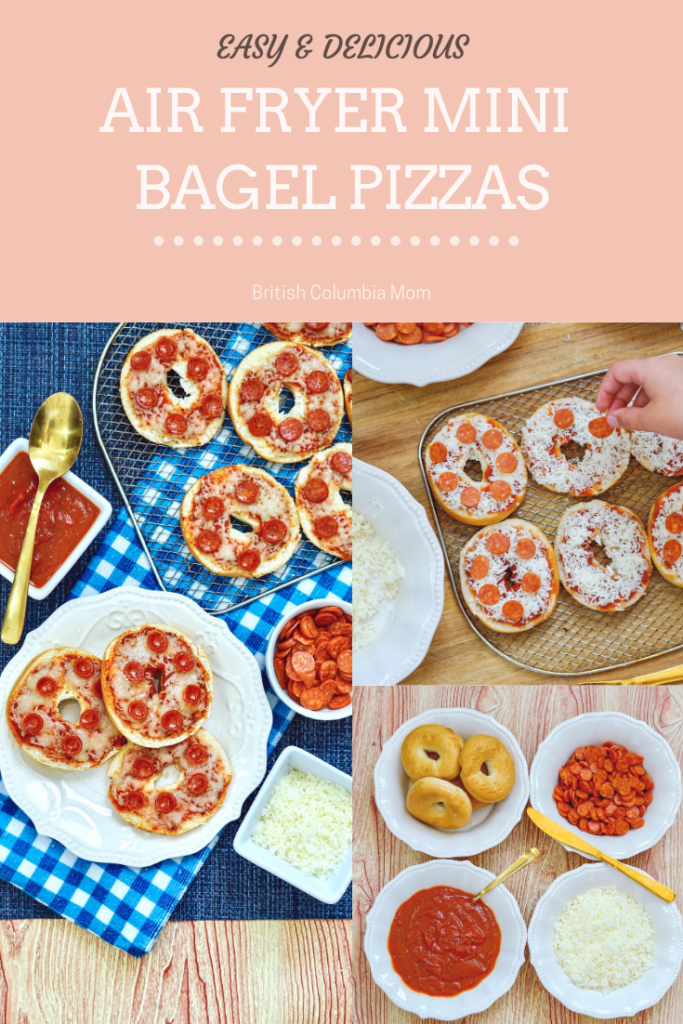 (This post contains affiliate links, as Amazon Associates we earn from qualifying purchases. Love recipes? Check out more here.)