Christmas morning is often full of chaos with kids running all over the place and wrapping paper being tossed across the room. Do you do a nice breakfast on Christmas morning for everyone? We have breakfast ideas that are great for a family-friendly cute Christmas breakfast. Of course, any of these breakfast ideas would be great during the holiday season. Personally, I think sweet little gingerbread themed breakfasts could be served well into winter. If you're looking for a fun Christmas-themed breakfast, we have found everything from waffles and pancakes to cinnamon rolls and crepes!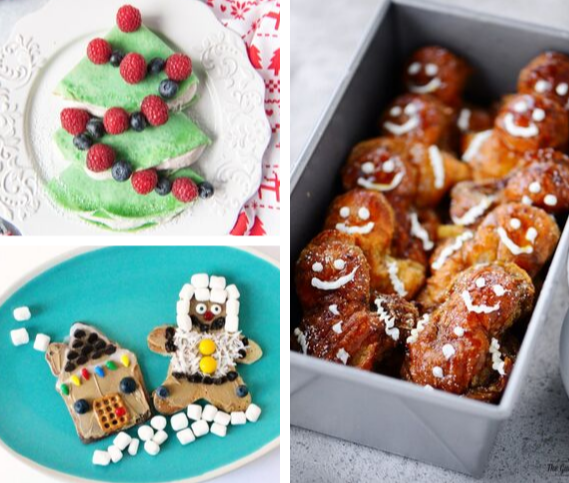 Christmas Tree Cream Cheese Danish

– An easy last-minute recipe to serve for breakfast on Christmas morning is this delicious Christmas tree cream cheese danish. Your family is going to love this!

Snowman Pancakes

– These Snowman Pancakes are going to be a new favorite holiday breakfast tradition! 

Christmas Breakfast Bagels

– You can use jam or just puree some fruit and use that in squeeze bottles to decorate your bagels as Christmas ornaments! It's fun and filling.  

Christmas Tree Waffles

– Let the kids decorate their own waffle trees with

sprinkles, chocolate, and fresh fruit. There are a few options in the post for making these waffles green. 
Santa Hat Mini Pancake Stackers

– These mini pancake stackers topped with strawberry Santa hats make a really fun Christmas breakfast for kids. 

Christmas Tree Donuts

– These Christmas Tree Donuts are a fun morning treat perfect for the holidays!

Bake up some festive donuts

and then decorate with M&Ms. 

Gingerbread Biscuit Bites

– Gingerbread Biscuit Bites are the perfect bite-sized sweet treats for your holiday breakfast! You can enjoy these as-is or dipped in chocolate or jam. 

Christmas Morning Cake Mix Waffles

– Need a quick breakfast that's still special? You can whip up these cake mix waffles and have them on the table in about 15 minutes. 

Gingerbread Pancakes Decorating Activity

– Serve up some gingerbread pancakes instead of making gingerbread houses. Kids can still decorate, but enjoy a healthier version.

Holiday English Muffin Breakfast

– This Holiday English Muffin Breakfast is great for your kids to have fun with their food during the holidays and it's even great for holiday parties! Put all of the ingredients into little ramekins and let the kids go to town making their Reindeer and Snowmen. 

Gingerbread Man French Toast

– Try this Gingerbread Man French Toast recipe for Christmas morning or a weekend during the holiday season. Everyone will love having gingerbread men for breakfast!

Sugar Cookie Pancakes

– Want to surprise the kids with a fun Christmas breakfast? They'll love having "cookies" for breakfast when you serve these yummy sugar cookie pancakes! Grab your

favorite Christmas cookie cutters

to mix up the shapes. 

Sausage Rollup Christmas Tree

– This Sausage Rollup Christmas Tree makes the perfect Christmas morning recipe because it's one of those recipes that you can eat with your hands and get right to opening presents. 

Christmas Tree Crepes with Gingerbread Spice Whipped Cream

– Christmas Tree Crepes with Gingerbread Spice Whipped Cream is simple to make and the perfect way to start your Christmas morning!  Make them all month long for a fun & festive way to celebrate the season without a lot of hassle! 

Gingerbread Cinnamon Rolls – Gingerbread Cinnamon Rolls and Christmas morning are a perfect match. This is an easy recipe filled with gingerbread spices and brown sugar and topped with a silky cream cheese glaze.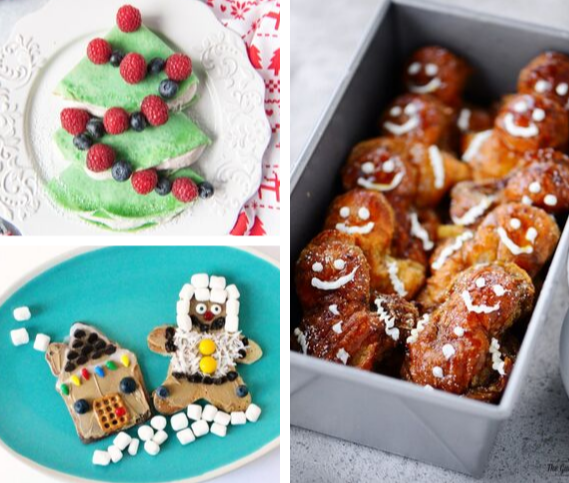 I hope these recipes help make your holiday mornings a bit less stressful and a bit more fun as the kids dive in to help make these fun meals! Don't forget that you can make a few of these in advance and have them ready to reheat so you can take a bit of a break in the mornings.
Love it? Make sure to pin it for later!
{This post contains affiliate links. As Amazon Associates we earn from qualifying purchases}