There's a lot to be said for Metro Vancouver when it comes to the holidays. With so much changing over the last 2 years, we were so excited to hear that many of our own personal favourite traditions are returning for the 2021/2022 season. It's no secret that Vancourites far and wide love to gather and celebrate the holidays with friends and family, and with some old and new favourites coming this season, there's lots of events to choose from.
Christmas is a time of giving and it can be easy to get lost in the busyness of Christmas. That's why I want to share some of our families favourite Metro Vancouver Christmas traditions with you. If you're looking for things to do this holiday season, then look no further than these 13 Vancouver Christmas traditions that will keep you feeling warm and joyful. Lights, live music, delicious warm hot cocoa and the chance to support so many local charities, all rolled into some of the best holiday events around.
13 Metro Vancouver Christmas Traditions
Vancouver is famous for its beautiful German holiday-themed market and it's easy to see why it's a favourite of our Vancouver Christmas Traditions, which actually starts November 13th and runs until December 24th. It's a wonderful place to come if you want to get into the spirit of the holidays!
There are over 200 vendors selling gifts for just about everyone on your holiday shopping list, as well as delicious food that is sure to fill you with holiday cheer. Debuting this year is the now FREE carousel rides thanks to a partnership with Interac, make sure to "tap" to donate if you're able to support the Make A Wish Foundation! There are also special events taking place all month long, so be sure to check out the Vancouver Christmas website for more details.
This year, the Bright Nights Christmas train will be sounding its whistle and chugging through a sparkling forest of lights as it makes its way from downtown Vancouver to Stanley Park. Kids of all ages are promised an exciting ride with fun displays along the way! This Vancouver Christmas tradition perfectly pairs the giving season with the opportunity to donate to the BurnFund on location.
We're excited to welcome you back for our first in-person special event since Bright Nights 2019! We are prioritizing the safety of visitors, staff, and volunteers. Though Santa is still on hiatus (though he will be missed!), select iconic light elements from years past can still sparkle alongside this year's train ride which was designed with all children in mind. Please keep in mind that tickets must be purchased in advance online.
Lumagica – December 3, 2021 – December 30, 2021
LUMAGICA and MK Illumination are excited to announce their first-ever Canadian event, the Lumigica Christmas Experience. This outdoor/indoor global holiday experience will be held at Cloverdale Fairgrounds in Surrey.
You are invited on a 1km light walk to escape into the world of different lands and be captured by their magical atmosphere. Your journey will take place through diverse landscapes, each with its own unique display or attraction for all ages – from interactive animations at Santa's Workshop location; photo opportunities galore at Gingerbread Lane where children can have an unforgettable picture taken next door to Mrs. Claus's house!
Lumagica is a one-of-a-kind winter wonderland that will delight and excite in equal measure. Guests can explore 120+ features, ornaments galore as they peruse through the light forests to visit Santa at his cabin up North Pole village where you'll find hot cocoa & mulled wine available for visitors who want some warmth on their stroll while sampling various snacks from vendors around Lumagicas marketplace including gourmet delicacies sure to please any palate!
This year, head out to Heritage Christmas for a unique experience. The event will be held from November 27th through January 3rd and features traditional period decorations as well festive lights! One of our favourite events, it combines beautiful seasonal displays and the quietness of a traditional holiday experience.
Get ready to wander the Village and take part in all of its seasonal activities, demonstrations, and entertainment. You will have an opportunity for some animal-themed fun with this year's eco sculptures that are sure not to be missed! Enjoy a meal or treat at our Ice Cream Parlour on site after your visit too – you can't beat it for free gate admission so don't miss out!
Check the site for dates and times. The official debut of Heritage Christmas will be marked by a tree lighting ceremony at 6 p.m. on December 4th, according to the museum's website.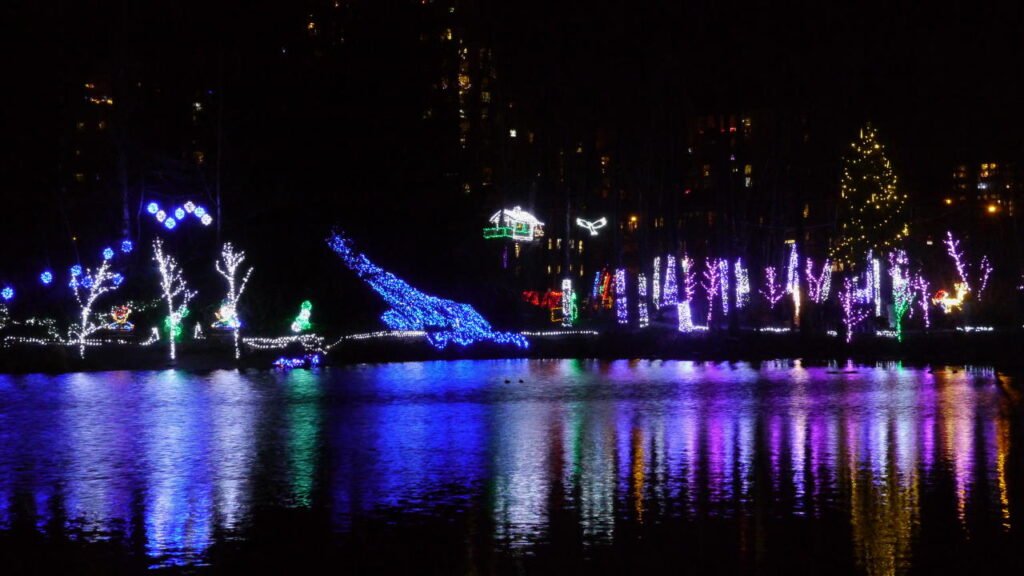 Coquitlam is thrilled to announce that their free, outdoor light display will return for the 2021-2022 season. This year's exhibit has been modified in consideration of current provincial health orders and public safety so it can be enjoyed by all! Two walking loops have replaced last year's single one making Lafarge Town Centre Park even more vibrant than before with Christmas cheer during these cold winter months when you're feeling blue–or just want something different than what downtown Vancouver or Surrey offer right now (and maybe never will).
In order to minimize crowds and support public safety, those planning a visit should consider off-peak hours (before 6 p.m., after 8 pm.) It's also important that you avoid weekend days from Dec 20th through 26 when it can be busier due to the nine-week long display which offers plenty of time for people to go outside and walk among their lights!
It's time to board the North Pole Express! Formerly, The Polar Express.
You won't be able to get a seat on the train if you wait too long. Book your tickets now and make sure that we have enough trains running each day for visitors from all over!
We know how busy Santa's workshop has been this year – with five times per week planned starting November 27th through December 18th, there will be plenty of time during these weekends for everyone who wants some holiday magic in their lives.
Explore the Holiday Lights Tent to visit Santa and his Elves, The Gingerbread Village, The North Pole, Holiday Market, Lights Around The World, and more! The outdoor Snowflake Stage and indoor North Pole Stage will have live music featuring holiday classics and contemporary music as well as Christmas Musical. Come to experience the most incredible Christmas lights in Surrey!

Every year, the Festival of Lights event at VanDusen Botanical Garden dazzles with more than one million lights decorating 15 acres.
Experience a magical winter wonderland with more than one million lights decorating 15 acres of VanDusen Botanical Garden. Stroll along the lakeside, shimmering in the glow of northern lights, or wander into our lush Rose Garden – reawakened and illuminated for a spectacular winter replica through the artistry of our garden stewards. Another Vancouver Christmas Tradition giving back opportunity, be sure to stop by the Scottish Shelter to light a candle and donate to Make-A-Wish.
A new Vancouver Christmas Tradition is back again this year! Continue to support a local favourite with the return of PNE Winter Lights! The journey through Hastings Park is a winter wonderland, with delight at every turn. Pick up snacks and beverages for your group to enjoy on the ride – winter mini donuts are the best, right? Tune into Santa Radio 100.9 FM so you can hear all of those jolly holiday tunes before getting lost in festive forests decorated like gingerbread houses or villages where live performers dance among snow globes that light up as we approach them (and each other!).
Canyon Lights – November 20th, 2021 – January 23rd, 2022
One of our most missed events returns for the 2021/2022 season and is ready to dazzle and delight with some of the most incredible light displays you'll ever see!
The world-famous bridge will be lit, end to end, with a multi-color changing display. This addition of lights and other special effects make for an amazing experience as you cross over the Capilano River on your journey into Rainforest Adventure Zone!
The mesmerizing "Arc de Lumina" light tunnel will once again wrap its way along a portion of Cliffwalk. Perfect Instagram moments galore! Enjoy live festive tunes and explore the Park in search of lit snowy owls, while taking part in a popular scavenger hunt to win yourself an amazing trip down south – all thanks to a grand prize Canadian Rockies vacation."
Flyover Canada – Soar with Santa – December 9, 2021 – January 3, 2022
It's really hard to choose a favourite Vancouver Christmas tradition for our family, but FlyOver Canada, located at Canada Place on the downtown Vancouver waterfront is right up there on the list. They have announced dates for Soar with Santa, a seasonal event that treats guests to an exhilarating ride worthy of Santa's sleigh.
Soar with Santa at FlyOver Canada takes guests on a holiday adventure from coast to coast, and onward to the snow-dusted North Pole. The cinematic flight ride is enhanced by festive refreshments and treats in The Flying Whale Cafe. Treating guests to the memorable experience of soaring over dazzling landscapes, FlyOver Canada uses state-of-the-art technology – including special effects such as wind, mist and scents – to replicate the feeling of flying across the country. The attraction is ideal for families, couples or groups of friends, and can be gifted as a unique holiday experience.
This year guests can discover an aquatic winter wonderland of twinkling lights and festive decor as well as new scrumptious chef-made seasonal treats. Guests will be able to wave to Scuba Claus during his twice-daily dives at 11 am and 2 pm. The Vancouver Aquarium is also bringing back the favourite THE POLAR EXPRESS™ 4D Experience®.
Guests will be welcomed by live holiday music by Vancouver musician Kevin Zakresky from December 1 to 12. The festive music will be presented Monday to Friday from 10 am to 1 pm as well as Saturday and Sunday from 1 to 4 pm.
The Jelly Snow Globe at the Vancouver Aquarium provides an opportunity for a unique family photo. The gift shop features local artists, including Indigenous artists and locally made products that are perfect for your holiday shopping. When visitors purchase a 9" or 11" walrus stuffie from the Aquarium gift shop at 50 per cent off regular price, they will be donated to local charities. Experience all this holiday magic and more surrounded by our 65,000 amazing animals.
This immersive sound and light show promises to be an unforgettable family experience. Take your seat, gaze through the window, and find yourself transported to a whole new world full of magnificent scenery.

As the sun sets and the moon rises, the spirit of the season comes out to play while the train journeys through a winter wonderland. Mountains, valleys, villages and oceans flash by as you approach the North Pole, all against a stunning backdrop of the Northern Lights. And at the end of your trip, Santa Claus will be waiting to greet you! Disembarking from the train, you'll complete your adventure by taking a photo with the virtual Santa, filling your photo album with lasting memories.
However you choose to spend the holidays this year, either enjoying a new Vancouver Christmas tradition or exploring your family favourites – we hope you find time to connect with friends and family and enjoy some of the beautiful lights, sounds and magic of the holiday season.
Please note each individual event will have it's own protocols and requirements, please confirm prior to purchasing tickets that these work for your family.
Do you have a favourite tradition on the list? Or did we miss yours? We'd love to hear what your family loves!