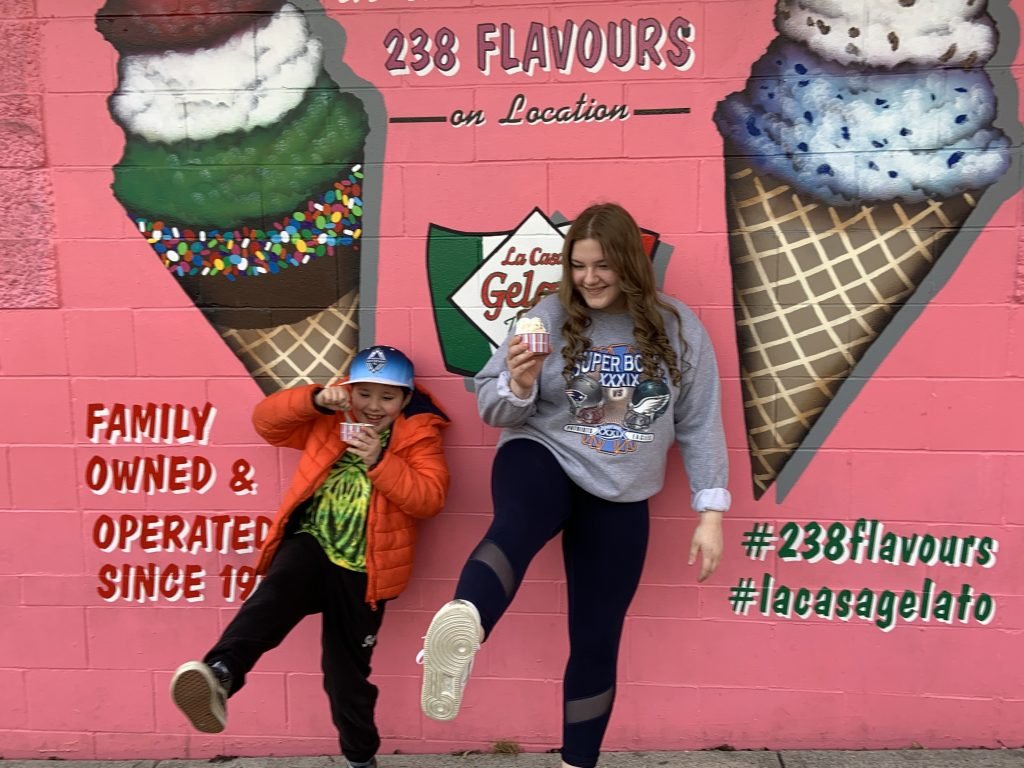 When it comes to frozen desserts, there are two types of people in the world: those that think ice creamy treats are a warm weather dessert, and the rest of us who will indulge any time of year. We happen to happily fall into the latter category and lucky for us, all these unique ice cream shops are open all year round! From sundaes to cones, milkshakes to milk ice and other tasty treats, they've got you covered.
With Covid restrictions being mostly lifted, some venues are offering dine in service, while others are take out only, some are even available on delivery apps if you are in the area! And, like all our local businesses, they need patronage to keep going in these uncertain times. Check their websites for times, locations and delicious flavour options as some are subject to change. Without further ado… onto some of the coolest ice cream shops around!
This classic soda fountain shop in North Burnaby aims reunite it's customers with simpler times and simple pleasures, but their huge menu of delicious offerings is anything but simple. Boasting real handmade desserts like sundaes, floats, milkshakes and real malts, among other popular offerings and wide array of flavour combinations, choosing will be difficult. Glenburn's  ice cream is sourced locally from Birchwood Dairy and they always have at least one dairy-free ice cream option and sauces as well as some gluten-free choices. My personal favourite is the classic malt but we also enjoy checking out their extravagant sundae creations. We might be a teeny bit biased since this is one of the ice cream shops is in our neighbourhood, but we really think it's worth a visit!
Glenburn is currently offering take-out only. The Take Out Menu is available Tuesday to Sunday. Pre-order your treats starting at 9am each day for in-store pick up or place orders at the door in-person.
Earnest Ice Cream – 1829 Quebec St, Vancouver, BC and more locations
Earnest Ice Cream is a store who is really trying to make less of an impact…on the Earth. They strive to bring delicious desserts to their customers while having the goal of being a zero waste company. Their super tasty small batch ice cream can be bought to take home in reusable, returnable glass containers (get $1 back when you return). Making small batches really allows the Earnest team to experiment with flavours, sometimes even using foraged ingredients! Try classics like Salted Caramel and Serious Chocolate, or one of their rotating flavours like Cardamom or Bourbon Peach. They also have several vegan options. With multiple locations in Vancouver and freezer space in many local retailers across the Lower Mainland, it's never been easier to get that good Earnest touch!
La Casa Gelato – 1033 Venables St, Vancouver, BC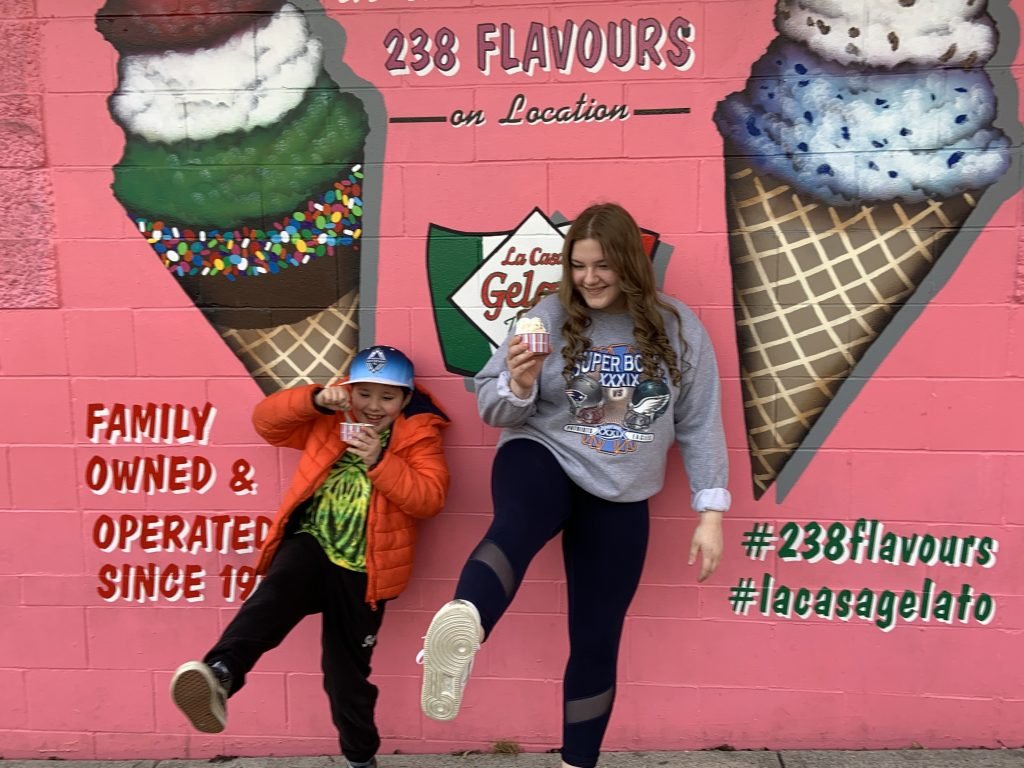 You may remember this entry from the news a little while back…for holding a Guinness World Record! That's right, La Casa Gelato holds the world record for most number of gelato flavours under one roof at 238, making it one of the ice cream shops on the list to really have a flavour for everyone. I seriously couldn't think up half as many flavours but this establishment actually has had created 588 different flavours (and counting!) throughout the course of their nearly 38 years serving scoops on The Drive. La Casa Gelato also carries sorbetto, a fruit juice and water base, and frozen yogurt as well, so there's something for everyone and their personal dietary needs.
With Covid restrictions a visit to La Casa Gelato will look a little different than what you're used to. They're only serving up cups, have reduced the number of in house flavours by half to promote social distancing in the store and are unable to provide samples. But they do continue to serve up the same quality product and friendly service that keeps us coming back
La Glace – 2785 W 16th Ave, Vancouver, BC
La Glace is the Vancouver home to incredibly decadent French ice cream. While Italian gelato is milk based and ice cream usually cream based, French ice cream seems worlds apart with its creme anglaise base; a thick custard composed of egg yolks and heavy cream. A little goes a long way with this incredibly rich dessert and in luxurious sounding flavours like ganache, fraise opulence and saffron nougatine. La Glace also carries a few vegan flavours, and their selections of all flavours can change daily, so check their instagram before going so you have more time to decide! Currently La Glace is offering take-out only and is serving it up in a paper cup! If you really enjoy the cone they will gladly place one on top.
Snowy Village – #100-1188 Pinetree Way, Coquitlam, BC and many more locations
It was my daughter who first introduced me to bingsoo, through delicious looking photos while out with friends. I've come to learn that bingsoo wasn't the name of her favourite order, but the category of Korean frozen desserts! Snowy Village aims to blend traditional Korean bingsoo with modern flair, and the result is amazing. With a usual base of 'silky snowflake shaved ice' and topping of whipped cream and sweetened condensed milk, just about anything can go in between. Crowd favourites often include fruit, like A's fave watermelon bingsoo, but there are varieties with cheesecake or cookies, and some with red bean and rice cakes that are more traditional. Locations are open across the Lower Mainland and even into Western Canada.
If you've never tried flash frozen ice cream, you need to check out Mister Artisan Ice Cream. They specialize in using liquid nitrogen to make their small batch goodness in-house, and made to order for your cone! This process is too quick to allow large ice crystals to be formed, giving their desserts a much creamier and smoother texture than you would get with machine made ice cream. Flash freezing ice cream is also a great way for the creators to really use their imaginations to come up with wide variety of mouthwatering combinations like Malted Cereal, Earl Grey Brulee and Caramel Popcorn. Plus their ice cream sammies are pretty incredible. Mister Artisan gives the customer a unique experience and a top notch product, with f, and always have some vegan flavours to choose from as well. With Covid restrictions they are not taking cash or doing samples at this time.
If you're looking for some delectable cruelty free frozen goodies, Innocent Ice Cream shop has recently reopened and are ready to serve up some guilt free goodness in some of the tastiest looking ice cream sandwiches. Vegan and dairy free Nice Cream smooshed between two homemade gluten free cookies in a match made from heaven that is so delicious even us omnivores can't resist. You have to try to the Elvis: PB cookies holding banana pudding nice cream, it really is fit for a King, or Queen!
You would be forgiven if Off the Grid Waffle was not on your radar for being one of our must-see ice cream shops. They do, after all, serve waffles with eggs for brekkie, chicken and waffles, even waffle fries. But their best menu items, in my obviously biased opinion, are their waffle shakes. These are heaven in a mason jar topped with different goodies as well as a piece of Belgian waffle. The Oreo waffle shake is topped with waffle, an Oreo cookie, Pocky and Stik-o sticks, whipped cream and chocolate sauce. The best part, besides the taste, is the price…just $8.50 a shake!
And, as a bonus, for all the adults in the room…
A dictionary definition of perverted is 'having been corrupted or distorted from its original meaning or state' and that is exactly what this cheeky soft serve ice cream parlour is all about. Perverted Ice Cream is a female owned and operated, sex positive space and is anything but vanilla! (though you can get that too) Choose between Perverted combinations like Coquette, Brand Spanking and Beg for S'more, or take your chances and go with WTF?
"YOU'LL TAKE WHAT WE GIVE YOU– SOFT SERVE -HOT / COOL, SWEET / SALTY, HARD / SOFT, BLACK / CREAM, PAIN / PLEASURE"
They also have some pretty cheeky merch! If you're looking for a type of ice cream shops that might accompany a treat from Punk Rock Pastries, this is top of the list!
Which Of These Ice Cream Shops Are You Visiting First?
Most of these must visit ice cream shops have more than one location to better serve you, and hours vary, so be sure to click the links for locations, hours, flavours on hand and more. It may also be worth noting that many of these shops 'cater' for special events! Sundae bar at a birthday party? You bet!
Which of the featured ice cream shops really got your mouth watering?
Did we miss one of your favourite ice cream shops? Tell us in the comments where we need to head next!