Martini Town & Martini Events is ready to kick off the holidays with an event you won't want to miss. I'm always excited to see what sort of new holiday events are going to launch each season and this year, this may very well be one of the coolest ones yet! Buckle up movie lovers, you'll get the opportunity to experience a real movie backlot and immerse yourself in some of the coolest holiday displays you'll ever see.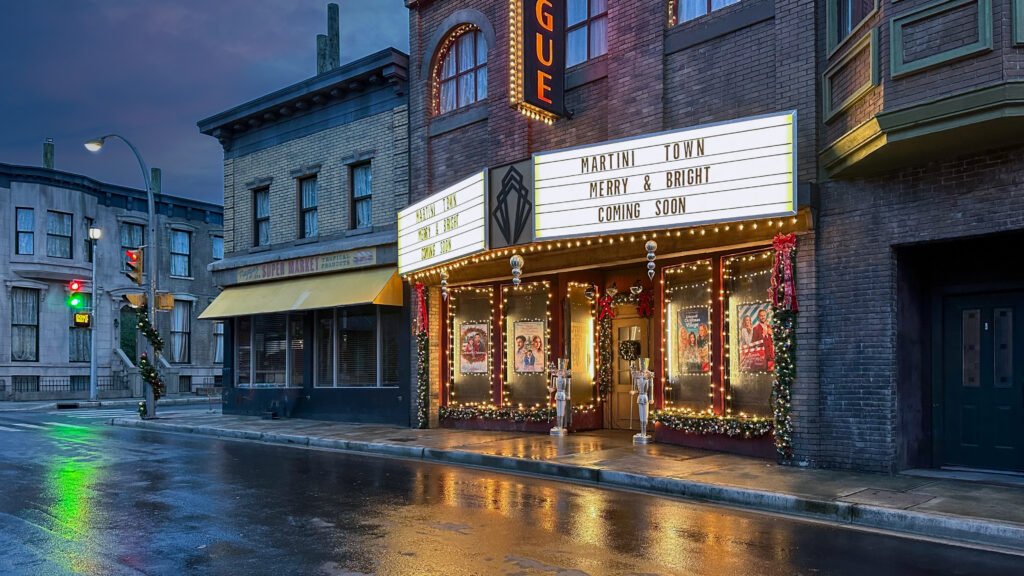 Discover Martini Town, a captivating 16-acre outdoor filming location featuring unique building facades and streetscapes exclusive to the region. Renowned for its appeal in television shows and movies, Martini Town offers a complete small town experience, including a New York-themed Brownstone Street, a charming movie theatre with a lit marquee, a cozy coffee shop, an urban alley, a courthouse, a classic diner, a bustling town square, and much more, providing the perfect backdrop for your film fantasies.
Immerse yourself in the magic of a Hollywood holiday film by exploring festive displays, savoring live music, perusing an artisan market, indulging in delicious treats from food trucks, and even meeting Santa.
At Merry & Bright, the dedicated staff hails from the film industry, offering visitors a unique behind-the-scenes experience. Engage with professionals who play crucial roles in powering the local economy, and don't hesitate to strike up a conversation with staff members proudly sporting "I Work in Film" pins to learn more about their contributions to the BC film scene.

"Martini Town Merry & Bright was created to bring some light and joy into the holiday season," says Gemma Martini, the CEO and Founder of Martini Film Studios. "We acknowledge that many members of our community are facing hardship, and to provide our support, a portion of all proceeds will be donated to the Langley Food Bank."
Hallmark movie sets are meticulously designed to evoke a timeless and idyllic charm that seamlessly complements the heartwarming narratives characteristic of the Hallmark Channel. From quaint small towns adorned with festive decorations to cozy coffee shops and snow-covered streets, the sets are carefully crafted to transport viewers into a world of nostalgic holiday bliss. The attention to detail extends to every facade, prop, and backdrop, creating a visual feast that embodies the spirit of each storyline.
The design philosophy revolves around creating a warm and inviting ambiance, often featuring picturesque landscapes and iconic landmarks that contribute to the overall feel-good atmosphere. Hallmark sets are not merely stages; they are crafted realms where the magic of storytelling and the allure of the holiday season converge to create an immersive and enchanting viewing experience for audiences worldwide. With all of this planning, and the Martini Events artistic team on hand, we're fairly confident that the holiday event display is going to be an absolute must-see.
Merry & Bright, slated for its upcoming celebration, is set to be powered exclusively by clean energy—a noteworthy feature that contributed to Martini Film Studios earning the esteemed title of BC Hydro Clean Energy Champion earlier this year.
Enhancing your Merry & Bright experience is the opportunity to embark on a spot-the-set adventure, witnessing the magic of some of the latest cinematic creations filmed in Martini Town. This charming locale has become a sought-after filming destination, particularly for holiday movies featured on the Hallmark Channel and broadcasted on the W Network in Canada. Among the eagerly anticipated films set to grace the screens this season, those filmed at Martini Town include Sealed with a List, scheduled for airing on December 16, and Friends & Family Christmas, which will captivate audiences on December 17. Join us in reveling in the festive spirit while immersing yourself in the enchanting world of Martini Town's cinematic wonders.
Martini Town Event Details
To view the full Merry & Bright event schedule, visit martinievents.ca.
Martini Town Merry & Bright will be open to the public Wednesday through Sunday every week throughout December. Address: 1123 272 Street, Langley.
Hours:
Wednesday – Friday: 4pm to 10pm
Saturday & Sunday: 2pm to 10pm

Tickets:
Priced at $22 for adults, $18 for seniors, $12 for children (ages 6 and under are free), tickets available for purchase online only at martinievents.ca/buy-tickets.
Please note: The event is fully outdoors. Visitors are asked to dress warmly for the weather.