Last month Vancouver was visited by a world famous feline and all of her friends when they put on a fun and fabulous friendship festival. I'm talking, of course, about none other than Hello Kitty, and she sure knows how to throw a party! The Hello Kitty Supercute Friendship Festival was super cute, with apple trees dotting the 'streets' with locations her friends lived or frequented like My Melody's Bakery and Badtz-Maru's Motorcycle shop. But, what was better, was that each of these locations were interactive in some way and amazing photo ops. The sets that were constructed were pretty amazing, the characters larger than life. With so many things to see and do, there was something for Hello Kitty fans of every age.
It wouldn't be much of a festival without music, and there was plenty of interactive musical entertainment to take in. In fact, there were several musical shows which ran every 10-15 minutes, each set with it's own theme including a Memory Dance Game complete with a gong when a mistake is made, and Kerropi (my favourite!) at the turntables. The cast of the shows included not only the world famous Hello Kitty and her friends, but two very energetic and spunky hosts and a group of seriously talented dancers.
Between performances Amelia, Alivia and I visited all the different hangouts and packed in as many activities and photo ops as we could.
We stopped at My Melody's Bakery to do some drawing and colouring…
hopped on a motorcycle and visited Badtz-Maru…
jumped in an enormous Hello Kitty bouncy house…
hung out with a sleeping puppy watching his dreams…
splashed over the Donut Pond to see Kerropi frog…
posed and shared a smile at the selfie station…
and checked out some haute couture Hello Kitty and friends inspired fashion…
and speaking of fashion, there was even a fashion show for anyone who wanted to enter and show off their own inspired self designed styles like Marisa, a Hello Kitty super fan who has traveled all over the world for Hello Kitty.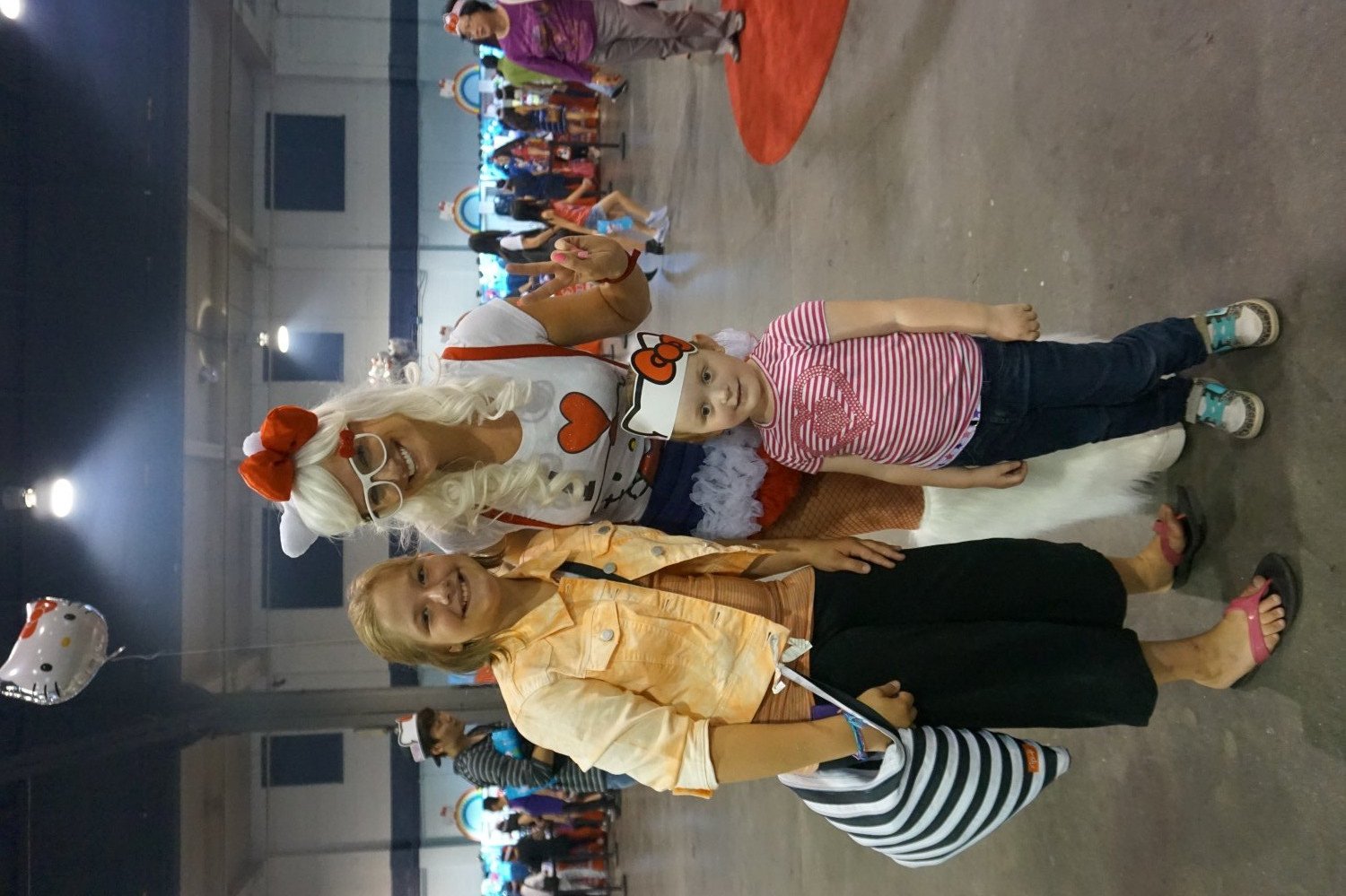 We did a lot of dancing…
shared a lot of hugs…
and had a super fun and fantastic time with Hello Kitty and all her friends. We really loved how many different stations were set up with interactions, making it much more of a festival feel then a concert feeling. The kids had so much fun experiencing Sanrio and all of their friends!
For more information on the festival, tour dates and more – visit sanrio.com/HKfestival
{Disclosure: We were provided with tickets to review this event, all opinions and super fun photos are our own!)