"Some birds sing when the sun shines bright. Our praise is not for them, but the ones who sing in the dead of night."
Oh, where do we even begin with Hadestown at the Queen Elizabeth Theatre in Vancouver? This musical extravaganza is an absolute masterpiece, a gem that shines brightly in the world of theatre, leaving its audience utterly enchanted and spellbound.
Before the show even starts, you're immediately mesmerised by a stage that looks simple yet somehow complicated, and from the moment the show begins, you are transported into a mesmerising world where myth and music collide, and let me tell you, it's an experience you won't soon forget. Soulful musical scores leave you unknowingly tapping your foot, leaning forward to be closer and closer to the show.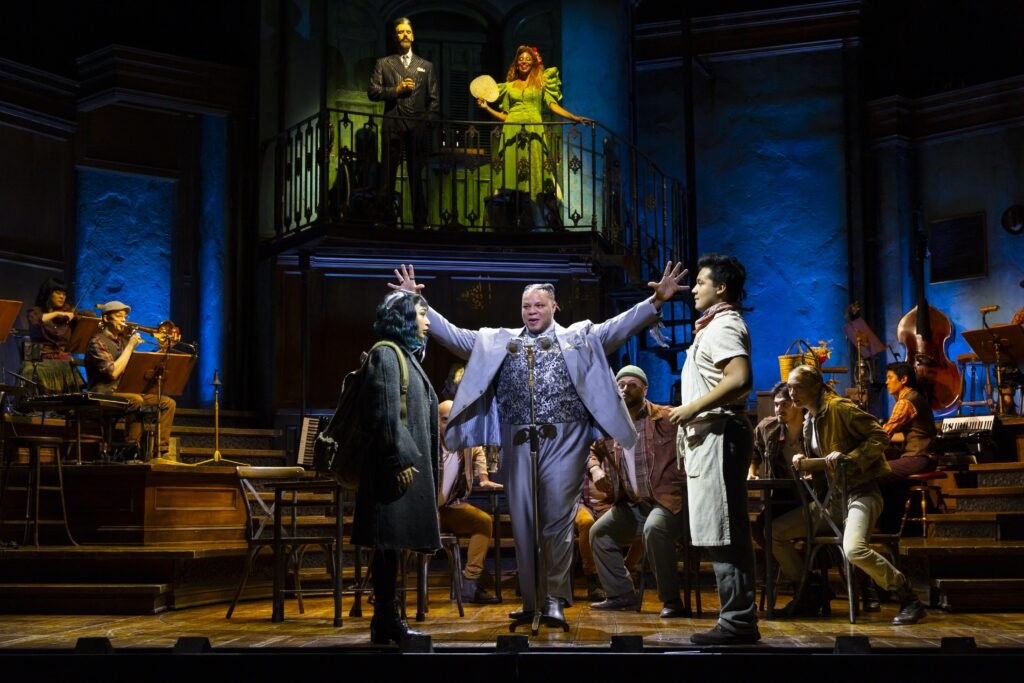 Hadestown weaves a captivating tale that unfolds amidst a haunting and almost naively hopeful backdrop. Following the young dreamers Orpheus and Eurydice, whose love is put to the ultimate test as they journey to the depths of the underworld in search of redemption and true love. But at the same time the narrative revolves around King Hades and his wife Persephone, rulers of the underworld and the land of eternal winter. Hadestown is not merely a love story; it's a profound exploration of the human spirit, wrapped in melodies that tug at the heartstrings and a narrative that leaves a lasting impression. 
Hadestown Brings An Incredible Cast 
First and foremost, let's talk about the cast – the heart and soul of this phenomenal show. Will Mann, who portrayed Hermes, was nothing short of sensational. His portrayal as the show's narrator and storyteller was a total vibe, a show-stopper in every sense. His soulful sounds and perfectly timed dance solos gave me life.
Matthew Patrick Quinn as Hades was simply jaw-dropping. His deep, rumbling tones reverberated through the theatre, creating a divine atmosphere that sent shivers down your spine. And Lana Gordon as Persephone? Absolutely show-stopping. Her humour, incredible vocals that boomed controlled through the entire theatre left many of us slack jaw, and her infectious energy lit up the stage, making her performance an absolute delight to witness.
Amaya Braganza as Eurydice and J. Antonio Rodriguez as Orpheus were equally brilliant choices, adding layers of beauty and passion to the story with their outstanding performances. Each member of the cast brought their A-game, leaving the audience in awe of their talent and dedication. I don't know if I could choose a favourite performer, but I found myself especially drawn to J. Antonio Rodriguez and Matthew Patrick Quinn's vocals, absolutely unforgettable.
In addition to their mesmerising performances on stage, the cast of Hadestown also shines brightly on social media, allowing fans to connect with them beyond the theatre walls: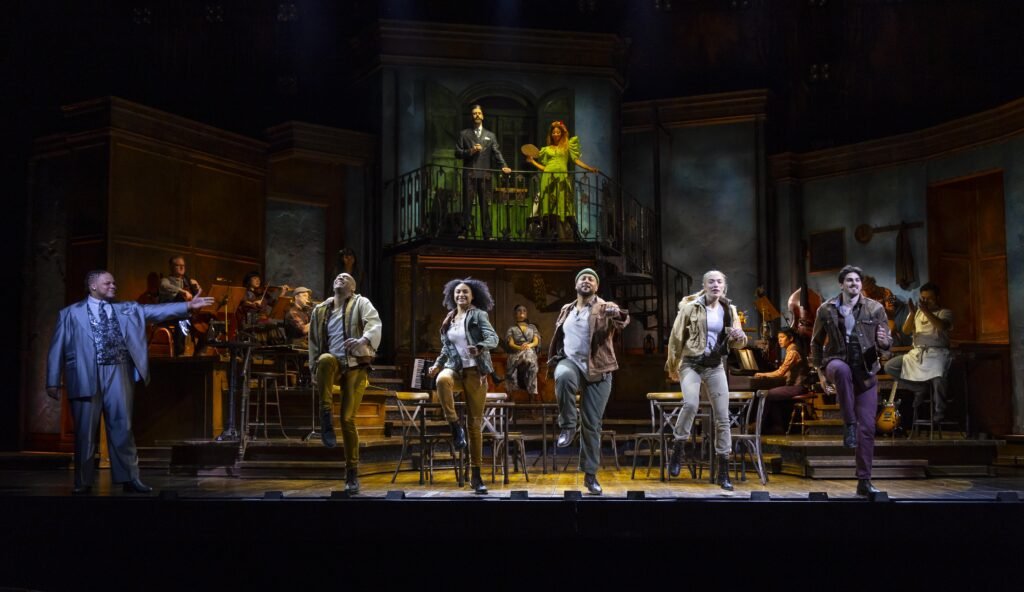 Connect With The Hadestown Vancouver Cast
Will Mann, the charismatic Hermes, can be found on Instagram @uuillmann, where he shares glimpses of his theatrical journey and behind-the-scenes moments.
Matthew Patrick Quinn, the captivating Hades, can be followed @matthewpatrickquinn, offering a peek into his musical endeavours and adventures, including his iconic roles as various Disney villains on the Disney Cruise Lines.
Lana Gordon, who brought Persephone to life with her infectious energy, showcases her passion for performance on Instagram @LanaJeanGordon.
Amaya Braganza, the enchanting Eurydice, not only mesmerises on stage but also sings alongside her sisters in the musical trio @thebraganzasisters, providing a delightful harmony of voices.
J. Antonio Rodriguez, the charming Orpheus, shares his musical talents and theatre experiences on Instagram @j.antoniorod, giving fans a glimpse into his captivating performances and creative journey. 
And that venue!
But it doesn't stop there – the lighting design by Bradley King was a stroke of genius. The way he played with light, from blinding daylight to the swinging lights in the underworld, added a whole new dimension to the show. It was nothing short of perfection, enhancing the overall theatrical experience and drawing you deeper into the world of Hadestown.
And oh, the venue! The Queen Elizabeth Theatre provided the perfect backdrop for this magical journey. As the intertwining tales of Orpheus and Eurydice, and King Hades and Persephone unfolded on stage, the theatre itself seemed to come alive with energy and excitement, all of us wondering what would happen next with the transforming stage, lighting and more. The atmosphere was electric, with every seat in the house offering a prime view of the enchanting performance.
Grab Your Tickets
Hadestown is only in Vancouver for a short time, running from November 7-12, 2023 and tickets are already on sale for all showings. This musical is not just a love story; it's a theatrical masterpiece that will leave you breathless, captivated, and utterly moved. Be prepared to be swept off your feet, for in Hadestown, a song can truly change your fate, and the world could be as magical as you've ever imagined.
Don't miss this chance to witness sheer brilliance unfold before your eyes. Grab your tickets, take your seat, and let the magic of Hadestown transport you to a world where dreams come true, and where the power of music knows no bounds. You're in for a treat – a night of theatre that will linger in your heart long after the final curtain falls. Grab your tickets now!
"Cuz here's the thing, to know how it ends and still begin to sing, as if it might turn out this time. I learned that from a friend of mine"