4:00, wallow in self-pity. 4:30, stare into the abyss. 5:00, solve world hunger, tell no one. 5:30, jazzercize; 6:30, dinner with me. I can't cancel that again. 7:00, wrestle with my self-loathing. I'm booked. Of course, if I bump the loathing to 9, I could still be done in time to lay in bed, stare at the ceiling and slip slowly into madness." — The Grinch 
Christmas loving besties, it's time to clear the calendar of all things not Christmas and get ready to tackle all the holiday events, you heard me, Christmas is coming! Most excitedly for our family is the arrival of How The Grinch Stole Christmas! The Musical, a Broadway box-office hit with fans all around the world, this dazzling show is sure to delight fans of all ages. Whether you love musicals, or Christmas, or just love The Grinch, this is one show you'll want to make sure you have on your calendar to kick off the holiday season.
Audiences will discover the magic of Dr. Seuss' classic holiday tale as it comes to life live on stage. Featuring the hit songs "You're A Mean One, Mr. Grinch" and "Welcome Christmas," THE GRINCH discovers there's more to Christmas than he bargained for in this heart-warming holiday classic. Max the Dog narrates as the mean and scheming GRINCH, whose heart is "two sizes too small," decides to steal Christmas away from the holiday-loving Whos.
THE GRINCH broke box office records for two consecutive years on Broadway during its holiday engagements at the St. James and Hilton theaters in New York. Since then, more than 2.5 million theatergoers across America have been delighted by this heart-warming holiday musical, which Gannett hailed as "A genius of a show! A total delight for both kids and adults."
Dr. Seuss' How The Grinch Stole Christmas! The Musical features magnificent sets designed by John Lee Beatty and costumes designed by Robert Morgan, inspired by Dr. Seuss' original book. Mel Marvin and Timothy Mason's music and book breathe new life into this timeless story. Audience members will be transported to Whoville, engulfed in the magic of this classic holiday tale and be left with a sense of Christmas magic.
The 2023 production is directed by Matt August and choreographed by Bob Richard, based on the original choreography by John DeLuca and originally created by three-time Tony Award®-winning director, Jack O'Brien.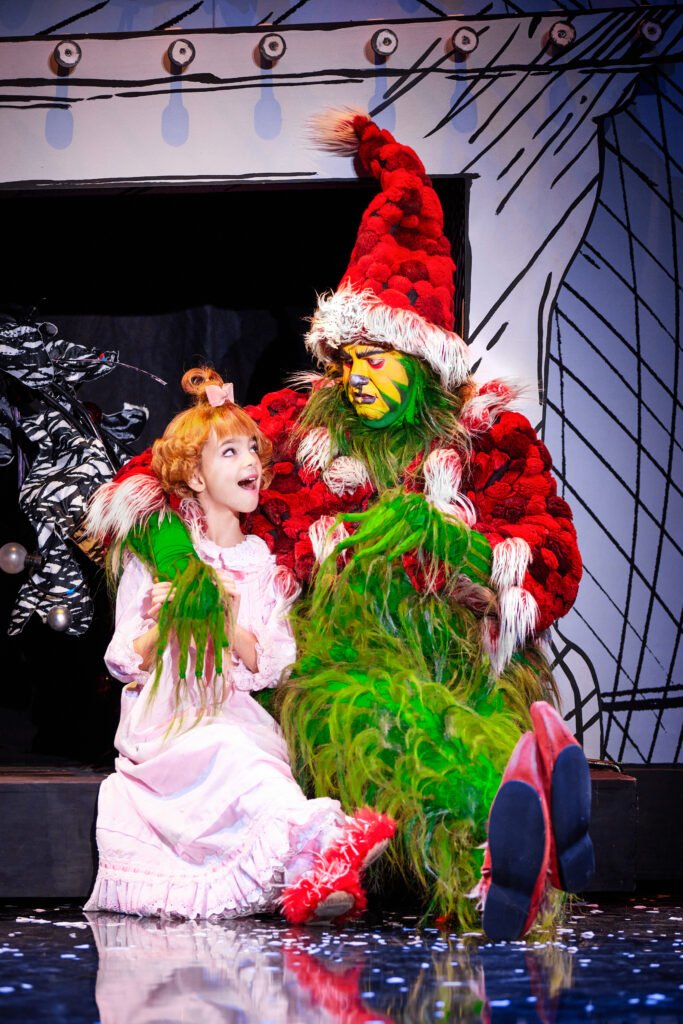 How The Grinch Stole Christmas! The Musical EVENT INFO:
Event: Dr. Seuss' How the Grinch Stole Christmas! The Musical
Dates: Nov. 14-18, 2023
Venue: The Centre in Vancouver, 777 Homer St., Vancouver
Tickets: Ticketmaster.ca or call 604-263-2314
The New York Times calls How The Grinch Stole Christmas – The Musical, an extraordinary performance, a memorable experience for The Grinch fans of all ages, and it's a show I am definitely not missing out on! With this must-see show having such a short run in Vancouver with only 7 shows, you won't want to delay in grabbing your tickets as soon as possible to avoid disappointment. We're so excited to kick off the holiday season with our families favourite – The Grinch!
And yes.. if you see me after the show, dancing around and singing "Where are you Christmassss" as loud as I can as I walk back to my car and embarrass my pre-teen along the way, just be sure to tag me if you post it on social media k? There is no shame in my holiday music loving game and I will absolutely be singing my favourites after the show and hope you'll join in with me! 
"Tomorrow is Christmas. It's practically here!" — The Grinch