Have you ever wanted to visit the Real Wild West without having to leave the comfort of your own neighborhood? Soar over dusty mountain tops, through raging waters and experience some of the most incredible views through national parks and landmarks? You'll definitely want to visit Flyover Canada then, The Real Wild West has returned for another incredible season after receiving rave reviews from visitors in 2021!
Did you miss out on experiencing The Real Wild West during it's last run at Flyover Canada? Don't worry, you've got the chance to add this must-see show to your calendar. Starting April 21, running until June 26, 2022 fliers have the opportunity to step into a multi-sensory journey through the most mesmerizing locations and moments over the American West.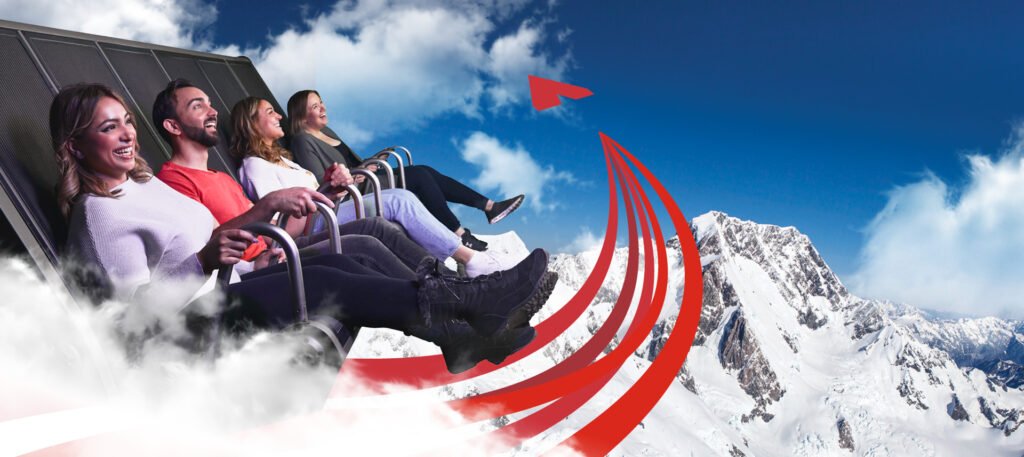 If you haven't had the chance to experience Flyover Canada yet, this is the perfect opportunity to take in two of their most iconic shows in one visit! Double features are our favourite way to experience the ride and how we usually plan our visit when we take someone who hasn't experienced it yet. There's something so memorable about taking in both a special feature and the classic Flyover Canada show. Many times we've done this and everyone gets off the right with a big sigh and a "wow". Seeing two shows at once, back to back, also really makes you appreciate the different cinematography and experiences worked into each show.
Our family has seen nearly every Flyover Canada location, including Halloween and Christmas and it never ceases to amaze any of us! It doesn't matter how many times I take the Flyover Canada flight, I find myself spying things I've never seen before. Adding in that this immersive ride experience is grounding for both my daughter and I with anxiety, we love the feeling of flying high above the screen and the quietness of the overall experience. It brings you into nature and exploration without even needing to travel!
The dynamic attraction takes guests on a multi-sensory journey as they soar over the American West's most iconic locations and natural wonders as part of a cutting-edge entertainment experience. Be prepared to swoop, fly and glide through this incredible experience.
Shot by award winning film director, Dave Mossop of Whistler-based Sherpas Cinema, the immersive show features FlyOver's signature awe-inspiring technology. Iconic destinations featured include in Nevada, Oregon, Washington, Montana, California, Arizona, New Mexico and Utah captured by helicopter in high definition.
The Real Wild West covers once-in-a-lifetime experiences like glimpsing a solar eclipse in Oregon's Cascade Volcanic Arc; riding alongside stallions in Yellowstone National Park; surfing San Francisco's biggest waves captured on film in 20 years; and nose diving into the Grand Canyon.  There's moments that will cause you to hold your breath in anticipation, leaving you truly breathless as you experience sights rarely before seen this close.
The flight ride film is projected on FlyOver's 20-metre spherical screen, with a state-of-the-art moving platform enabling guests to feel every movement, along with wind, mist and location-specific scents. 
Flyover Canada is located right under the sails at Canada Place so make sure to give yourself a bit of extra time to wander around and enjoy the views, snap some insta-worthy photos and visit the gift shop for some true Canadiana gifts featuring local artists, Indigenous artists and theme specific gifts perfect for a little take home treat!
Flyover Canada Real Wild West
When: April 21, 2022 – June 26, 2022
Where: Flyover Canada, 999 Canada Place
Tickets: Purchase your tickets online in advance to get the best pricing. SAVE 15% when you book The Real Wild West and FlyOver Canada dual ride ticket.
Safety Protocols: There will be extensive health and safety protocols in place in accordance with provincial health regulations
Enjoy your flight!