Nothing says the start of Spring Break quite like the smell of exhaust and the loud roaring engines, followed by endless cheering and entertainment, am I right? If you have truck lovers at home, you won't want to miss Monster Jam, roaring back into Vancouver just in time to kick off your Spring Break adventures. Kids and adults alike, prepare to be in awe of nearly a dozen drivers and their trucks as they put on displays that will leave you cheering.
This month Monster Jam is bringing its full-throttle, four-wheeled, frenzied competition back to Vancouver! For three days only, monster truck fans of all ages can watch their favourite trucks and drivers battle it out to score the most points including fan favourites Grave Digger (Tyler Menninga), El Toro Loco (Chelsea VanCleave), and Monster Mutt (Chris Koehler).
The Vancouver event features 8 skilled athletes battling for the championship while tearing up the dirt in intense competitions of speed and skill.  Keeper-of-the-beast Colt Stephens roars into the race for the championship in ThunderROARus, an apex predator making its debut in 2023.  Tyler Menninga gets behind the wheel of the black and green wrecking machine, the legendary Grave Digger® and Canada-native Cynthia Gauthier in Lucas Stabilizer, look to lock in the championship. 
Monster Jam 2023 is also featuring their brand new apex predator on wheels, ThunderROARus! 
It's a creation story only Monster Jam can tell.
Two Monster Jam technicians have gone rogue and opened a secret facility specifically to create a new mechanical beast to challenge for Monster Jam supremacy.
Hard at work on their creation, these mad technicians had no idea a cosmic red storm was about to strike Earth and their lab. This thunderous event transformed their creation into the newest apex predator – ThunderROARus. Guests will be some of the first to see ThunderROARus take on some of the elite and seasoned trucks at Monster Jam, who do you think is taking home the title?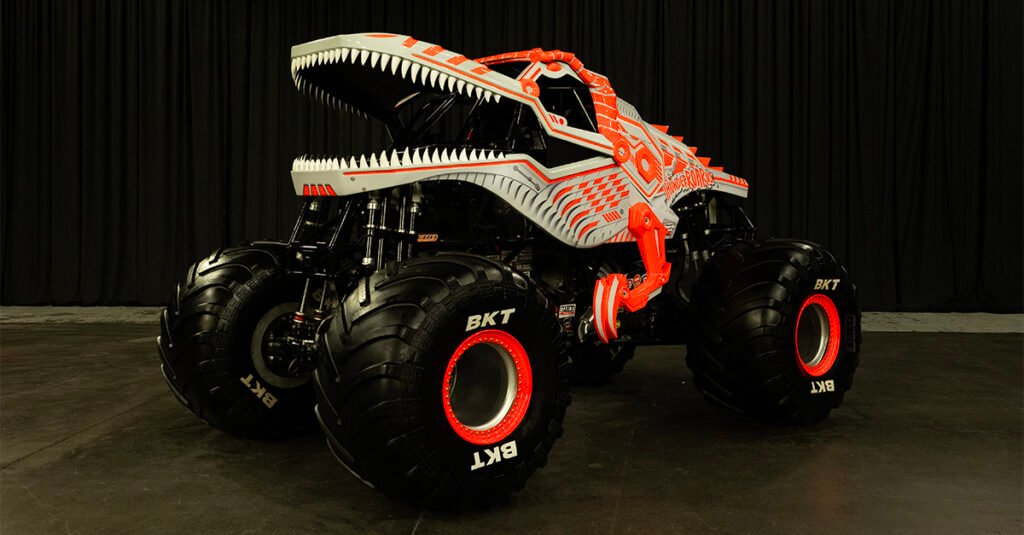 Roaring into the Pacific Coliseum for their first show on Friday March 17, with two shows on both March 28 and 19 there's loads of high-octane entertainment to be had.
Before each matinee show there will be a pit party where you can get up close and personal with your favourite massive monster trucks, meet drivers and crew, and maybe even snag an autograph! Pit parties also include inflatable slides, photo ops, and more!
Monster Jam Vancouver 2023 Event Details
Where: Pacific Coliseum 2901 East Hastings Vancouver BC
When:
Friday March 17  7pm
Saturday March 18  10:30am pit party, 1pm & 7pm
Sunday March 19  10:30am pit party, 1pm
Trackside an hour before each show with driver interviews, giveaways, opening ceremonies and more!
Tickets:
Tickets are affordably priced for the whole family!
Tickets and Pit Passes will be available for purchase online at Ticketleader.ca
*Ticket prices are subject to change – additional venue/ticketing fees may apply
British Columbia motorsports fans will be on the edge of their seats as world-class drivers show off crazy skills and all-out racing in fierce head-to-head battles for the Event Championship.  Engineered to perfection, the 12,000-pound Monster Jam trucks push all limits in Freestyle, Skills, and Racing competitions.  
Highly recommend packing some ear protection and settling in for some incredible skills performances, you won't want to miss this!