One thing this last year has taught our family is that it's okay to be a little bit extra when it comes to the holidays. We look for any and all reason to make silly breakfasts, themed dinners and all the fun desserts in between. Add in something that kids can help "decorate" and it's an instant hit around our house.
A loves anything that involves sprinkles, so being able to incorporate themed sprinkles to these fun St. Patrick's Day inspired Poptart breakfasts was super fun!
Add in that mama has jumped on the air fryer bandwagon and is basically in love with her new kitchen appliance and I am basically in for trying any and all new recipes that make creation and clean up a breeze. Funny enough, my husband scoffed when the Amazon fairies delivered our new air fryer and he exclaimed that it was "just another thing to take up counter space". So naturally, I was determined to prove him wrong!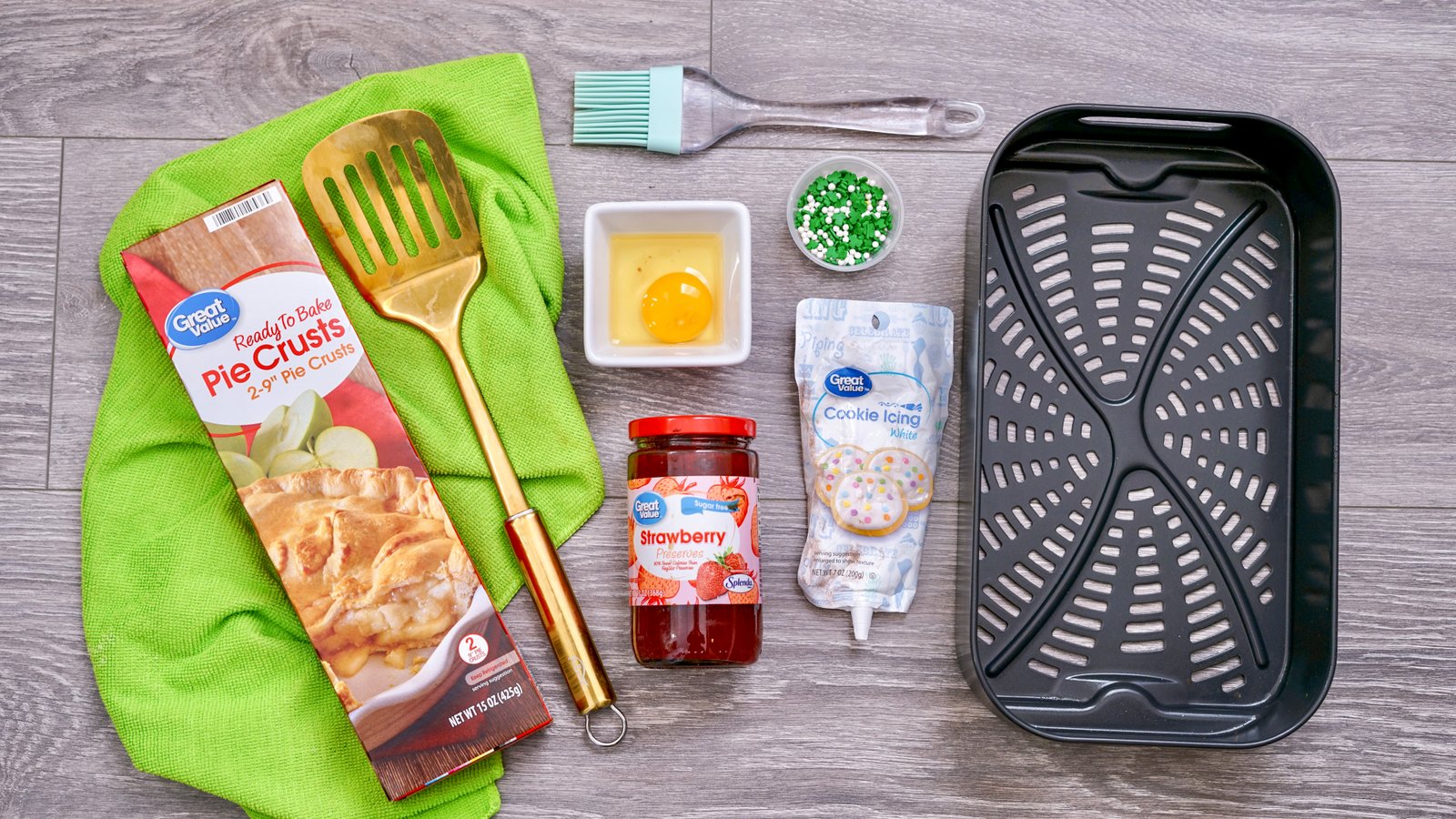 Every day since it arrived, I made it a point to use it at least once a day for one complete meal or snack, it wasn't long before my husband started experimenting and now he loves it as much as I do!

We have the Corosi 5.8QT Oil Free air fryer that has a large enough basket to easily feed our entire family with an easy clean up, definitely a favourite new addition to our kitchen! These breakfast pastries cook up so quickly though that you can easily make smaller batches in a smaller basket and still have plenty of time to feed the family quickly.
Air Fryer St.Patrick's Pop Tart Breakfast Pastry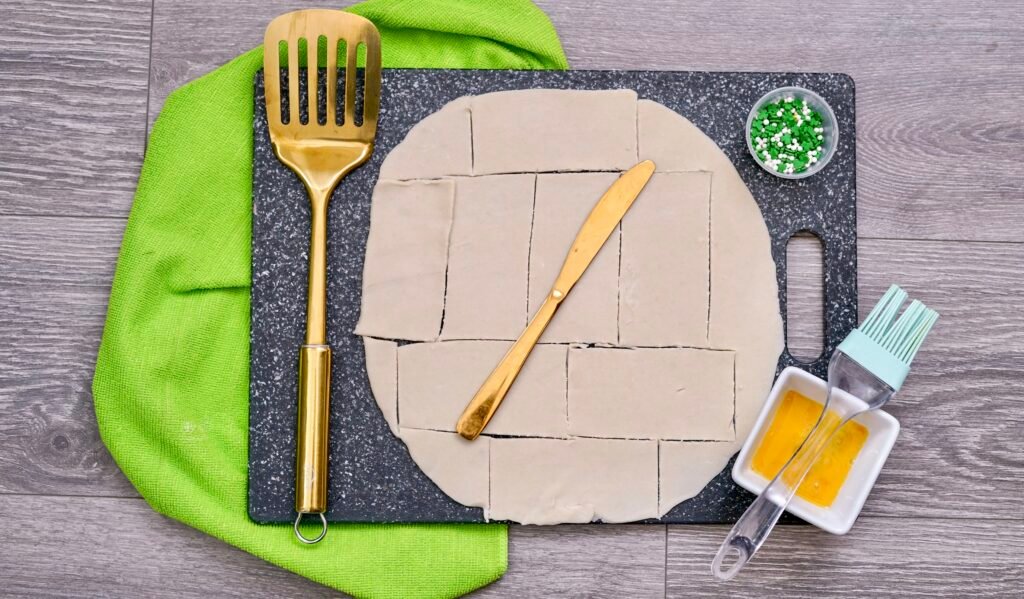 You won't need very much to create these breakfast pastries either, and much of it you can have on hand in the pantry or freezer for an easy (or lazy!) breakfast or brunch treat. You can also easily switch out the filling or toppings to match any holiday or special event, making them a very versatile recipe that is sure to be a hit for the entire family.
These Air Fryer Pop-Tarts also store well in an air-tight container in the fridge so they can be made ahead, or flash-frozen and reheated in the air fryer another day. We've also tried wrapping them in tinfoil for an on-the-go snack and they have held up surprisingly well!
Ingredients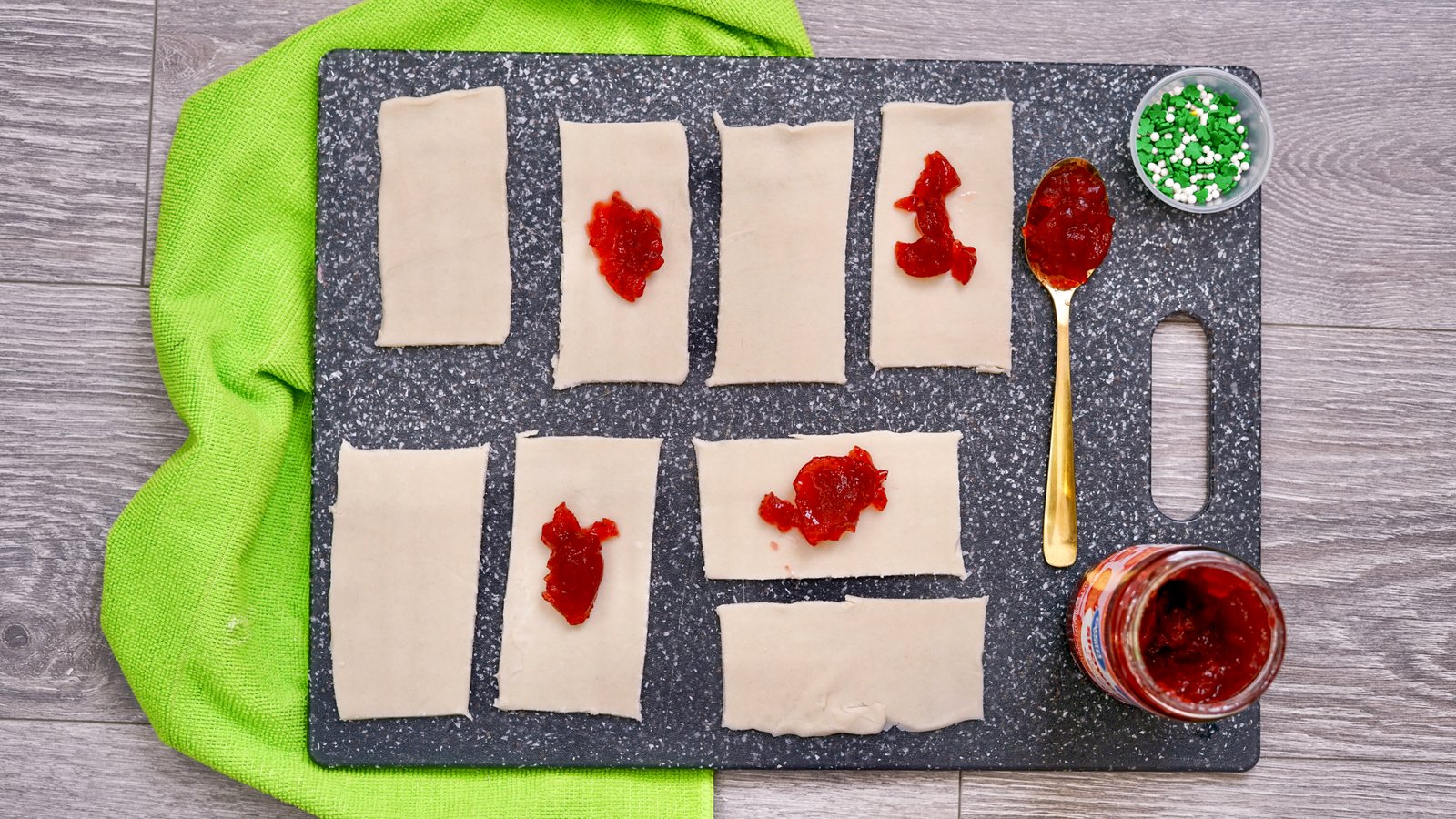 Pre-Made Pie Crust
Jelly of your choosing, grape, strawberry and raspberry work well.
Vanilla Icing – you can make your own or have a few packages of cookie icing in the pantry.
St.Patrick's Day Sprinkles – or any themed sprinkles you like
1 Egg – whisked and mixed with a small amount of water
Fancy spatula – optional, but it doesn't hurt, right?
Instructions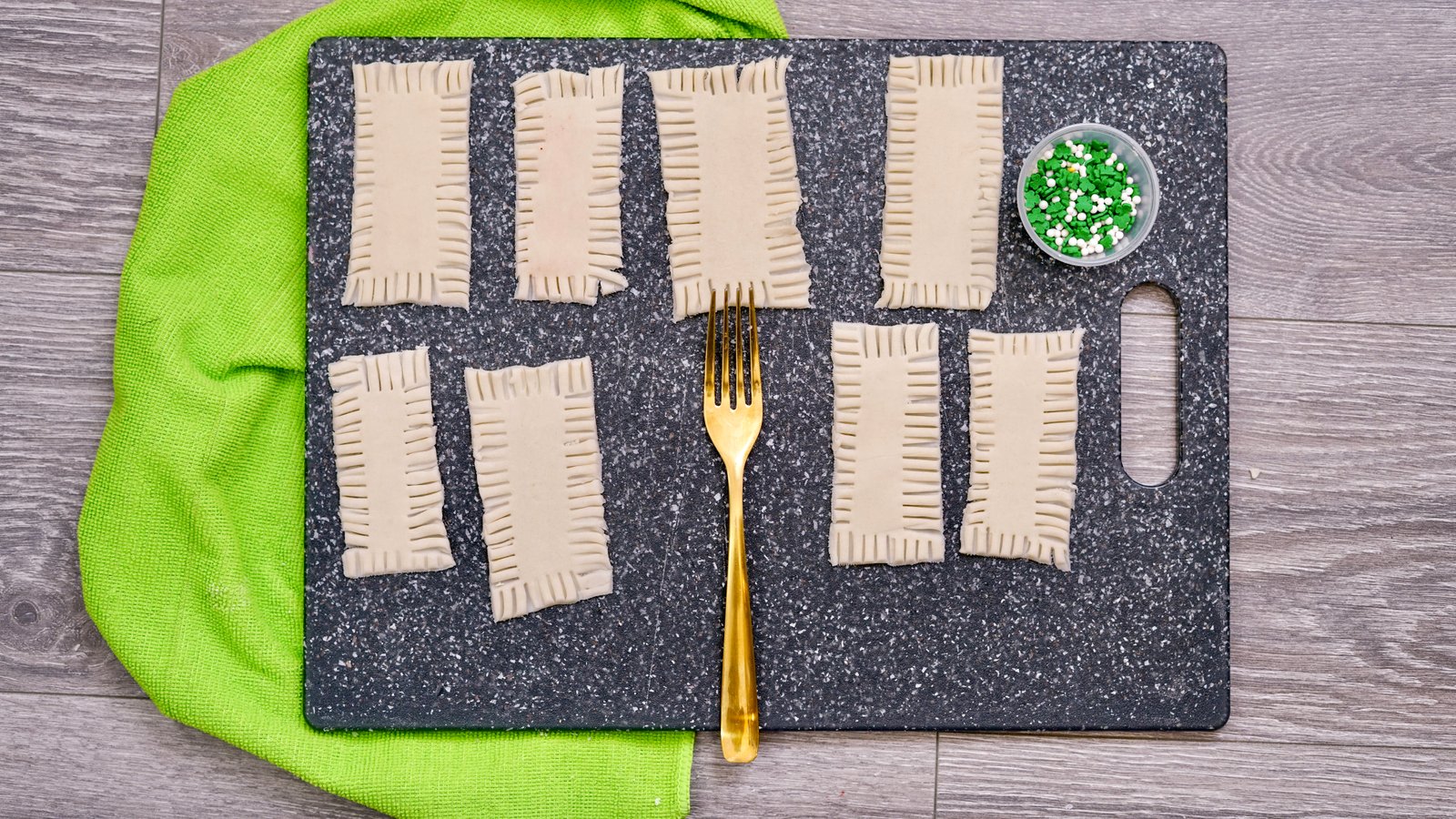 Roll out the pie crust and cut out rectangles.
Place 1 Teaspoon of jelly on every other rectangle.
Place a rectangle on top of the jelly rectangles & press edges together with a fork to crimp edges closed.
Lightly coat each rectangle with egg wash.
If you'd like to skip the icing, you can sprinkle sugar lightly on the top before this next step.
Place in air fryer for 5-8 minutes on 375. These fry really quick so keep an eye on them!
Remove from air fryer and smother in icing.
Sprinkle away!
Serve & enjoy!
That's it! Let your poptarts cool for a few minutes before taking your first bite as the filling can be warm (and gooey and delicious!).
You can eat these all on their own or pair with some delicious fresh fruit or even make "giant" pop-tarts by making the rectangles a bit bigger and adding a bit more filling. The possibilities are really endless and with such an easy recipe, the kids can help out with much of the prep!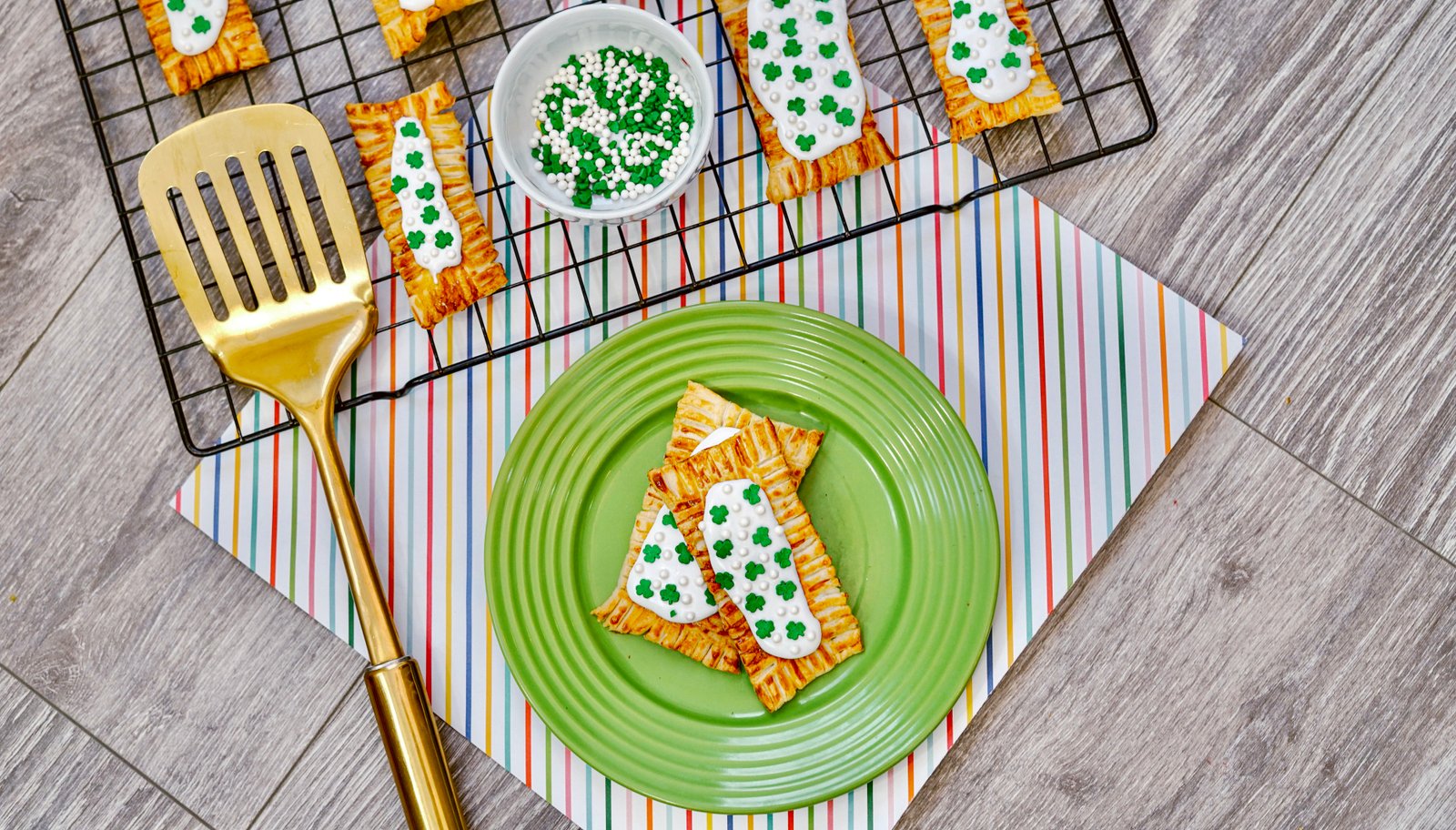 These are such a hit in our house and something I love to be able to make for sleepovers, nothing says best mom ever quite like personalized Pop-Tarts in the morning, right?
Want to try it out later? Make sure to pin the recipe below!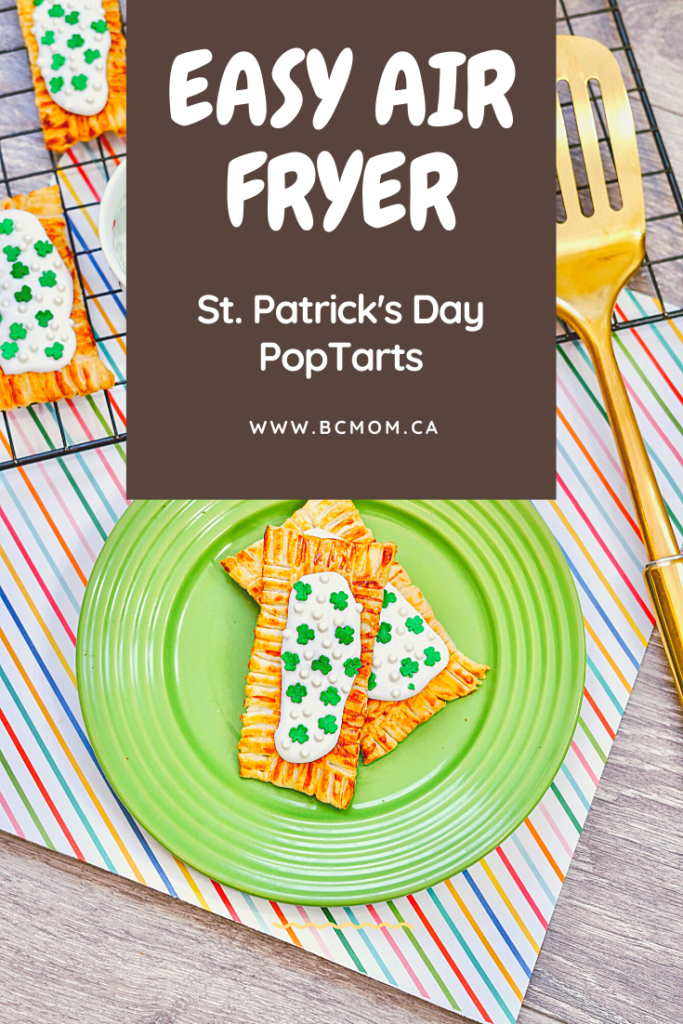 {This post contains affiliate links, as Amazon Associates we earn from qualifying purchases.}