(Pssst… Melt Couples Massage is giving away $1000 this Christmas to a couple who share a massage over the holidays, more on that below…)
The holidays are fast approaching and, I think I can speak for a lot of couples, we are all having a bit of trouble thinking of what to get for our partners. We want to show them how much we care, we want to spoil them, we don't just want to get them any old thing. That is where MELT massage for couples comes in to save the day… or holidays in this case.
MELT provides couples all over the world with the skills needed to give the best massages. With their online video tutorial courses you will learn basic to intermediate massage skills from a talented professional massage therapist. They are easy to follow, have in depth tips for beginners and give you a beautifully intimate way to connect with your partner.
Whether your partner works long hours, or stays at home with the kids we all get aches and pains. We all are often too tired to do much at the end of the day, but MELT massage for couples can add something special. Imagine taking the time to learn these skills together each evening for even just a few minutes. It will lead to laughs, intimacy and feeling peaceful in your togetherness.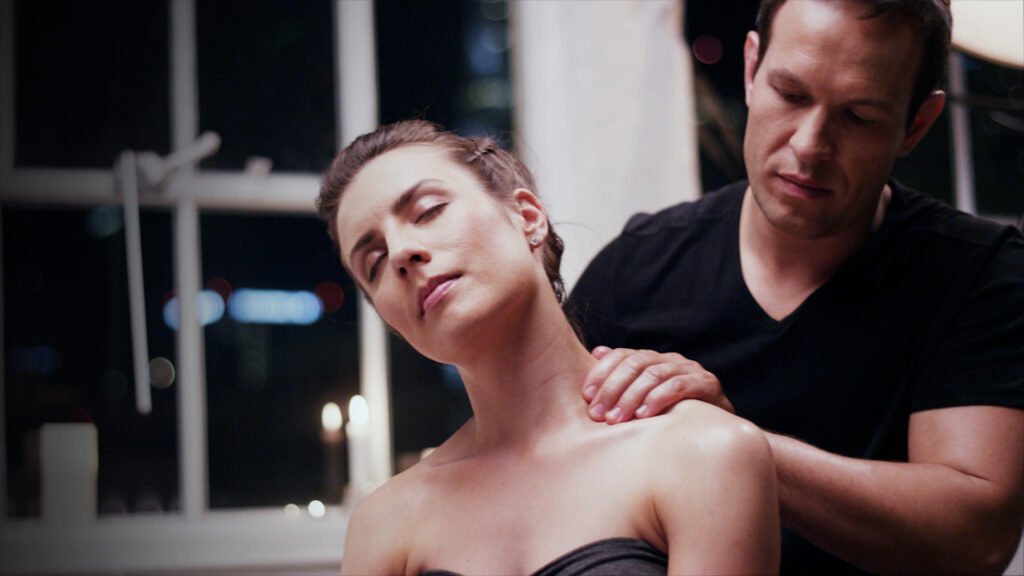 For one of the most important people on your list you want to make sure you are getting them something they want. I know that getting a massage is always on my wishlist. I've spent the previous 13 years working in the paramedical field. I understand the true value of a massage in terms of balancing moods, relieving stress, releasing tension that can contribute to discomfort, and more.
But did you know that at-home massage has its own range of incredible advantages? What if I told you how you could double down on the soothing aspect, rekindle intimacy, and spend quality time with your partner? I mean what a win:win it would be to soothe your partner, rekindle that love and really relax together at the end of a night. Holidays are way better when you have MELT sitting in your back pocket.
Pair their amazing courses with some of their incredible massage oils and you will be winning Christmas this year. Create the most relaxing kit of essential oils for your diffuser, massage oils that pair perfectly with the courses and top it all off with their fun printables for Christmas. They make it so simple for all budgets to take advantage of their professional led classes.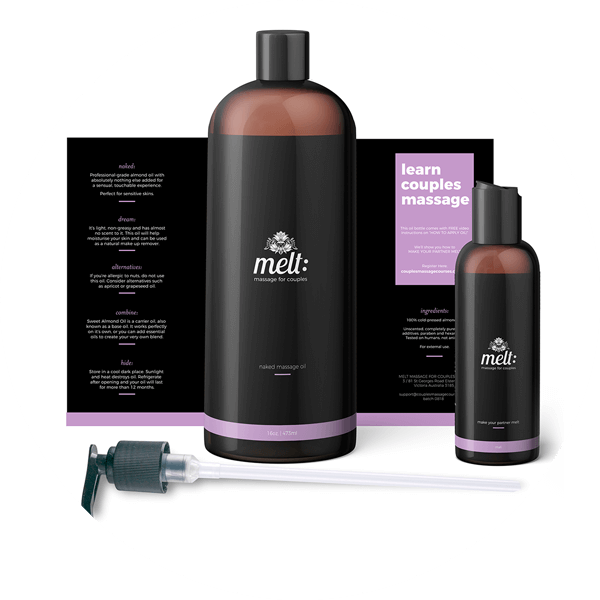 How will I know which class is best?
This will all depend on your skill and comfort level but to get the full in depth lessons you will want to enjoy their Melt's Masterclass. This class includes three courses: basic, intermediate and advanced. This will give you the full range no matter how much or how little experience you have giving a massage. With their easy to follow instructions you can purchase your classes and start immediately if you want to. Making this the perfect gift if you have found yourself up against the ropes on the hunt for that last minute gift idea that will save the day.
For those of us who may be sensitive to touch these are great classes as you can learn with someone you already trust. This can be a life changing gift for those who can't go to a regular massage therapist due to trauma issues, or just touch sensitivity. Being with the one you trust will make everything less stressful, you will open up more and connect more deeply. It is truly the gift that keeps on giving and this holiday season I hope lots of you take advantage of their holiday deals. Togetherness is so important and we have all had such a hard couple of years living in survival mode that this can be such a healing experience.
11 reasons some couples are using Melt massage for couples techniques
Release of Stress
Tension and Knots
Communication and Intimacy
Sex and foreplay help
PTSD therapy
Reduce Pain and Inflammation
Help with Sleeping Better
Trips Away & Holidays
Anniversaries / Birthdays / Valentine's Day
Languages of Love
Parenting (some of these amazing skills can be used for baby massage)
Denis, who is your instructor throughout the videos, has over 15 years experience. He founded Merkas Health's head, hand, and foot massage services and now shares his expertise in an easy-to-follow, hands-on course that has benefited over 50,000 couples in over 190 countries. Now you can use his amazing expertise with these videos one on one and in your own space and with those who make you feel safest in this world.
At such great prices, and considering how much this gift can give back to any relationship, it is a no brainer. You need to make sure this is under the tree this holiday season and Denis is giving you a super big incentive to do so.
Melt Massage For Couples will also be holding a Christmas giveaway for all their active Melt'ers. Giving away $1000 to one of their lucky class holders, announcing the winner Dec. 29th, 2021. So when you start your classes make sure you take the time to read over how to enter their contest! This contest will be open to all Melt'ers with an active subscription OR who currently already have a lifetime subscription in any and all countries.
What will you have to do to enter to win this $1000??
Choose a Melt Massage For Couples Technique – The winner is chosen by random, not by ability. So have fun, relax and learn together!
Film a minimum of 10 seconds showing how you use these massage techniques with your partner (no more than 30 seconds)
Submit your video – Submit your publicly viewable video on either YouTube, Vimeo or Instagram
You must have an active Melt Membership – Competition is open to ALL Melt'ers with an active subscription or lifetime membership
Entries must be submitted using the appropriate form
Use the same email address as typed in your Melt Account (we need to verify you're a Melt'er) – this is a very important part of the eligibility, if your emails do not match, you'll be disqualified. Double check your work!
Using Instagram, add the hashtag #meltcouplesmassage – Copy and paste the url of your instagram post into the form.
That's it! If you're hoping to give or receive the gift of intimacy, connection or just something new to experience together, then make sure to scoop up your account in time to enter this incredible contest. Make sure to put in that effort this year, learn together, connect with one another and maybe just maybe you'll be getting a $1000 surprise come the New Year!