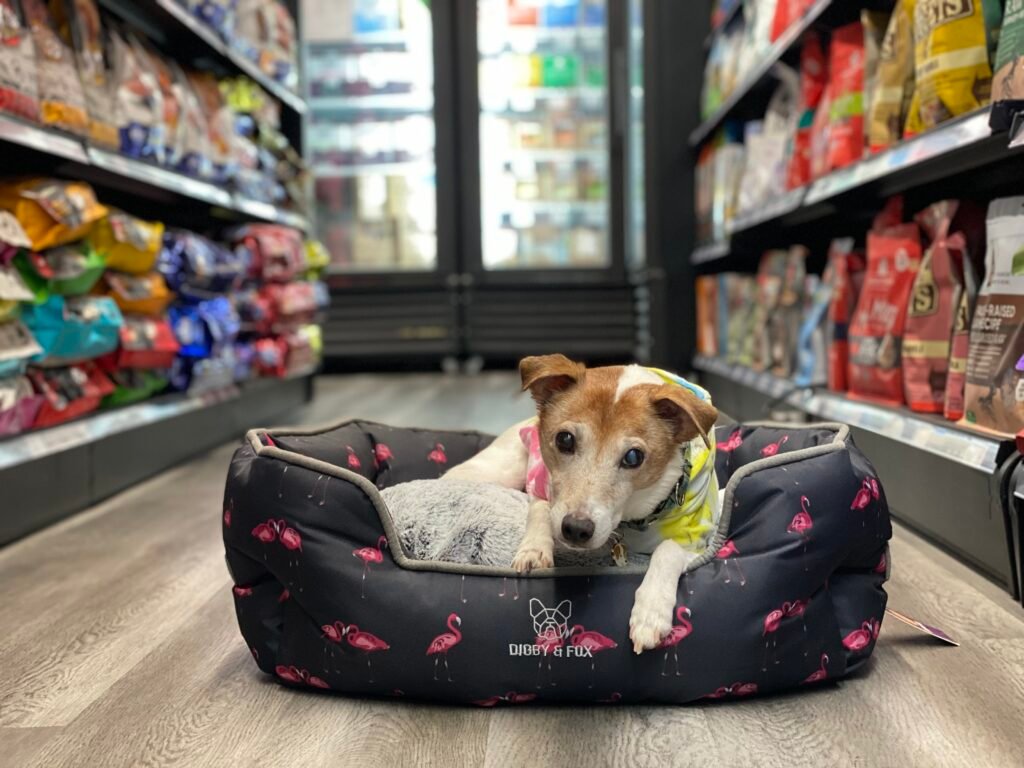 I'm super thankful for the incredible community I live in, and even more thankful that Global Pet Foods joined it not long ago! If you've been here for awhile you'll know I'm pretty passionate about supporting local and I was instantly in love with Global Pet Foods from first stepping inside this store.
Once upon a time, I was absolutely ridiculously extra and decided that the most logical thing to do after losing our cat was to adopt 2 more kittens, seems reasonable right? LITTLE DID I KNOW. It's been 19 years since I've had kittens friends, and much like children's things, food, accessories and everything in between has come a long way since then.
When Global Pet Foods Burnaby first opened, Luna was very much on her way over the rainbow bridge, she was in the final stages and after 19 amazing years together I wanted to make sure we were doing the best we could for her. That meant switching her food to nutrition-rich options that she could eat without discomfort, soft treats, and of course, the snuggliest bed to relax in.
When she passed, I was understandably heartbroken and vowed that I wasn't going to get another animal for some time. Unbeknownst to me, the universe had other plans and opened my heart to two amazing little kittens that I'm pretty sure were a gift from Luna. She knew they would bring us so much joy.
When we brought home Professor Pickles and Popcorn Greycat, my mind was spinning. It had been nearly 20 years since I had a tiny kitten around and oof, they truly do bring adorable splendid chaos, but they're also eating me out of house and home!
I knew from the get-go that we were going to focus on good ingredients, locally sourced or made, and companies that we trusted. With the help of the Global Pet Foods Burnaby's incredible staff, we settled on Nature's Harvest, and our cats *love* it.
Education-wise, their staff is top-notch. Unsure of an ingredient in the food you're looking at it? They'll fill you in. Unsure of an ingredient in a food you're already using? They've got you. Have a furry friend with a specific dietary need? They can help you find the best options available. Their staff is trained extensively and their focus is always on making sure you feel you've made the most informed decision for your pets needs.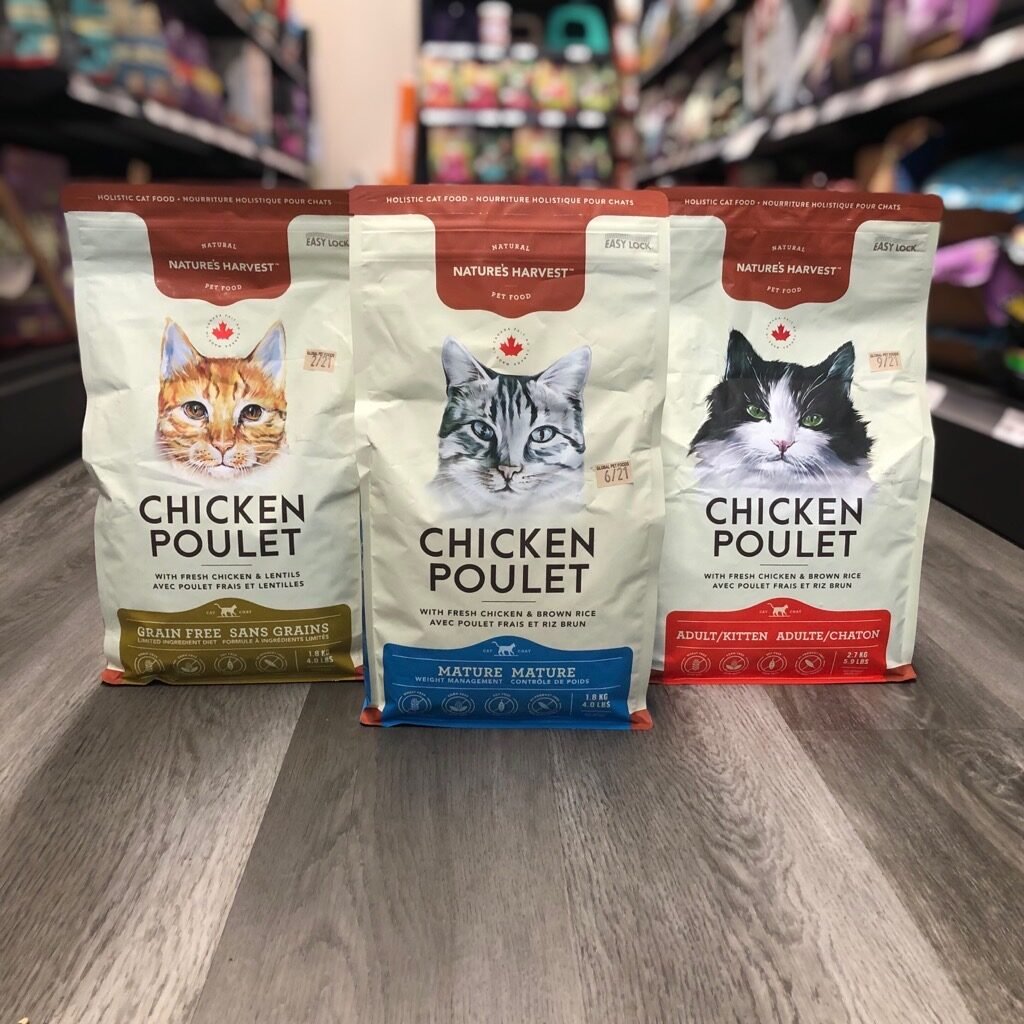 Oh, they also LOVE to spoil their customers too with treats and samples so if you're looking to try something new, it never hurts to ask if they have a sample, in fact, they have an event coming up that you will not want to miss.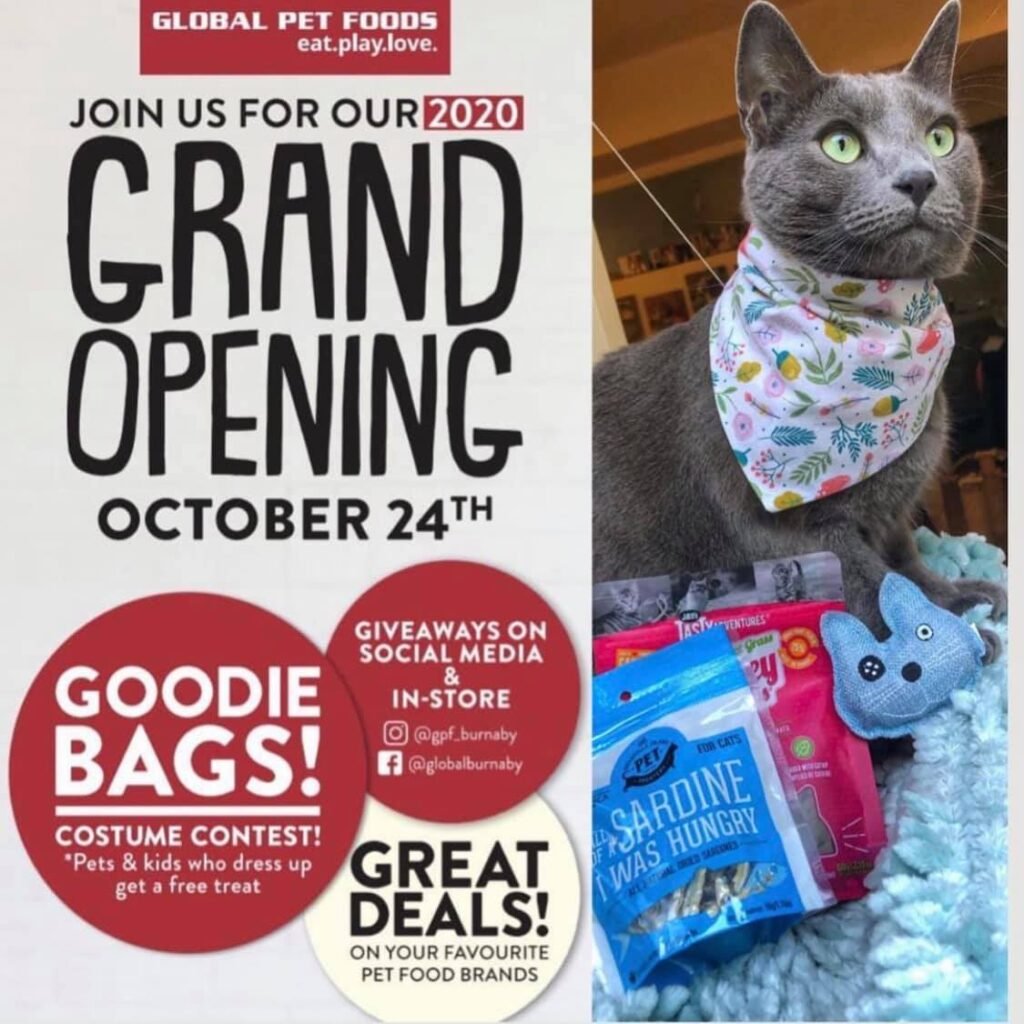 Global Pet Foods Burnaby 2020 Grand Opening
Join us (and yes, I'll definitely be stopping in!) on October 24th, 2020 for their official 2020 Grand Opening with leash cutting ceremony at 1:30pm with the CEO of the Burnaby Board of Trade. There will also be hot beverages from their neighbors JJ bean, Pumpkin Spice Lattes from Primal for their puppy visitors, and even treats for both dogs and their humans from Punk Rock Pastries. 
On top of all that there will be amazing in store deals, an online costume contest and treats for any kids and pets who come to visit in costume! There will be so much going on you don't want to miss out.
COVID protocols are in place, please bring a mask for when you are in the store, hand sanitizer will be offered, there will be a limit of 6 customers in the store at one time, and staff will continue to adhere to a thorough sanitizing of high contact surfaces throughout the day.
To help kick off the celebrations, Global Pet Foods Burnaby has generously given us a $50 gift card to giveaway to one lucky reader! You can spend it at the Grand Opening and score some great deals, or save it for when you need it. The choice is yours! Want to enter to win? Make sure to head over to our Facebook Page and enter on the giveaway post.
Make sure you take the time to pop in, enjoy some coffee, spoil your pet, and get a free gift bag (while supplies last) and meet the incredible team behind Global Pet Foods Burnaby. They look forward to meeting you!
This post is shared with you in partnership with Global Pet Foods Burnaby, however, all opinions are our own. Their staff has been there for us through the end, and a new beginning in our family and supported ours and many local pet owners' needs with adapting during COVID-19 to ensure families still had access to the products they needed. We truly do love their store and hope you will too. Want to work with us? Click to learn more.