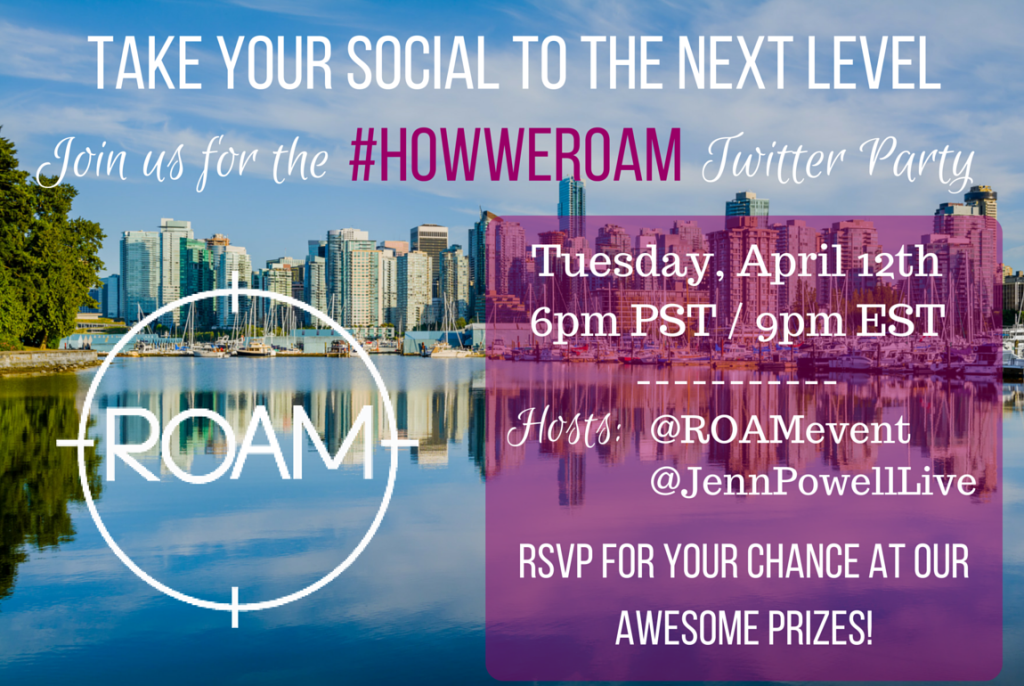 I'm going to drop a bit of a secret here… my blog is coming up on it's 2 year blogiversary and I have never actually attended a blog conference. Can you believe that!? I have primarily managed to network online which has been both a blessing for my crazy anxiety, but I feel like it's time. It's time to put myself out there, to meet, rub elbows, love and encourage those that are also on this crazy journey with me!
That's why I'm so excited to share with you that we have an amazing conference coming to my hometown, right smack in downtown Vancouver in just over a month, you can join us for ROAM, a conference like none other. There's no "classrooms", there's no hoping to catch that speaker at the end of the show in a brief card thrusting network moment. Nada. You'll be surrounded by those both learning with you, and teaching you. It sounds AMAZING right!?
Join us on April 12th at 6pm PST (9pm PST) for a chance to WIN your way into the conference. Yep, you heard that right. Someone is going to win full conference passes to ROAM '16 Vancouver, as well as a bunch of other fabulous prizes up for grabs that will give any influencer a fabulous boost!
Twitter Party Details
When: April 12th, 6:00pm PST (9:00pm EST)
Hosts: @roamevent & @JennPowellLive
Follow: #HowWeRoam
RSVP: RSVP is required to eligible for prizing – RSVP HERE
What can you win? Prizing includes:
Full Conference Passes to ROAM '16 Vancouver
$250 Flight or Hotel credit for ROAM '16 Vancouver
Professional Media Kit
Web Audit
$200 WordPress Credit from That's So Social
First time at a twitter party? It's super fun and super FAST! Set yourself up with Hootsuite or Tweetdeck and follow along with the hashtag #HowWeRoam, answer the questions during the party and you're set! We'll be there to help you along, so don't be afraid to reach out to us.
Just want to grab your ticket? Early bird pricing is in effect until April 15, and saves you over $100 a ticket. Do yourself a favour – invest in you. Invest in your business and come ready to learn, laugh and explore what the beautiful downtown core has to offer. Tickets are limited to this event to ensure an intimate experience, if you're thinking of coming… grab yours soon! I so hope to see you there!
{Disclosure: As a ROAM Ambassador, I receive special perks for sharing this information with you. My excitement for this event is legit and not influenced by sponsors, and I really do hope to see you join us!}