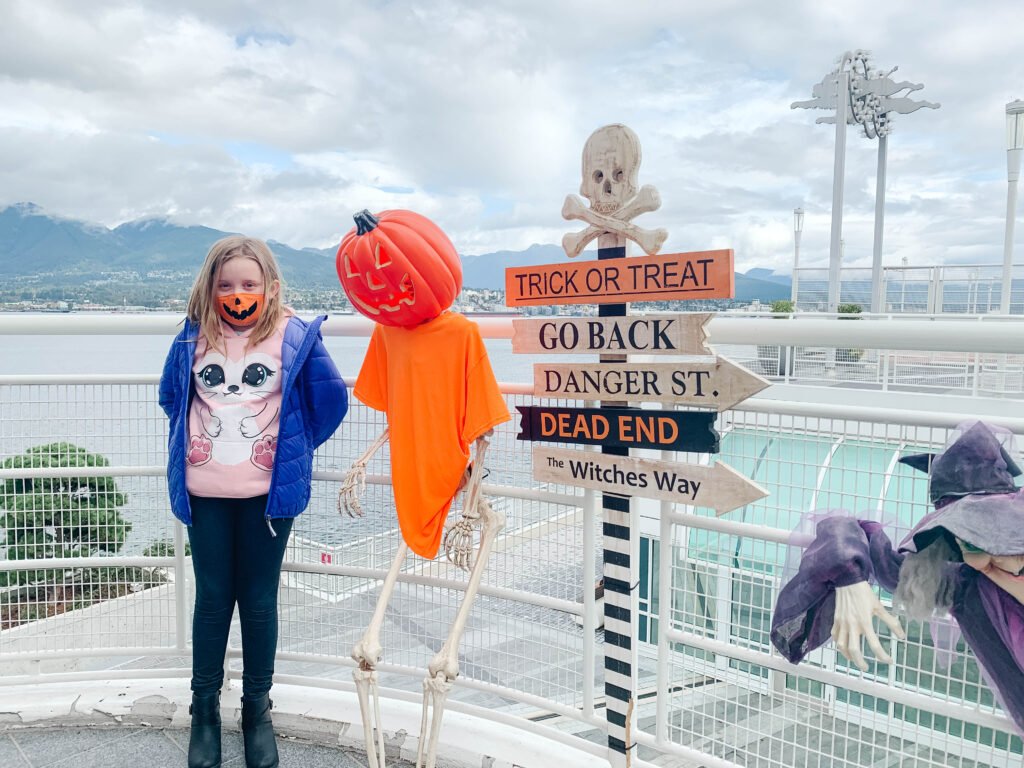 Ghouls and goblins, witches and wizards, princes and princesses, oh, and you too mom and dad. You won't want to miss the newest show to fly into Vancouver that is sure to deliver spooky laughs and excitement! Running now until November 1st, Flyover Canada guests can enjoy their newest show – HowlOver Canada to kick off the Halloween season.
Halloween is likely to look a lot different this year for many of us, so we've been spending the better part of October getting into the spooky spirit with the help of safe activities. Crafts, decorating, pumpkin carving, and of course, Flyover Canada. Since it's re-opening with new COVID-19 measures in place, they have gone above and beyond in delivering a safe environment for an incredible experience like no other.
One of the best parts about a visit to Flyover Canada is that the flights are all family-friendly – and HowlOver Canada is no different. If you've previously seen the original Flyover Canada film, the new HowlOver Canada show uses some of the same clips mixed with new Halloween-themed magic you that takes you on a supernatural flight simulation across some of the most picturesque landscapes in Canada!
If you're new to Flyover Canada, HowlOver Canada is a wonderful first show to experience some of the theatrical magic that goes into an incredible flight simulation 4D experience. Flyers are treated with swoops and turns through mountains and through valleys, brushed with mists of water as you soar through rapids and oh, yes, that is grass you're smelling!
Flyers at HowlOver Canada will also experience a brand new pre-flight show before onboarding that introduces you to the newest characters including Biker-Mama and her kitty sidekick Tiger Moon, while they whisk you away on an adventure to fill up Biker-Mama's broom with all her friends before speeding off to make it to see an incredible Halloween concert that is sure to have the kids grooving in their seats.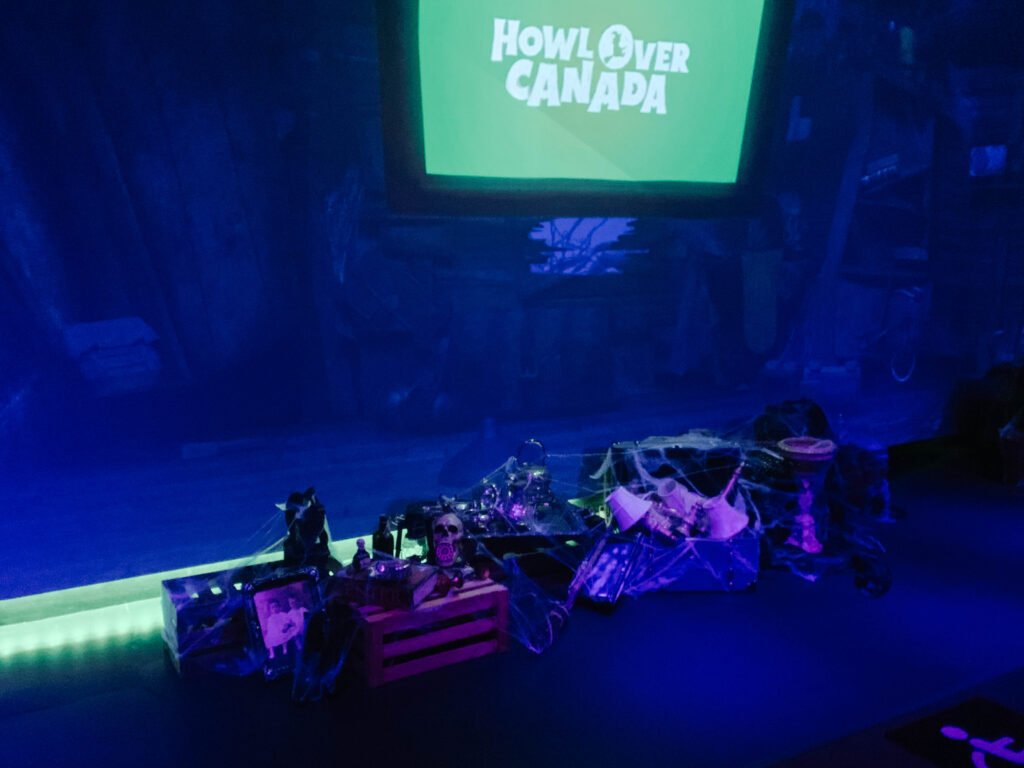 Rick Rothchild, the film's creative director, and George Scribner, the animation director are both previous Imagineers at The Walt Disney Company. It definitely shows through the conceptualization of the story, the extra magic sprinkled throughout the four main characters, and the incredible alternative ending! From pre-boarding to the end of the show, our kids were laughing and we are pretty sure we heard some gasped "wows!" on more than one occasion.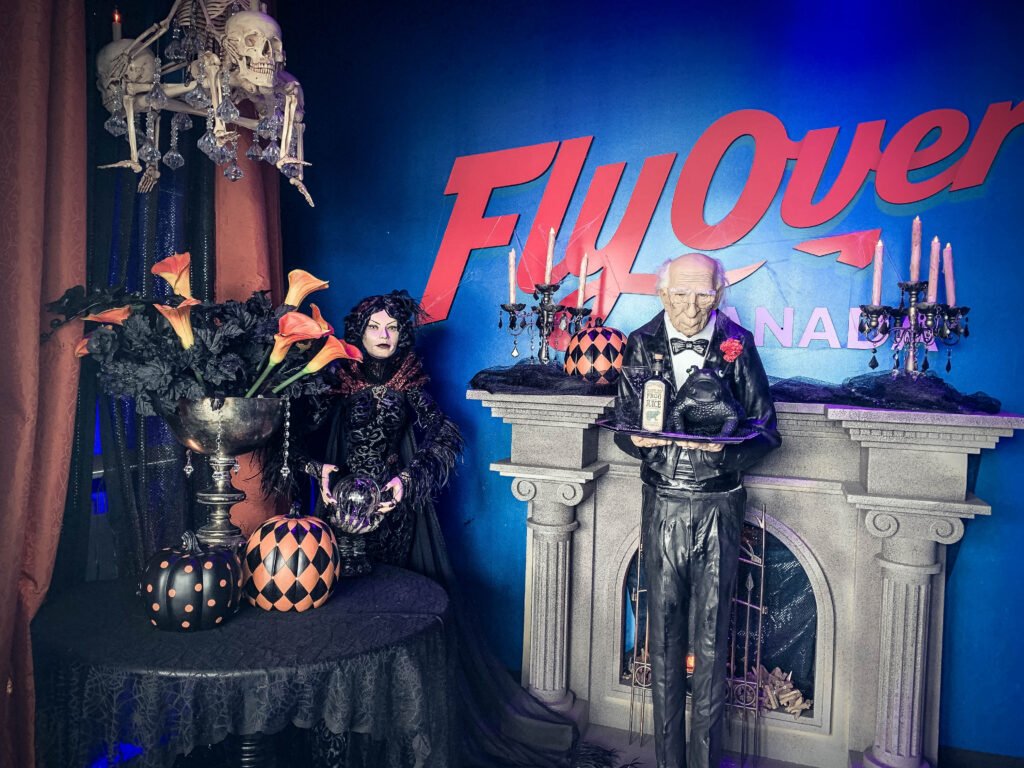 [[ Spoiler Alert ]] If you want to be excited about the ride please skip this part! If you have smaller children or children that are easily startled we recommend preparing them to close their eyes towards the end or be prepared to lean over for a quick snuggle or hand grab.
The final scene that includes Biker-Mama whisking flyers through the haunted forest feels very fast and can be a bit spooky for skittish riders. There is no gore, no jump scares, or anything to be concerned about, but you are "flying" into a haunted, decrepit mansion and greeted with a giant dancing spider.
If your child decides there is noooo way they are going through with the ride, you have until your flight guide leaves after buckling you in to decide to disembark. Don't be afraid to let them know that today is not the day for you to visit the haunted forest.
Once your magical flight through the haunted forest with HowlOver Canada is finished you'll disembark right into the gift shop where FlyOver Canada has introduced some fun Halloween themed gifts that our kids loved! Flyers can take home their very own Biker-mama cups, stickers, candy, and more. We really loved the assortment of light-up accessories just in time for the early dark nights.
If you'd like to make it a super special afternoon, make sure to stop by The Flying Whale Waterfront Cafe for a witches brew inside a glowing HowlOver Canada mug, complete with eyeballs and worms (well.. gummy worms..). While the kids enjoy their drink, we highly recommend checking out some of the delicious Fall drinks and nibbles the cafe offers.
With the current economic climate, we know that saving every penny possible is paramount for a lot of families. FlyOver Canada wants to give residents the opportunity to experience this incredible show with many different ways to save on your tickets —>
Kids Ride Free – Visit before 2 pm any day and kids ride free! One child admitted free with each regular-priced adult ticket. This also includes a cookie and 50% off a souvenir photo.
Date Nights at FlyOver Canada – Visit after 5 pm with the date night package and it includes a beer or wine and a souvenir photo.
Book Online & Save – Book online in advance to get the best available rates or same day to receive at least 10% off the gate admission price.
Variable Pricing – the pricing for tickets changes based on projected visitation for that day, so by booking off-peak times mid-week or early in the season you have access to the lowest price possible.
HowlOver Canada will run from October 1 to November 1 and will be shown daily from 10 AM – 8 PM.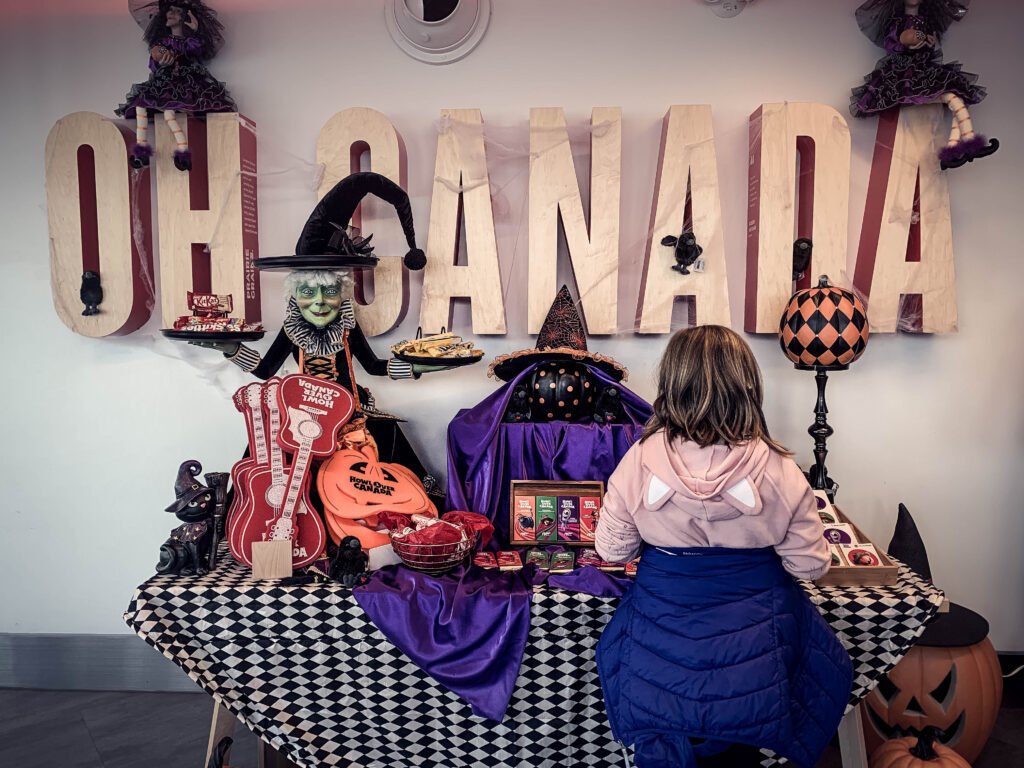 As mentioned above, FlyOver Canada has gone above and beyond with the COVID-19 protocols to keep guest safe on their flight. We have been twice since their re-opening and have always been impressed with the physical distancing markers, individual flight guides, spacing on the ride itself and mask policy.
In response to Covid-19, FlyOver Canada's safety measures include:
Reduced guest capacity with seat separation between groups and families to ensure appropriate social distancing.
Masks must be worn at all times while inside the attraction.
The ride is fully sanitized between guests.
Hand sanitizer stations are placed at all property entrances, public spaces and near washrooms.
Each small group will have a Flight Guide at all times to make sure social distance rules are being considered.
The ability to book online in advance to reduce touch points.
A big thank you to FlyOver Canada for the tickets to experience HowlOver Canada. We've been able to experience almost every show FlyOver Canada has released and it was safe to say that this one was at the very top as a favourite for the kids in our group. You can read more about our experiences at FlyOver Canada here.