It's hard to believe that we're finally into December and well on our way to Christmas right now! I swear we all blinked and 2021 just zoomed on past! This year, similarly to last year, will be a much more quiet affair for our family so we've been on the lookout for fun activities and new traditions we can start to enjoy family time together.
A big one for us, and for my daughter, is definitely baking. She's 10 now and wants to be more hands-on in the kitchen and help create yummies she can share with those we love. And I mean really, it isn't Christmas without Rudolph, right? These super easy, and super delicious from scratch Rudolph cupcakes are sure to delight all ages and are easy enough to whip together on a weekday if the craving strikes!
Ever since A was little, when it came down to her favourite reindeer she wasn't shy about piping up about her support for our red-nosed friend. She's definitely the kid to cheer for the underdog and with Rudolph The Red-Nosed Reindeer 4-D theatre being a Christmas tradition for our family at the Vancouver Aquarium, it kinda made sense to ensure we included him in our baking! Want to include all the other favourites as well? Swap out the red jellybean for black, or another dark coloured treat.
Whether you're baking for your own enjoyment this holiday season, or to give delicious little gifts, these Rudolph Cupcakes should be at the top of your list! They present beautifully, travel well and taste well – delicious!
The best part about this recipe is that you can easily adapt it if you prefer different flours, sugars or if you want to keep it super easy and use a box mix. Just have the extra little bits to decorate on hand and you can make these any day of the week.
Most of the fun decorations can be found at your local dollar store, baking store or local grocery store. If you're feeling a little bit fancy you can even whip up some thick royal icing to pipe on your own eyes and make it your own.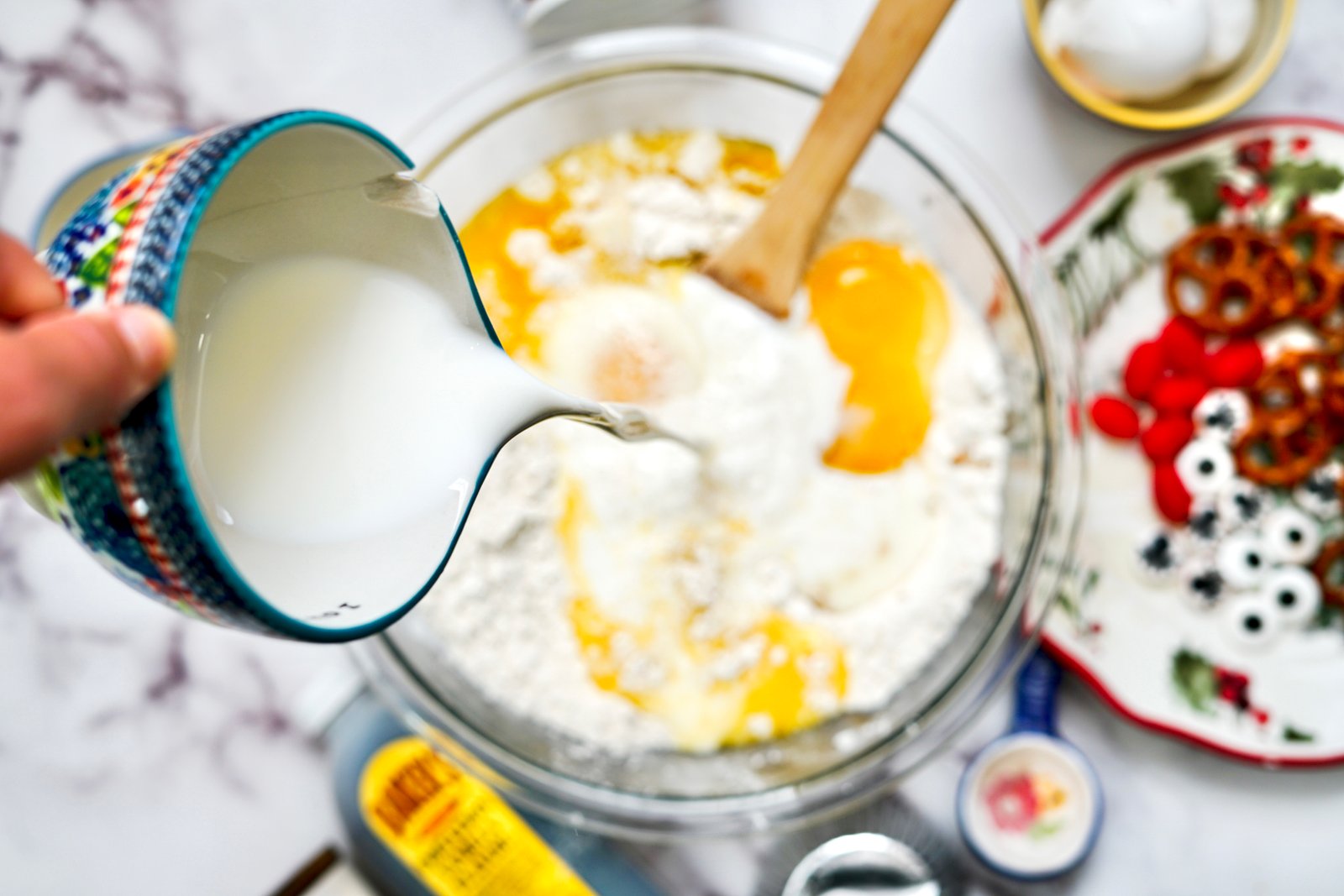 Ways to safely share & enjoy your Rudolph Cupcakes
Create gifting jars! Print off the recipe and include a note that your gift recipient will need egg, vanilla and melted butter. Add all your dry ingredients into a jar, seal and top with a fun festive bow and tie the instructions to a tag on the side. This can be a great gift for teachers, friends and family and create delicious holiday cheer.
Neighbour drops! Have someone in your neighborhood that needs a little bit of festive cheer? Pack up some of these cupcakes and do an Elf drop on their porch with no contact. Encourage them to pay it forward with some festive cheer.
Make the cupcakes in advance and have a Christmas Eve decorating party with close family. Lay out all kinds of fun decorations for your reindeers and let everyone make their favourites.
Have an Elf On The Shelf? Have your elf deliver the premade cupcakes with a cupcake decorating board just in time for a sweet treat breakfast one morning.
Ingredients For Rudolph Cupcakes
1 Tbs Baking Power
1 Tbs Vanilla
2 Eggs
1 Tsp Salt
1/2 Cup Melted Butter
1 1/2 Cups Flour
1 Cup Sugar
1 Cup Milk
Chocolate Frosting
Red Jelly Beans
Candy Eyes
Mini Pretzels
Cupcake Liners
Instructions for Rudolph Cupcakes
Preheat your oven to 350 degrees Fahrenheit or 175 celcius
Line cupcake tins with cupcake liners, you can use plain or festive.
In a large mixing bowl, combine flour, sugar, salt, and baking powder.
Add in the eggs, milk, vanilla & melted butter.
Mix well until combined, but don't overmix!
Pour batter into the cupcake tins and bake for 15-20 minutes or until a toothpick comes out clean from the centre.
Remove cupcakes from oven and transfer to a cooling rack.
Once cupcakes have cooled, frost with the chocolate frosting.
Place two pretzels on the top two corners of the cupcake.
Add two candy eyes.
Add a jelly bean to create a nose.
Enjoy your festive Rudolph cupcake!
Like most cupcakes, these delicious Rudolph cupcakes can be made in advance and stored in an air-tight container until you are ready to frost. If you are feeling super pre-planny, you can also freeze them in an air-tight container until you are ready to use.
Want to up your cupcake game? Pair these delicious treats with a fun Holiday Cranberry mocktail! Alcohol-free, delicious and just as festive as Rudolph.
We hope you'll give these delicious treats a try this holiday season, and don't forget to share!