Flyover Canada, one of our favourite Vancouver spots for a family visit is gearing up to welcome everyone for its latest flight ride – Legendary Iceland! Running from February 17 – April 18, 2022 guests will be treated to an immersive experience like no other. Buckle up those seat belts, we're going to ICELAND!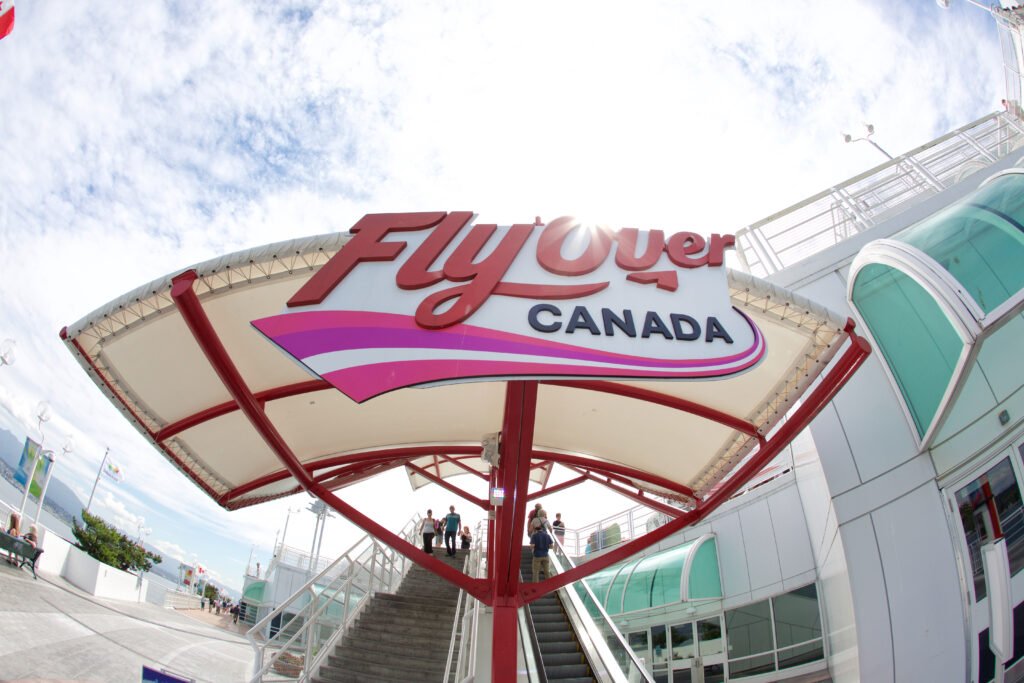 If you're new to the magic that is Flyover Canada, I highly recommend taking in a double feature for your first flight! Using industry-leading technology and techniques, the Flyover team crafts immersive original products that leave you seeing countries in a way like never before. Led by celebrated creative director Rick Rothschild and acclaimed aerial cinematography director Dave Mossop of Whistler, BC, locations come to life in FlyOver films. When paired with soaring, atmospheric scores composed by members of the legendary band Sigur Rós from Iceland, the adventure reaches even more epic heights. 
It's a one of a kind experience to be situated 10-15 feet above the ground in special ride cars that leave your feet dangling, the wind and water spraying and the smells… probably my favourite part!
What can you expect for Flyover Canada Legendary Iceland? You'll be treated to a stunning pre-show in the pre-boarding area that explores the impact nature, time and humankind have had on shaping this remarkable island. During this multimedia experience, guests will learn about everything from volcanoes, glaciers, Vikings, and trolls (yes! you read that right!)
· A unique Icelandic-themed pre-show.
· A full flight-ride film, which was originally shown in Iceland.
· Icelandic-themed treat, such as lava cake and fire and ice cocktails, available for purchase at the Flying Whale Waterfront Cafe.
Want to experience both Legendary Iceland and the original Flyover Canada experience? Make sure to take advantage of the 30% discount available on dual ride tickets. Experience Legendary Iceland, hang out in your seat and stay buckled for an incredible, one of a kind ride over our beautiful country.
Our family has experienced nearly every single Flyover Canada flight and we've learned some incredible ways to incorporate some fun learning alongside our visit to keep things fresh. If you are homeschooling, taking kids on a field trip, or just visiting for fun, try out these activities:
Pick a province in advance and ask your kids to try and find it throughout the show based on a couple of small hints
Ask your family to find the hockey players, skiiers, Indigenous drums or any of your favourite scenes in the flight
Ask your family something they noticed about each province (ie: which one might be fun for snowboarding, great for farming, etc)
Flyover Canada also happens to be situated in a beautiful Vancouver spot within walking distance of wonderful spots to grab lunch, sight-see or wander for a family scavenger hunt! We recommend making up some picture scavenger hunt sheets for the younger crowd and some riddles for the bigger kids! Make your visit down to Canada Place a family day and enjoy a hop, skip and fly over to Legendary Iceland and back!
Event Details:
Where: Flyover Canada, 999 Canada Place
When: February 17, 2021 – April 18, 2022
What you need to know: Children must be at least 102cm (40″) to participate on the ride. Children 12 and under must be accompanied by an adult or guardian aged 14 years or older. Please note, masks are mandatory, and proof of vaccination will be required in accordance with provincial guidelines. 
Tickets: Tickets are cheapest when purchased in advance, so make sure to grab yours online at www.flyovercanada.com
We hope you'll make the trip down to experience this incredible show, Alivia has already been begging to head down to see Legendary Iceland so keep an eye on our social channels for what we thought of the newest ride at Flyover Canada!
Have a wonderful flight flyers!