If you're new around here, you might not know that I've struggled with anxiety nearly my entire life. Mostly unbeknownst to me! It wasn't until my mid 30's that I finally found a wonderful proactive doctor who helped me get things back in check through medication, counseling, and fine-tuning my relationship with myself. A big part of my own coping happens to also be poking fun at myself, and nothing says the perfect gift for me quite like a cheeky mental health mug. They say laughter is the best medicine after all, right?
Part of anyone's mental health journey is finding ways to have peaceful moments that bring comfort. For me and many people I know, most of the time, that is having something warm to drink. This means I needed to think up some adorable mugs that would comfort and help us find a moment to laugh throughout those harder days. Of course, this meant I needed to find a few supplies and a few ideas. 
With the help of the wonderful Mumfection, we brainstormed some of our favourite mental health sayings and sublimated some of our favourites onto Cricut Infusible Ink blanks with the help of my new Cricut Mug Press. Many laughs were had, some to the point of near tears as it brought us together laughing about how relatable a lot of them were to our own mental health.
I don't claim to be a crafty maven by any means, in fact, it took me a little bit to feel comfortable enough with my Cricut machine to start making more complicated projects and once I got past my own nerves, it was smooth sailing! The Mug Press however, is an entirely different machine and was a super easy plug-and-play. Happy to report though, even though I ordered enough mugs for "oopsies", we actually didn't have any! Our mugs from the very first, to the very last, turned out perfectly.
Supplies You Will Need For Mug Press Projects:
Parchment Paper/Butchers Paper 
A heat-safe surface like a Cricut EasyPress Mat
Creating the mugs was nice and simple and to start all you have to do is open up Cricut Design Space. From here you select "create new project" and get ready to start the creative process. Not only does Cricut Design Space have a bunch of incredible designs you can select from, but they have a large image bank and a huge collection of great fonts to choose from. With all the selection they provide you will be well on your way to getting all your project's details just right. If you're new to designing mugs, I recommend starting with the Drawn Mug Design template, it will give you an idea of the size guidelines to work within for your design.
The Cricut Mug Press works by sublimation, meaning that it actually infuses the pattern/colour you are using directly into the product. That means it'll last through regular washing and usage, and still look brand new. Making it perfect for customized gifts and more!
After I had finalized what I wanted on my mug, all I had to do was click and hold from the bottom left corner of the project and drag up to the top right corner. Once that is selected, look to the bottom right corner of Design Space and find "attach". Attach them all together.
The "Attach" function tells Design Space you want these items to be cut as one, as displayed. This makes it easier to weed and transfer to your project later.
I had a few great ideas that I knew would be perfect for myself and my friends. I was off to begin the printing process. Now the printing process is similar to when you are making a shirt, you want to remember to MIRROR your design. Since it is being pressed onto something, just like when making a bag or shirt, this is a crucial step that you don't want to forget. Doing so could result in a ruined mug that you can't use unless looking at it in a mirror.
When using Infusible Ink, always always make it a habit to MIRROR your design!
Once you have your design and have printed it out MIRRORED, you can begin weeding out the parts you don't need. After all that is done, you can get ready to place it onto your blank mug. But before you do, you will want to make sure that you preheat your Cricut Mug Press so it is ready to go. Your Mug Press will have a red button as it heats up, once it's ready to go, it'll turn green to let you know that you are ready to go.
Before adding your design to your mug, make sure to give it a quick wipe with alcohol and a swipe with the lint roller to pick up any particles you don't want to be added to your mug's character. When sticking your design onto your mug I found working from the centre out was the best way to get it as evenly placed as possible. You want to make sure you have it in the perfect spot before using the heat-resistant tape to secure it into place fully. You don't want it to move when put inside the Cricut Mug Press. 
Pro tip: If this is the first time using your Cricut Mug Press please make sure to be careful when placing your mug inside it. You want to be as gentle as possible to ensure that nothing moves around on you and with the tight fit you also don't want to damage any edges. It's easiest to slide it in on an angle at first.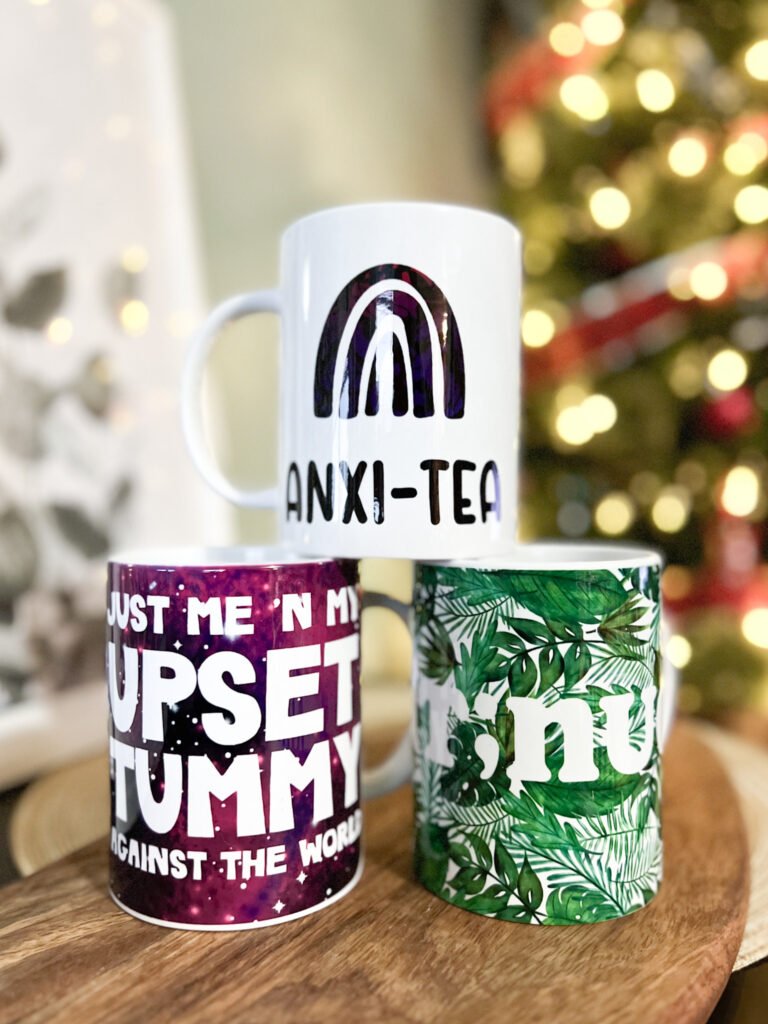 Now the press part is easy, once you have your mug properly inserted you push down on the big tab to start the heating process. Leave your mug inside until your machine indicates it's time to take it out with its sweet serenade of musical beeps. When you do BE CAREFUL it will be hot so make sure you place it on a heatproof service like a silicone pad or an EasyPress mat. Once your mug has fully cooled to the touch you can remove the outside bits and pieces to reveal your completed project. It truly is that effortless. 
I absolutely loved how my mug creations turned out, each one is not just funny but perfect for my friends' sense of humour. I love having supportive friends to both laugh and cry with, we are all so lucky to have each other in our lives and I hope they know how special they are to me.  With the mugs, I plan to customize what goes inside including my friends' favourite teas, treats, and charcuterie snacks. They will make perfect, personalized gifts!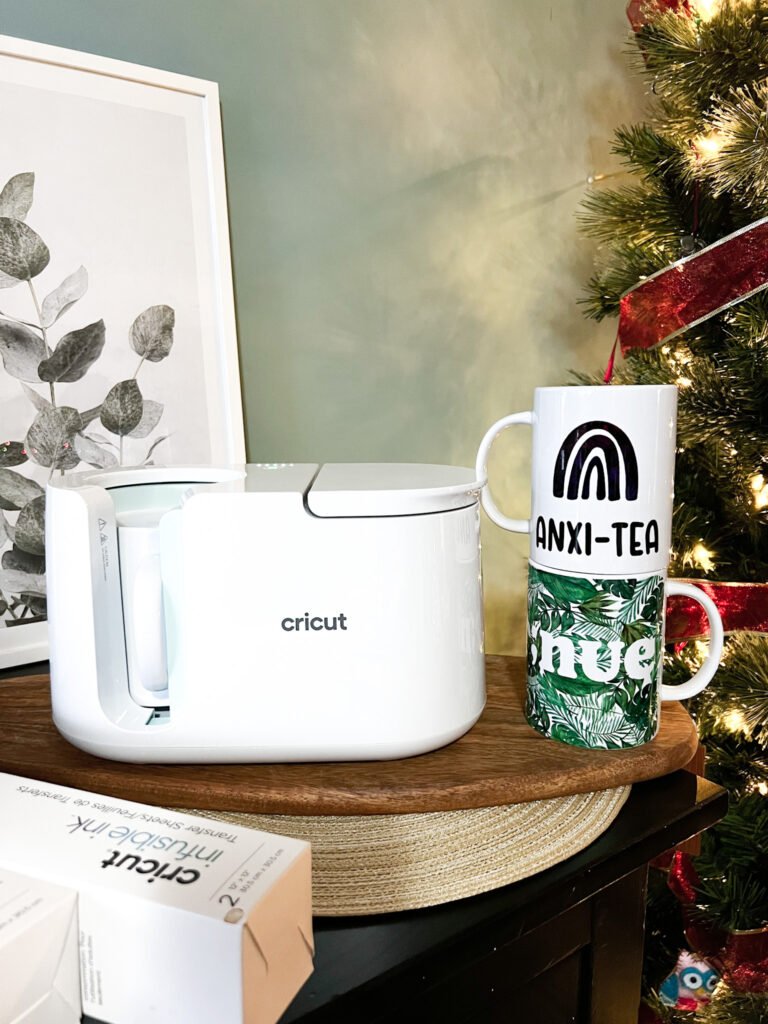 Using the Cricut Mug Press helps you create memorable things, not just for your home, but for your incredibly special friends and family. Which is an invaluable way to create heartfelt gifts for those in your life without breaking the bank. The variety of projects and ideas you can bring to life are endless which means your gifting ideas will always be boundless when you invest in a Cricut product. Their products are the best way for you to show someone you care and Cricut will always have your back when it comes to helping you express yourself in the most creative way possible.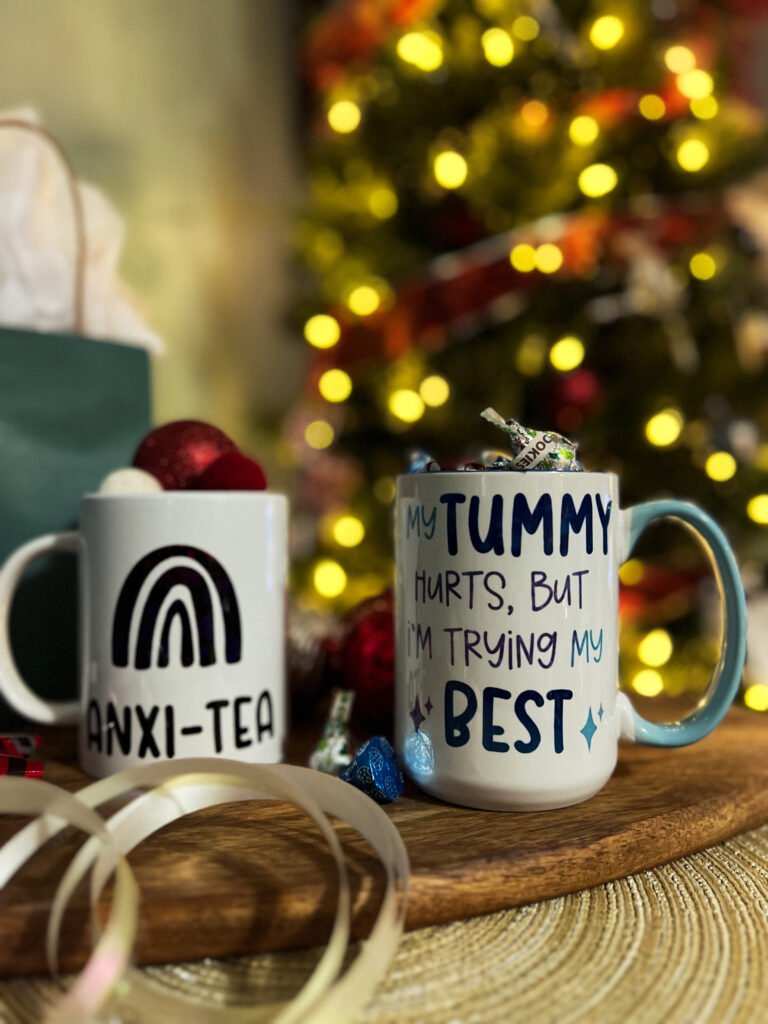 Mental health matters and taking a moment to show your friends you care about them and their journey can truly mean the world to someone. So get out there and make an effort, be a good friend, and spread some smiles. Both you and they deserve it.
Remember that if you or someone you know is suffering with their mental health there are multiple resources you can reach out to for help. In BC, call 1-866-585-0445 or text WELLNESS to: 686868 for youth | 741741 for adults: you are never alone, and people care.