If you follow along here at British Columbia Mom you know that my faithful car Cali the Caliber is starting to drive her last miles. My loyal little car has taken our family on so many adventures over the last 10 (!) years I can hardly believe it is time to start considering another vehicle. Of course, we want to weigh all options and electric vehicles are something we are considering for our future family. So when Volvo asked us to test drive their Volvo XC40 Recharge we were thrilled at the opportunity to take an in-depth look at all it has to offer.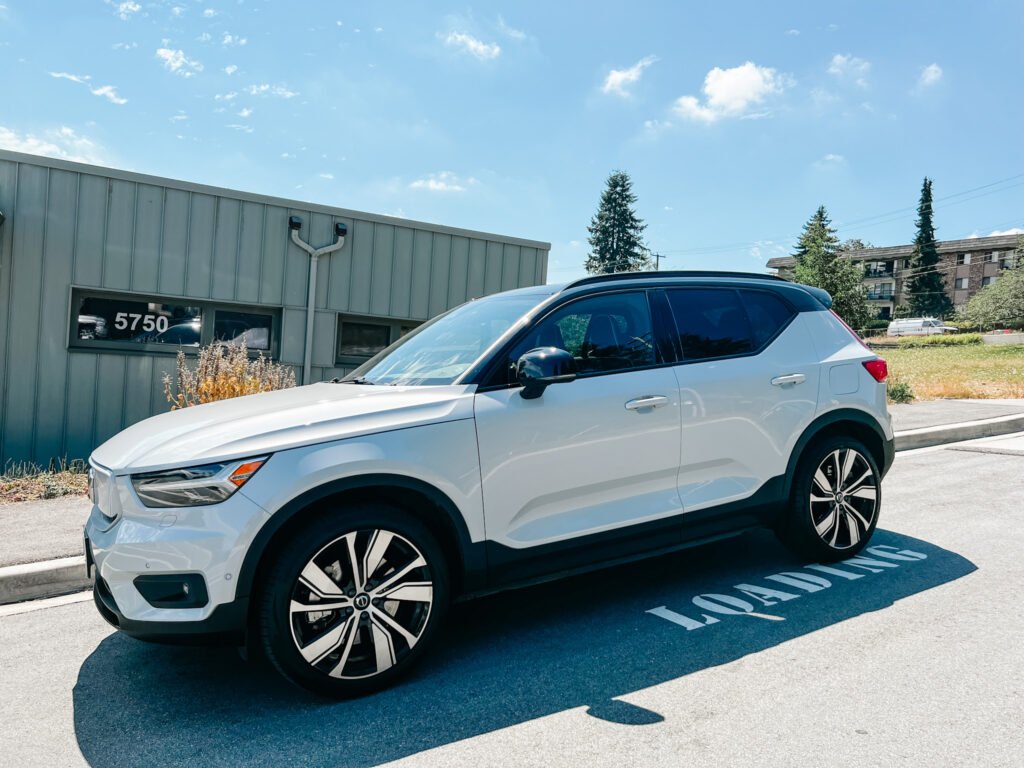 Why Choose Electric, or specifically the Volvo XC40 Recharge? 
So why are we considering an electric vehicle for our future family car? There are so many reasons so let's take a look at a few of them.
Better for the Planet – For our family, the fact that electric vehicles are better for the environment alone justifies the purchase. EVs have no emissions because they don't even have an exhaust system. Making the switch to an electric car can help create cleaner air and a healthier planet, especially now that AirCare has been discontinued in British Columbia – fewer gas-powered cars on the road the better.
Gas Prices – Families across North America have been feeling the pinch of gas price fluctuations to no end. We've seen some of the highest gas prices in history here in B.C. not too long ago, with prices projected to soar to over $2.50/L by summer. A lot of us felt the pinch on our wallets during those few weeks and it made lots of us stop and think; if gas prices continue to go up and fluctuate violently, can we manage it?
With our household needing two vehicles it is definitely a big concern for our budget. Even with electricity prices going up as well, gas pricing is still higher and more unpredictable. The fact is, we don't have any control at all at the pumps, and many don't have the option to jump the line to the US for cheap gas.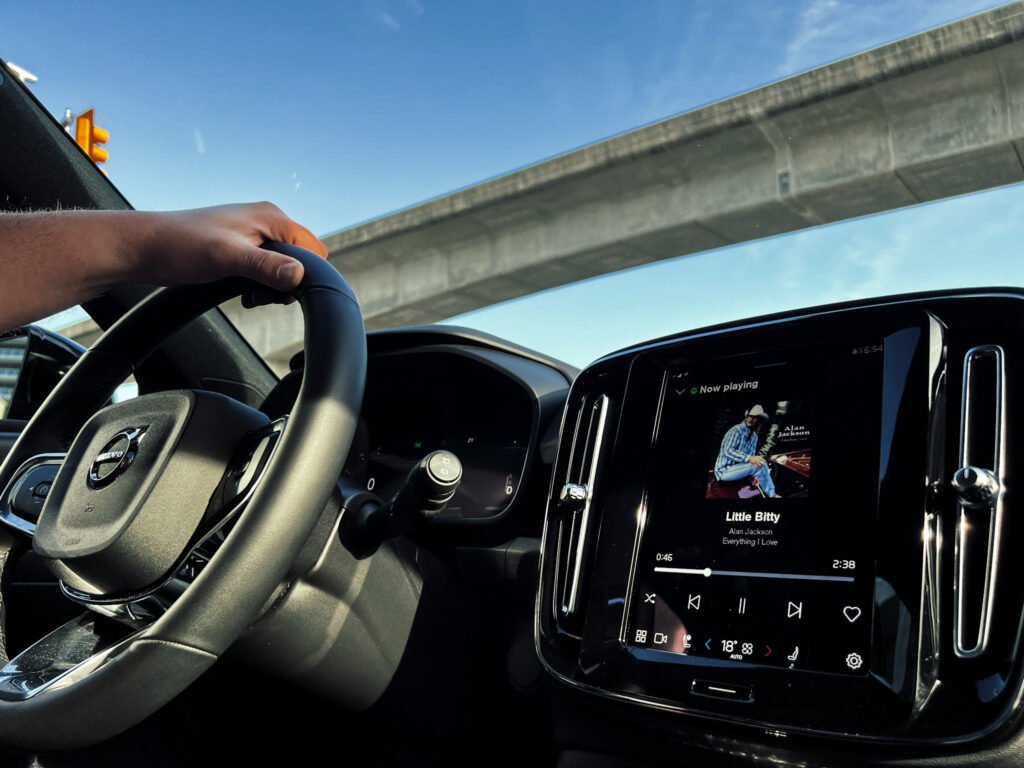 Lower Maintenance Costs – Electric vehicles don't require oil changes because they run on electricity rather than oil. You don't have to worry about a lot of maintenance costs if you don't use conventional combustion engines. Another advantage? Driving an EV can help you save even more money because its brakes traditionally last longer than those of a conventional car. 
Great Incentives for Buying EVs – There are a number of incredible incentives for families if they buy an electric vehicle. Consumers who purchase or lease an EV can take advantage of point-of-sale incentives from the Canadian government worth $2,500 to $5,000. Not only that but if you have a fully electric vehicle you can also take advantage of the time saved on your commuting. Fully electric cars can drive in the HOV lanes even with just 1 passenger – saving you lots of time over your span of ownership. Nothing says "heck yes!" quite like being able to cruise in the HOV lane during a busy commute.
With all those perks you can see why EVs are on our radar when it comes to choosing a new vehicle and why they are for many families looking to invest in a new long-term vehicle. The Volvo XC40 Recharge is a sleek and powerful option if you are looking into EVs. 
Electricity is cheaper, the proof is in the bill – The Volvo XC40 Recharge offers 359KM of pure electric driving before needing to be charged, to fully charge at 120 volts using your at-home plugs you're looking at approximately $7-9 per charge. Comparing that to my car, which is nearly $80 for a full tank fill-up for the same KM of driving time. For our family, that means over $280 in savings a month. You can investigate installing a higher-wattage of plug-in to offer faster charge times, but it isn't necessary if you can leave it plugged in overnight.
What we loved about the Volvo XC40 Recharge
All XC40 Recharge models feature two electric motors, one of which powers the front wheels and the other the rear ones, providing continuous all-wheel drive. The 2023 Volvo XC40 Recharge reached 60 mph at their test track in just 4.3 seconds and has a 402 horsepower powertrain. My husband can confirm, the XC40 has some serious pep behind its smooth acceleration, without feeling at any point like you aren't in control.
One-pedal driving is made possible by regenerative braking, which is a desirable and practical feature of EVs that we value. The XC40 Recharge is every bit as beautiful and well-thought-out as the gasoline-powered version, featuring a roomy cargo area, clever storage cubbies, and a luxury appearance and feel that our family loved.
Their interiors are all made with sustainable and vegan-friendly options which is something we also think is important when considering an electric vehicle. I don't just want a car that is baseline good for the environment on the outside, I want a company that also considers the sustainability of their materials and if they're ethically sourced. Even the Fjord blue floor carpets are made from recycled materials.
Another amazing feature that our asthmatic family really appreciates is the advanced air filter system that can actually remove 80% of hazardous particles entering the cabin. Something that does become an issue during our Summer months and forest fire seasons. To be able to travel from A to B without worrying too much about the air quality outside and still be able to get my essentials would make a huge difference.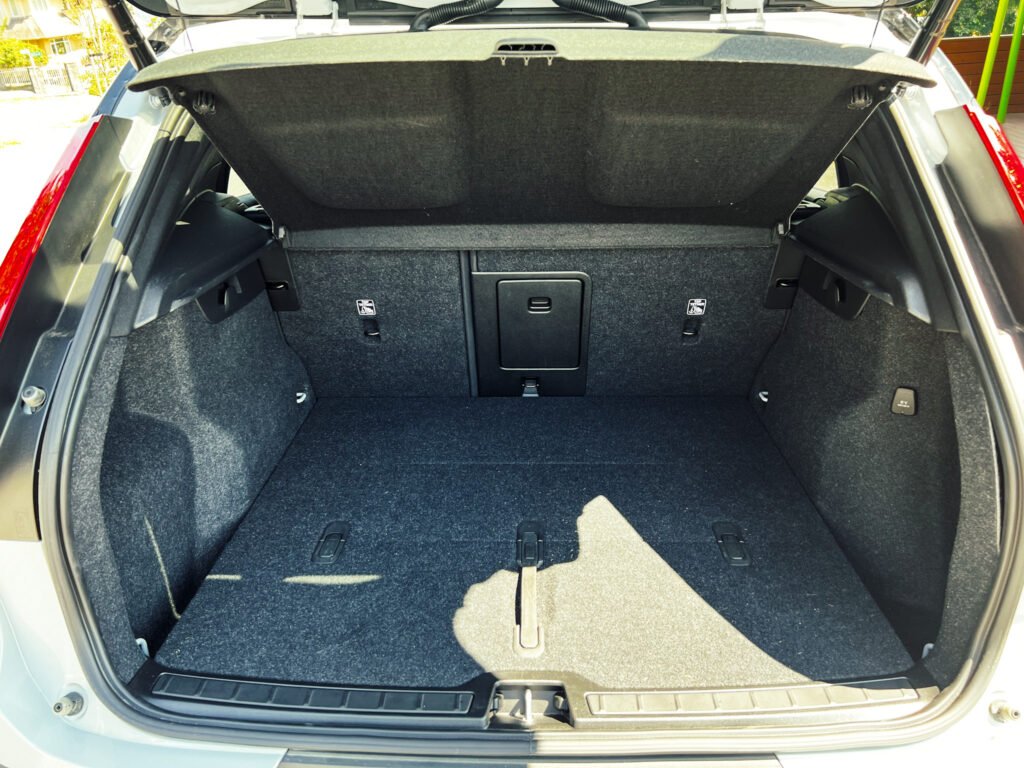 For anyone who prefers everything to be fully integrated together, you may also love that the internal system is all linked to Google. You will get all our preferred Google Play apps, such as Google Assistant, Google Maps, and others, which will be available in your vehicle for a convenient, customized, and seamless driving experience.
One major thing I did not expect prior to driving the Recharge was not needing to actually turn the car off. You can picture my awkward self, sitting in my driveway trying to find the "off" button. Turns out, Volvo is all about making things simple. Once you are in park and the driver exits the vehicle, it turns off all on its own. Magic? I think so.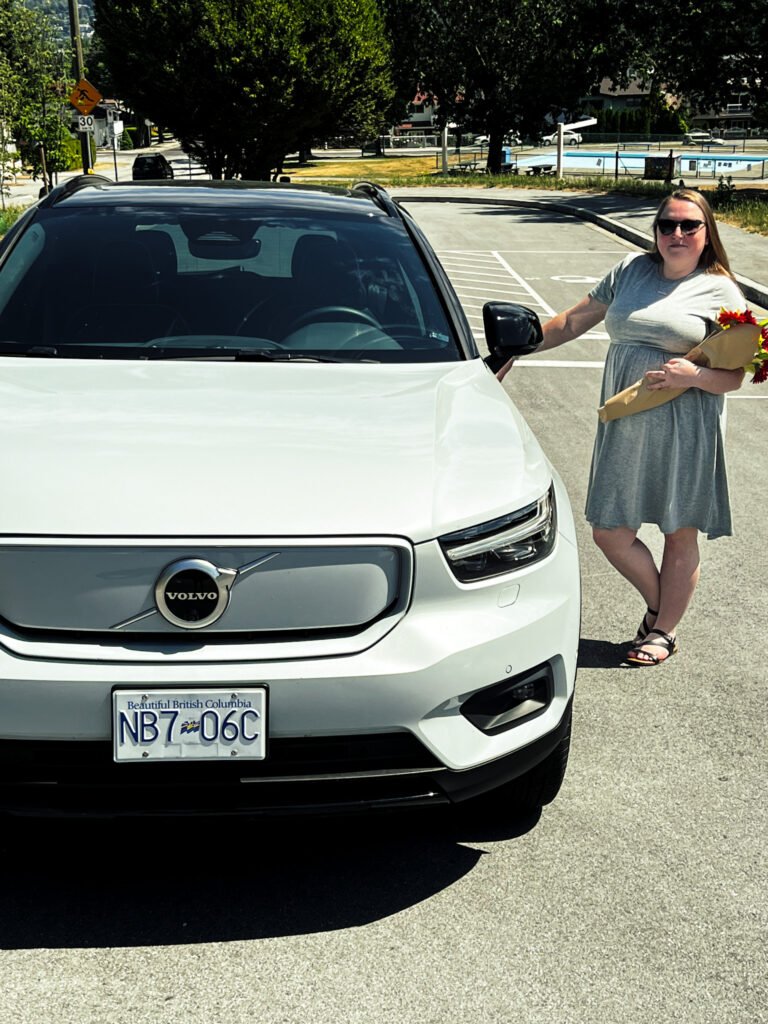 Overall we were so pleased with the luxury ride experience that the Volvo XC40 Recharge provided. If you are looking to invest in an EV we would definitely recommend considering this one. From sleek design, unbeatable comfort, and an interior that isn't overwhelming and unnecessarily flashy, the Volvo Recharge offers necessities that don't leave you needing more.
Available in models ranging from crossover to full-size SUV, and plug-in hybrid to fully electric, they've got a Recharge for everyone. You can find out more at your local dealership or by building/pricing a model online. They are always happy to answer questions and help you find the vehicle that works for you and your family.