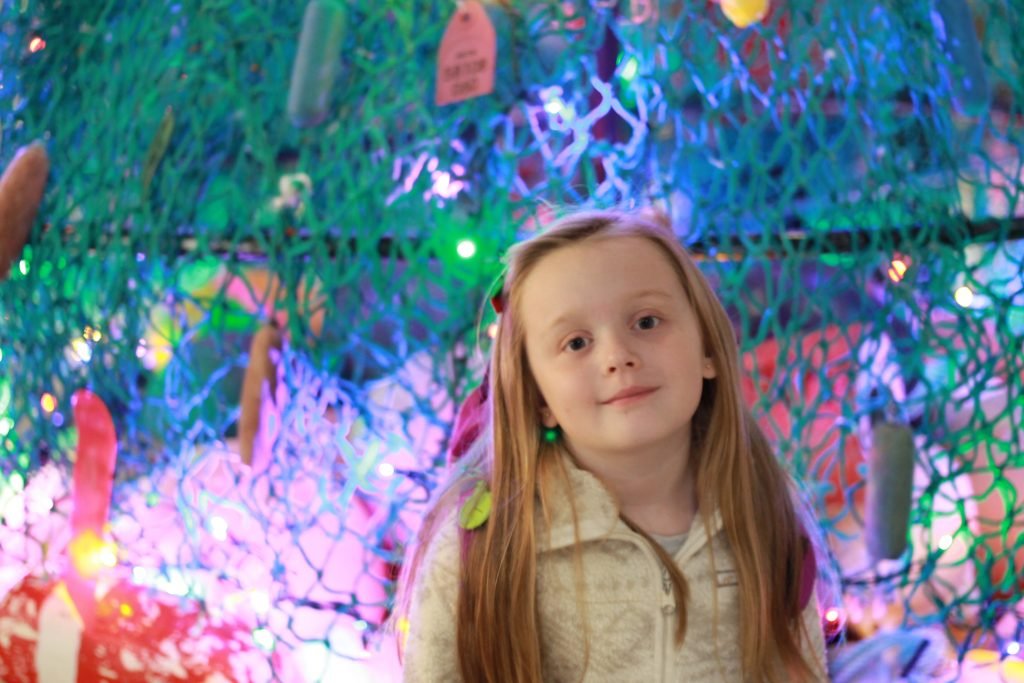 Having lived in Vancouver nearly my entire life, our family definitely has some set in stone traditions. We are so lucky to live so close to some incredible long-standing Christmas events and many of them are must-see, must-do for our family. For years and years we have made Bright Nights at Stanley Park a tradition and for the past few years, we've added in some fun at the Vancouver Aquarium! Scuba Claus as officially landed in the Strait of Georgia habitat and guests are invited to visit and explore all of the holiday offerings set up until January 7, 2018!
We had the pleasure of visiting the Vancouver Aquarium to get a look at all of the holiday fun and have to say – there is so much to do and see that we spent *all* day exploring! Truly one in a million, the jolliest and most exciting visitor of all – Scuba Claus – has returned! Kids and parents alike can watch Scuba Claus don his flippers and dive with the colouful cold-water creatures in the Strait of Georgia habitat at 12:30 p.m. daily. We definitely recommend heading over a little bit early to make sure the kids get a spot they can see from.
Grab yourself a one of a kind photo with Santa by visiting the Ocean Courtyard from 10:00am-2: 00 pm on weekends and 10:00am-3: 00 pm on weekends. Alivia is a tiny bit scared of people in costumes, so we weren't able to grab a photo with him at the start, but she more than made up for it when she got a chance to snap a photo with him after the Scuba Claus dive! Scuba Claus will be visiting the Aquarium daily until Sunday, Dec. 24 only (due to long-standing Christmas commitments, of course).
Scuba Claus, while a highlight of the event for sure, isn't the only fun thing happened at the Aquarium for the holidays! Families can enjoy a new classic being shown in the 4-d theatre for the next time this year – Rudolph The Red Nosed Reindeer, with a sprinkling of snow, bubbles and a little bit of silly it's a must-see twist on a long-standing classic. For families who still believe, there's also a daily 11:15am showing of The Polar Express as well.
Once you've checked out Scuba Claus and the 4D movie, make your way down to the Teck Engagement Gallery to take a photo in front of the Marine Debris Christmas Tree. Created by Tofino-based artist Pete Clarkson showcasing the plastic debris that is collected from our shorelines. Though this tree is absolutely beautiful (and a great photo backdrop) it's a great way to kick-start a conversation with the kids about proper recycling, making zero waste choices whenever possible, avoiding litter and how they can volunteer their time to help keep our shores and oceans clean.
We were so lucky to sneak in one last visit to the Discover Rays pool while we were there, this is one of Alivia's favourite displays and one she can spend nearly an hour in! The rays will be leaving in a few short weeks, so if you have time to head down before the holidays, it's worth a stop in to say goodbye. We have very fond memories of this exhibit after Alivia was able to see the baby rays before they made it to the big pool, she loves seeing how much they have grown since she lasted visited.
While you wander through the Vancouver Aquarium, it's hard to not miss the whimsical decorations that don each corner. From the adorable hand felted Mistle-Toads (look up!), to the Electric Eeel powered Christmas Tree, the jelly snow globe display in the Tropics Gallery and much more. It's beginning to feel a lot like Christmas all around!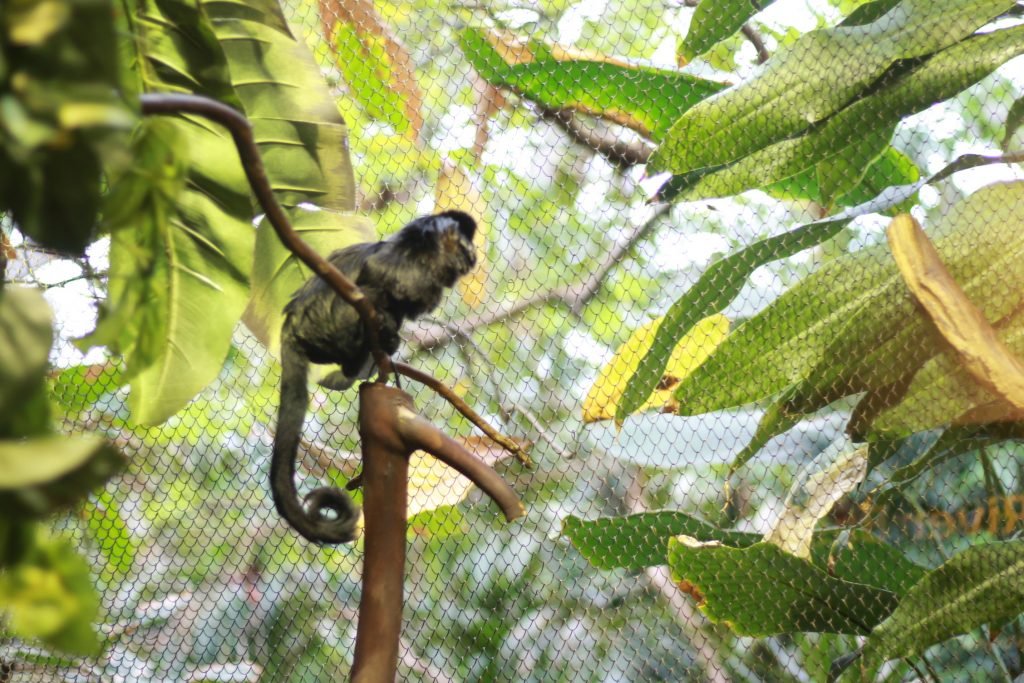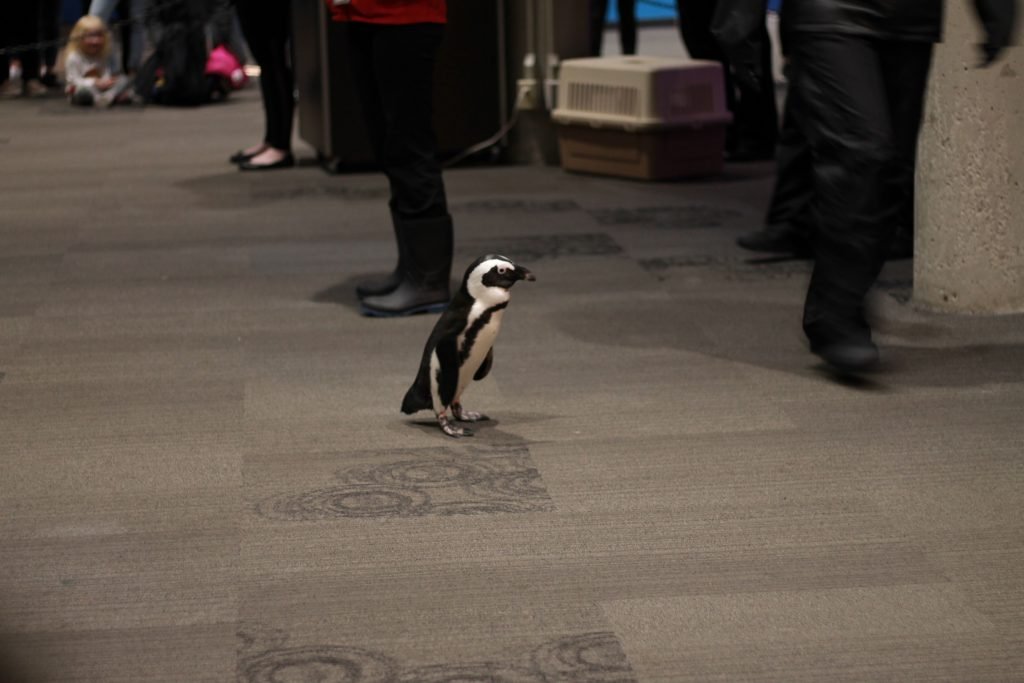 We did a fair amount of wandering on our visit and spent hours re-visiting some of our favourite animals, from the cheeky monkeys, the always hiding sloth (or as the kids play… spot the sloth butt), the adorable African Penguins (who you can check out in the gallery and get to know them a little bit better!) and of course the rays. Holiday Traditions at the Vancouver Aquarium aren't just for Christmas for us, there are so many memories in each and every corner, and we love that we can incorporate the holidays into them now.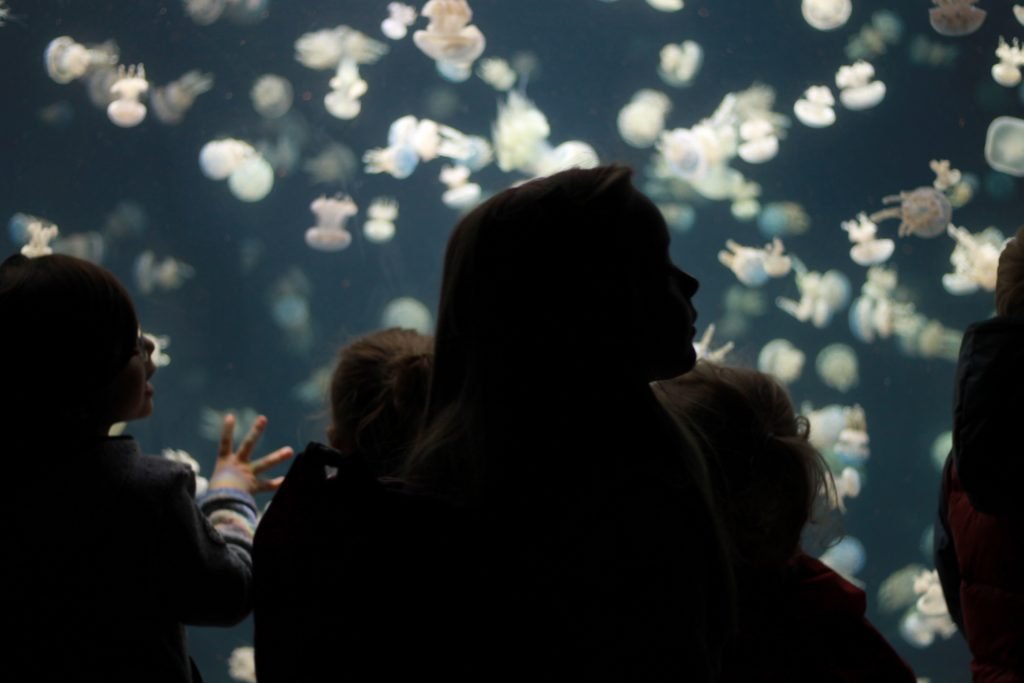 If you still have a few hard to shop for friends and family on your Christmas list, we highly recommend popping into the Vancouver Aquarium gift shop, from handblown ornaments, gorgeous carved gifts, Metro Vancouver themed gifts and much more, there is a gift for literally everyone on your list (and mine!) – I may have bought myself an early Christmas gift in the form of a hand-blown glass sloth ornament that was a *must* have addition to this year's tree.
The holiday fun continues even after Scuba Claus returns to the North Pole. Starting Monday, Dec. 25, visitors can participate in a self-guided scavenger hunt, discovering sometimes unseen animals. Vancouver Aquarium will be celebrating the holidays from Friday, Nov. 24 to Sunday, Jan 7; visitors can enjoy Scuba Claus dives from Nov. 24 to Dec. 24 and the scavenger hunt from Dec. 25to Jan. 7. Vancouver Aquarium is open 365 days a year, including statutory holidays. For open hours and program schedules, visit www.vanaqua.org.
{A huge thank you to the Vancouver Aquarium for hosting us on this fun tour of the new Holiday Traditions}