It's no secret that Hatchimals were the hottest toy last year, there was bidding sites aplenty with many of them for sale (at ridiculously overinflated prices….) and they ended up on a lot of Christmas lists! There's a reason the toy was so popular and it definitely felt like it came down to the excitement of the unknown and the fun of hatching your very own egg!
The team at Spinmaster Toys saw a need for something a little more smaller scale and delivered with a blind bag bang. Enter, the Hatchimals CollEGGtibles line. I'm in love, and I may be living vicariously through my kid with these ones!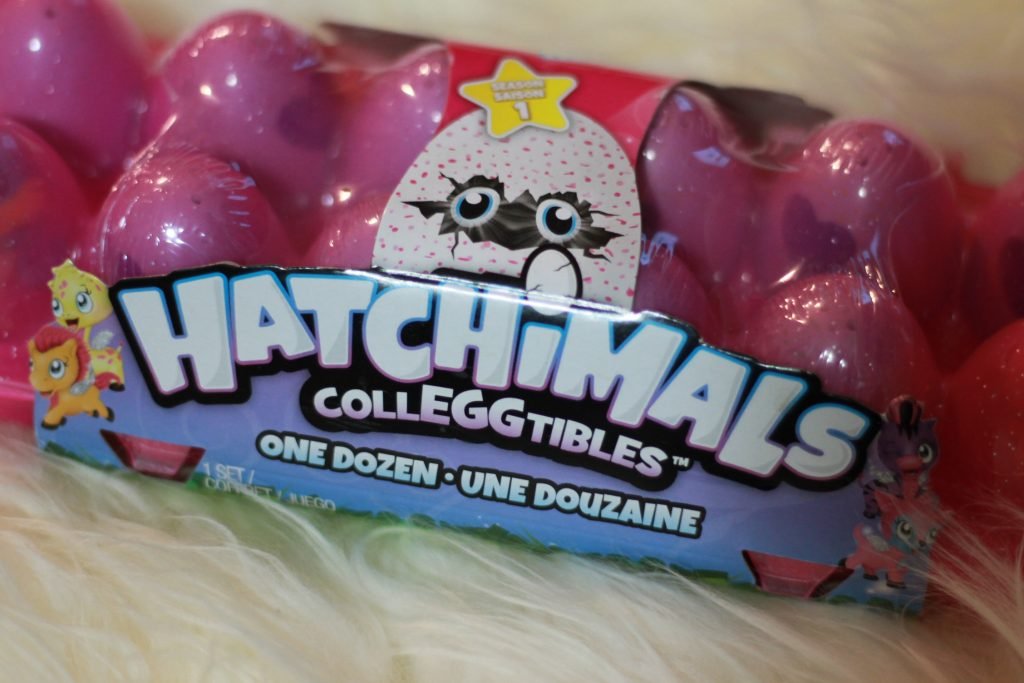 So full disclosure before we get started here. The team at Spinmaster offered to send us a Glittering Garden Hatchimal of the full-size nature to review and I declined. A put that bad boy on her Christmas list to Santa and I wasn't about to steal his thunder (or run the risk of having to go hunt for another hot toy, sigh) so they were kind enough to send us over a sampling of the rest of the line instead and gotta say… the tiny eggs are my favourite. I will probably review the Hatchimals Surprise double egg and the Hatchimals Surprise single eggs after Christmas.
A was a bit familiar with the collEGGtibles but had only seen the double packs and they were strictly reserved for bribery in long lines at the mall. They weren't something she regularly saw so when she unwrapped this big box and discovered the reuseable egg carton full, her eyes lit up like a Christmas tree! I'm usually pretty stealth and will hide the collection sheet (at least until she has a few more to check off) but we discovered with these eggs it was actually a cheat sheet! You could tell by the colour of the speckling on the eggs which area your tiny Hatchimal may be from and she had so much fun guessing – and hoping for certain characters.
She already has a small collection so once she had happened just over half of them she chose to keep them to open with her advent calendar (hello double dipping.. haha) and always checks her list before cracking her egg. These little collEGGtibles are a bit different than the full-size Hatchimals. To crack one of the minis, kids can hold their thumb or finger over the heart (or keep it right in their hand) and their body heat will turn the heart from purple to pink, letting them know it's time to crack!
Unlike the full-size Hatchimals, the collEGGtibles need kids help to crack. By pressing gently on the egg just above the wiggly lines the shell will crack and reveal your new tiny friend inside. The egg carton the Hatchimals come in is also reusable and stackable, and the perfect storage case to tidy everything up when you're done playing.
Once you have a huge collection of these tiny, glittery friends the only next logical step is to have somewhere for them to play. The Hatchery Nursery is the perfect accompaniment to the collEGGtibles and offers a fun storage place, as well as a handy-dandy egg cracker.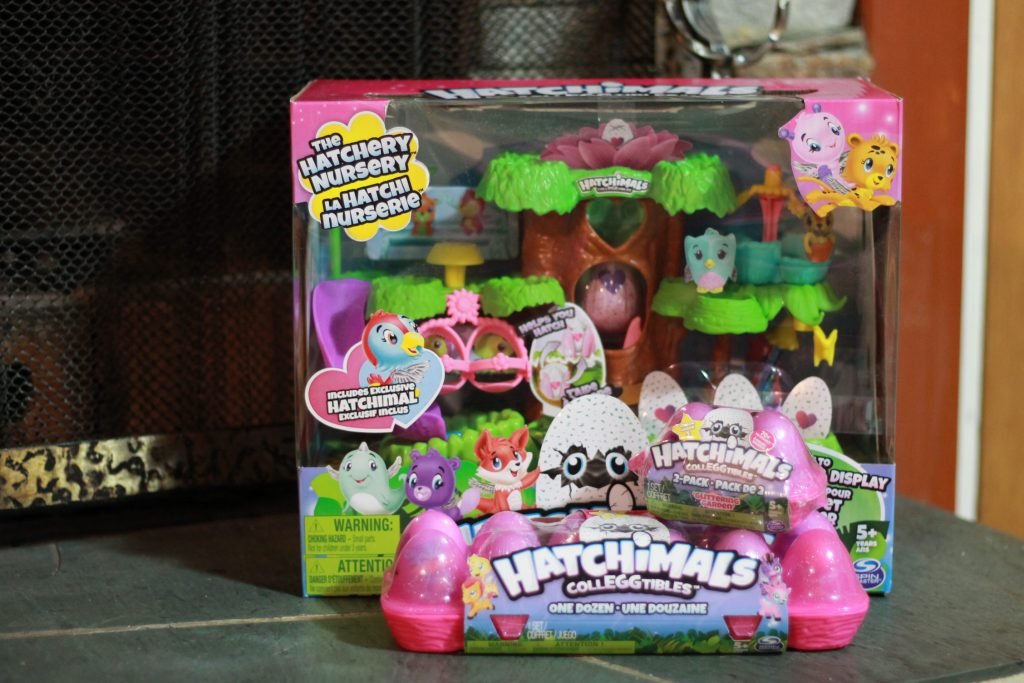 Most of the Hatchimals you'll find inside the collEGGtibles have hooks on their tails to use with this playset, they can hang from leaves, swing in the double pink swing, take a glitter shower, relax on the removable bench, take a ride in the spinning carousel or just have a nap in one of the many little nests. There's 35 different places for your collEGGtibles to play! The Hatchery also includes an exclusive Hatchimal collEGGtible that you can use to test out the egg cracker if you don't have any on hand.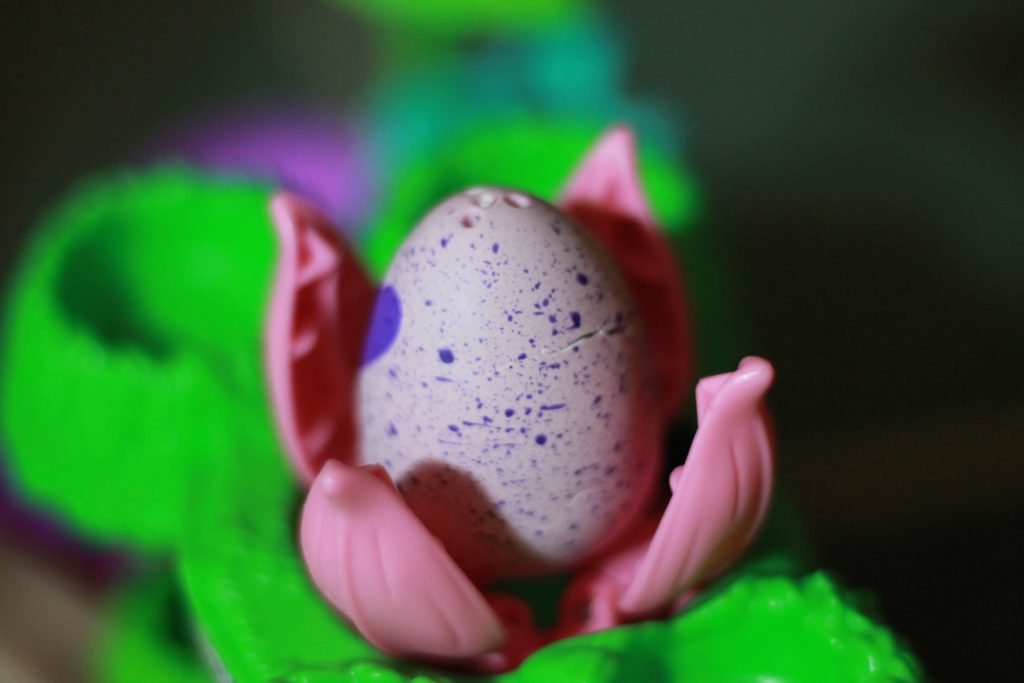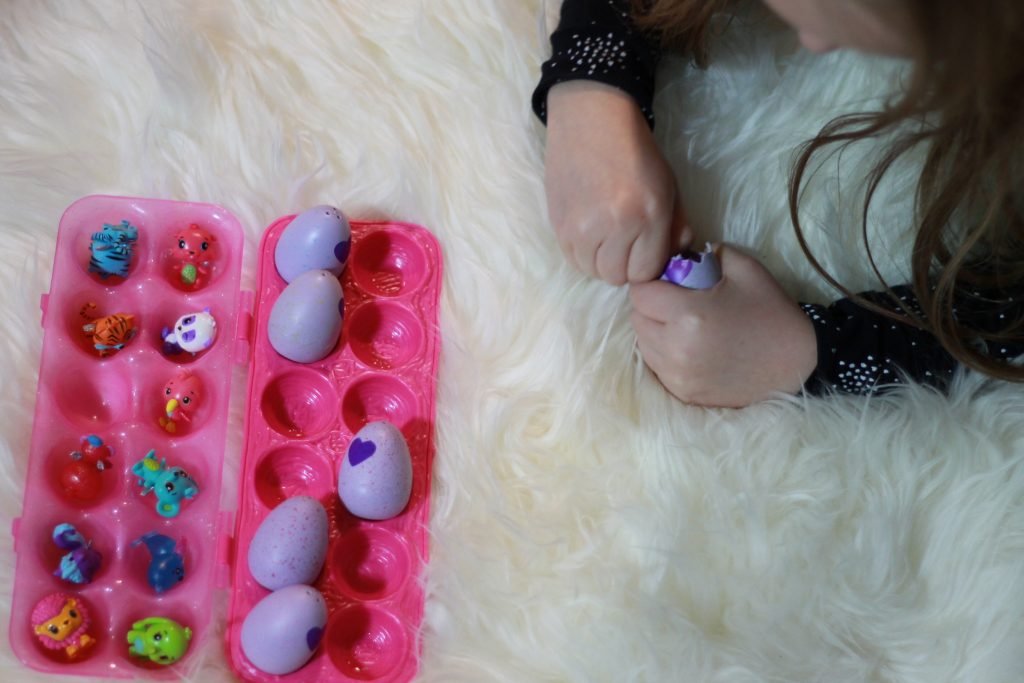 All in all, A gave these toys a big thumbs up and has since added more of the collEGGtibles to her Christmas list. The two packs are very reasonably priced and start at about $4 at Toys R Us and make the perfect stocking stuffer as they also come with a tiny reusable nest for storage.
{A big thank you to Spinmaster Toys for sending these to us to review. All opinions and Hatchimal craziness is all A's and not influenced by the sponsor.}