Since A was little, she's always been very interested in technology, I suppose we could blame her dad and I for that. Growing up we loved playing video games and we've let her dabble in them a little bit as she got older.
One thing we're not so fond of is giving up our phones at the snap of a tiny finger to play games, take photos or to look at videos we've taken of her. She's always loved making her own "youtube" videos on our phones and taking a few dozen selfies on our commute to school. Suffice to say… our phones fill up quickly, and we're a little less likely to share.
2 years ago, we reviewed one of the Vtech Kidizoom cameras and she's loved it, when we remember to bring it with us! Now with the new Kidizoom Smart Watch DX2, she can bring her own cameras with her without needing to worry about losing them.
We had the immense pleasure of testing out the Kidizoom SmartWatch DX2 and the Kidizoom ActionCam 180 and have to say, these tiny cameras pack an awful lot of fun and excitement into something kids can easily re-play over and over again.
A has been testing out wearing a watch over the past few months and trying to learn to tell time, so she was very excited to get her hands on the SmartWatch DX2, and I was immediately in love with how it got her up and moving – the watch features motions apps that encourage kids to get up and get moving. From running and jumping motion controlled games and a pedometer your child can challenge themselves with. It was pretty fun watching her bolt around the house to see if she could beat being faster than a bunny!
The fun doesn't stop with just the games, the watch also includes time apps that your child can create custom watch faces and explore time concepts with a timer, alarm and a calendar. They can choose from over 55 digital and analog faces to find one that they want to help them learn to tell time. The touchscreen makes it super easy to navigate for little fingers and truly encourages making some fun memories – all while learning! Oh, and don't worry if your child says they are hunting monsters! ; ) Monster hunting quickly became a group activity just about everywhere we went with kids, it gets them up and moving and "hunting" for some time.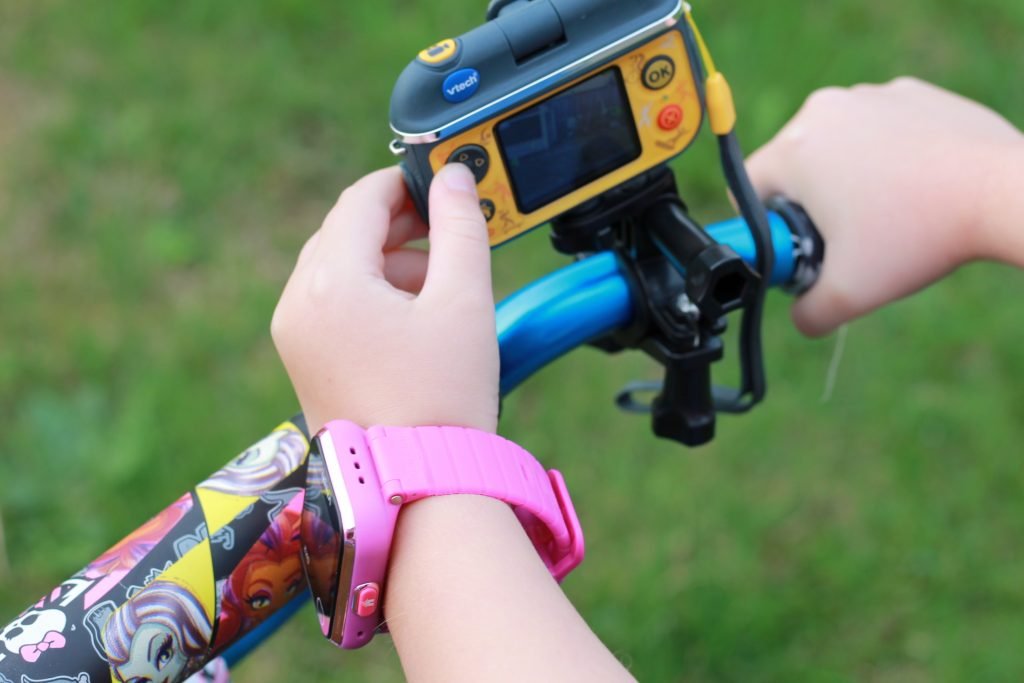 From the voice changer to make silly videos to the stickers for photos from one of the two cameras (selfies aplenty!) there is never-ending fun with the Vtech SmartWatch DX2.
My only wish for the watch, after having this feature in the Kidizoom camera prior is the expandable memory, it holds approximately 1500 photos or one 10 minutes worth of video. With my YouTube-loving kiddo, she's sure to fill that memory up pretty quickly so we'll be backing up her creations often. You can grab this watch in either violet, as pictured or a bright indigo blue.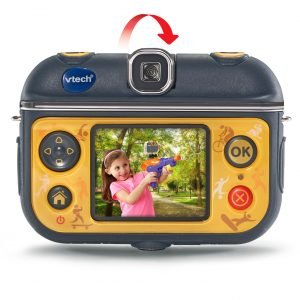 If your child isn't the watch wearing type but more the physically active and constantly on the go, the Kidizoom ActionCam 180 may be more their style. With multiple mounts included with this camera, the possibilities for action videos and photos are endless. Mount it to your child's helmet while biking, skating or snowboarding (which will be A this year!) or to their bicycle when off on adventures. Kids can turn on the video or camera with the push of a button on the top and capture memories they can look back on anytime!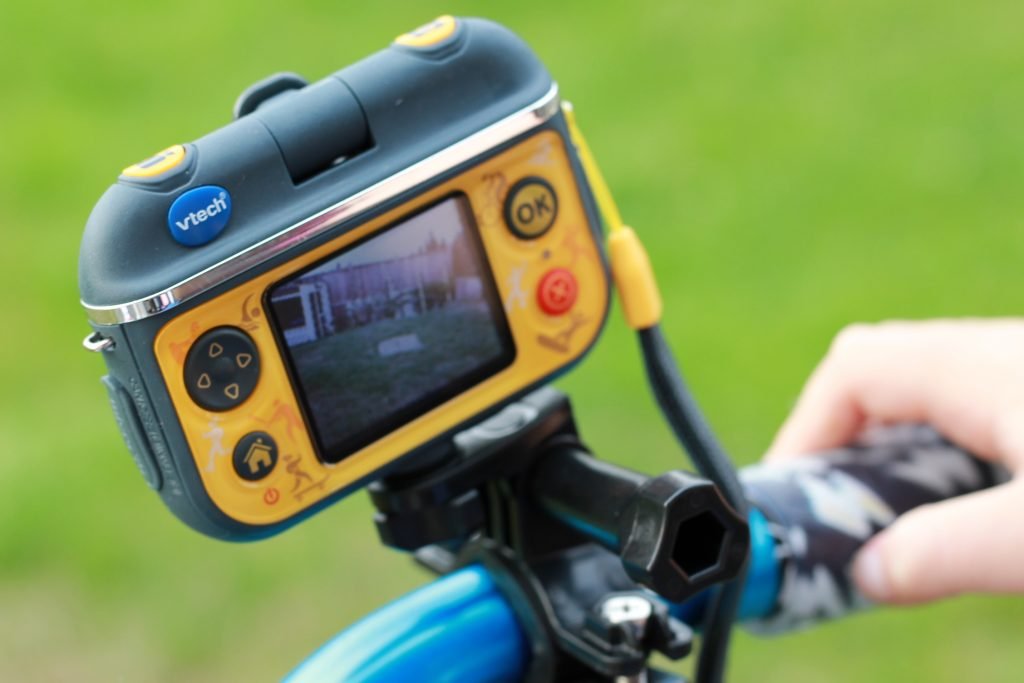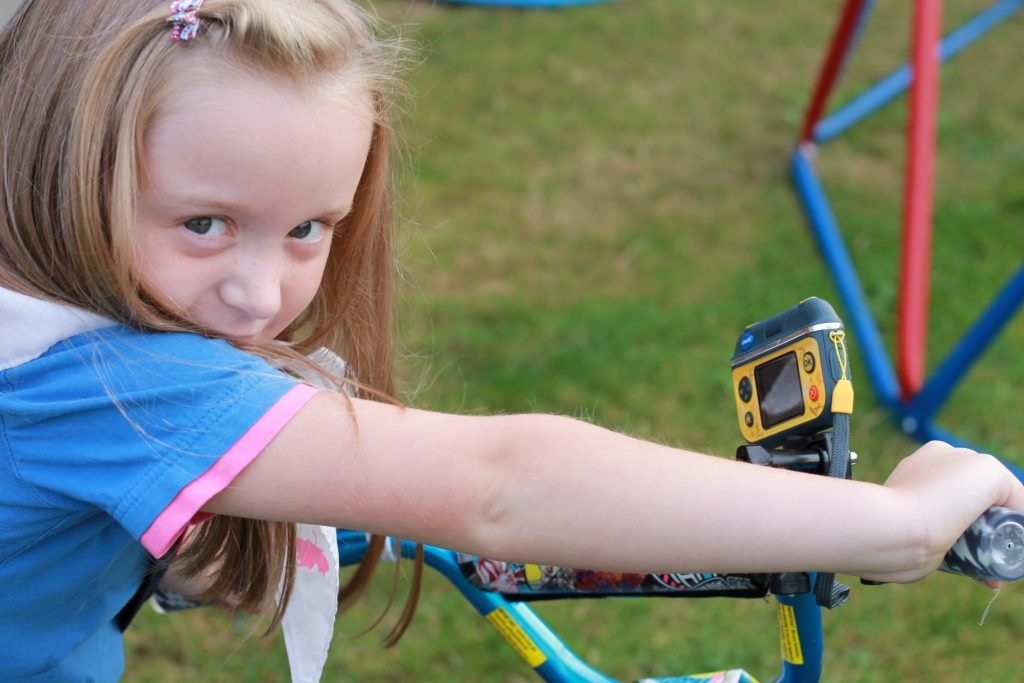 We have had a couple of the Kidizoom ActionCam's and loved them throughout the years, we've always loved that they include every mount you could possibly need for whichever type of activity your child partakes in. For us, it was easy to switch from waterproof from swimming to biking or skating without needing to remove any of the mounts.
True to its name, the ActionCam is built for just that – action! Kids can shoot videos with fun features like slow and fast motion, creative effects, and different frames or take photos using the 180-degree rotatable camera and customize them with photo effects, frames or filters. We love the new 180-degree rotatable camera as it makes grabbing a few selfies on A's adventures much easier without needing to remove any of the mounts.
We love that the ActionCam takes us from one season to the next, the mounts allow us to enjoy any outdoor activities and the waterproof case makes it perfect for lake days or just a trip to the local pool. We haven't left one of them behind since they arrived at our house. A's created many videos of her being a frozen ice queen (as referenced above.. haha) and many YouTube-worthy tours of our house – and that's only been in a week!
Unlike the Kidizoom SmartWatch DX, the Actioncam 180 does boast expandable memory, pop in a 32g micro SD card and enjoy endless photos and videos without needing to worry about running out of space.
Both Vtech Kidizoom products are full of fun activities and games that encourage learning and building lasting replayable memories and have very quickly become a favourite with A! If she's not recording with one of them, she's off exploring with the other. We love that we know she's exploring with her imagination and look forward to what videos we may discover!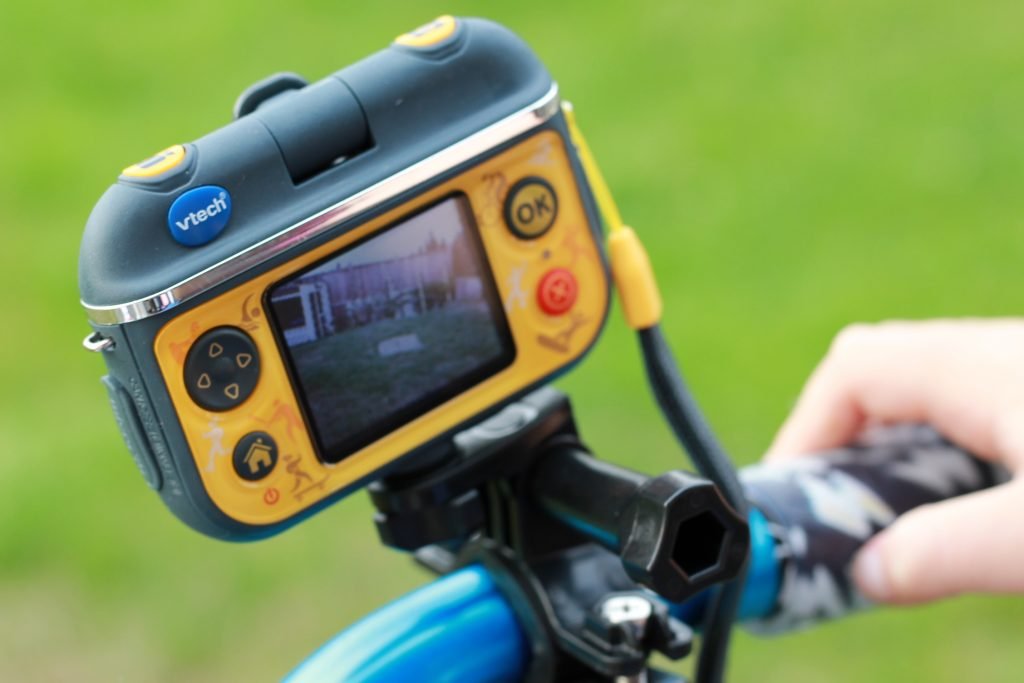 Both of the Vtech Kids Tech products are priced very affordably at $59.99 for the ActionCam 180 and $69.99 for the Kidizoom SmartWatch DX2, with the holidays quickly approaching I can see these being a big hit with both little and big kids. You can find them at ToysRUS, Amazon, Indigo, Mastermind Toys, Best Buy or London Drugs.
{A big thank you to Vtech for providing both these products to facilitate our review. All opinions and crazy selfie-taking are Alivia's and not influenced by the sponsor.}