When it comes to RC toys there's so much to choose from and a vehicle to fit every budget. But not every toy stands up to the challenge of multiple hits, extreme air, and a young driver while still delivering a hobby-level performance. We were kindly offered the chance to take the XPV Radio Control Skateboard out for a spin (yes a skateboard!). and kept that in mind. This toy promises high speed action, daring stunt ability, and a self-righting roll bar so that you never have to pick it up after a crash. But would it deliver where so many other RC cars and trucks have failed?
The XPV RC Skateboard is meant for outside play (though we may have zipped it down the hallway once or twice) and we couldn't think of a better place to test it out than at our local skate park with my two eager young drivers. With ramps, rails, even a bowl, we tried it all.
One of the first things we noticed when unboxing it was that it was ready to go; batteries included are my two favourite words at this time of year. The remote takes two AA batteries but the skateboard has a rechargeable battery and came with enough juice for those zips down the hallway, though we gave it a good charge to get maximum play out of it at the park. The Skateboard is quite ruggedly built with a very sturdy base that is built to take a beating and to handle grinding the rails…though that move takes practice. The suspension is great and the wheels are quite knobby looking, but much softer than I expected,  so I really wasn't sure if it would hold up to the test. I was also a little skeptical of the roll bar, but it turns out this toy holds up even better than advertised!
This RC Skateboard has high-speed performance with a hobby-grade level of play. Race the Skateboard up to 14 miles per hour, hit sharp turns to watch it drift, and launch it off jumps for mega air and distance! The roll-bar across the top helps the Skateboard roll back into driving position if it flips over, so you don't have to worry about picking it up. Includes a rechargeable battery and USB charging cable.
The XPV RC Skateboard took a hit pretty much right away as it flew across the park at full speed with my little guy at the controls. I've never seen an RC vehicle go that fast and my heart sank a little at the possible damage straight out of the box, but everything was perfectly intact! From there it was top speed up, around and over various parts of the skate park, taking hits, catching air and impressing the other families there that day. And that roll-bar? A total win! The only time we picked it up was when it hit the wet grass.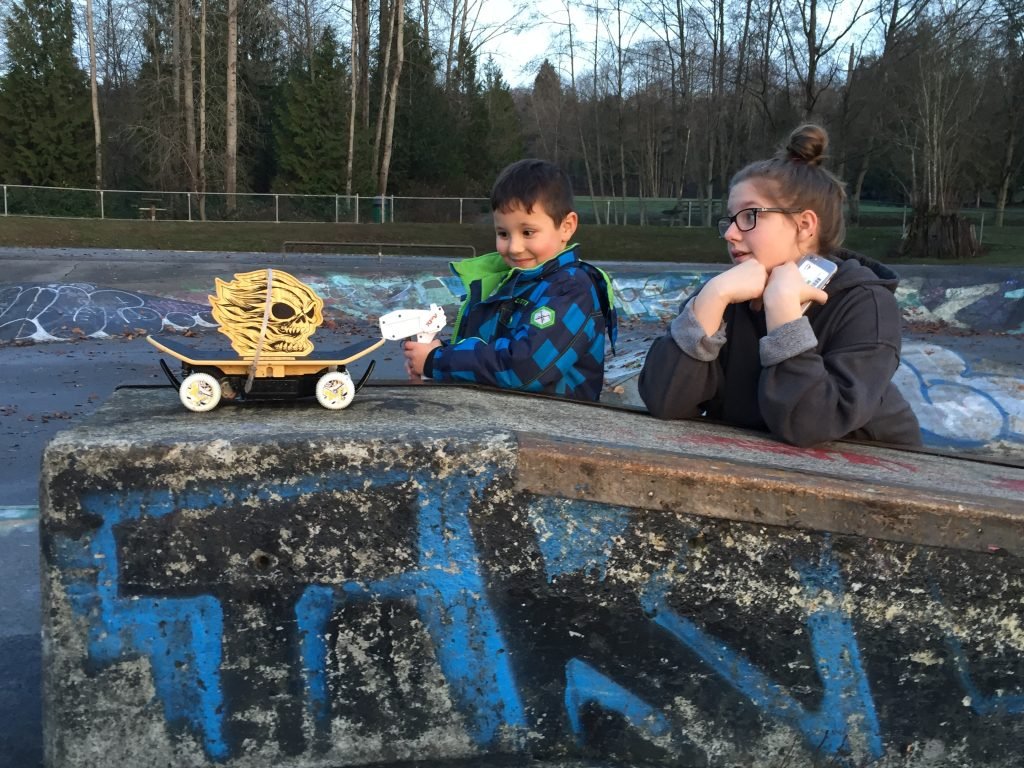 After a full half hour of driving, the battery wound down, and we inspected it again for any damage. Despite a few scratches on the bumper-like pieces and roll-bar, which are to be expected considering the rough play, the XPV Skateboard was in fantastic shape. The kids and I both had a blast and highly recommend this RC toy for some extreme high-speed action under the tree!
{Thank you to Jakks Toys for sending us the XPV RC Skateboard for this review, all opinions are our own}