Frugal meal planning for when you need to tighten your bootstraps yet again.
As a family of four, two of which are growing boys so really we eat like a family of six, we are always trying to find ways to save a buck when it comes to meals. With two growing boys our grocery bill will not becoming smaller anytime soon so any tricks we can manage when it comes to penny pinching are always welcomed.
For this reason we always do three things:
Look at sales

Meal plan around sales

Buy in bulk where we can within reason.
Doing this and with lots of practice and after lots of mistakes have taught me a thing or two which is how I have become so frugal. I believe in using every part of your food in the best possible way and to eliminate the waste. Which is how I figured out how to break down and use up only 2 chickens for 3 meals.
Now I know what you might be thinking, how on earth will she stretch only 2 chickens into three meals for her ravenous family of four. Well trust me I can, all you need is a little can-do-attitude and a decent pantry base.
First Meal:
Garlic Roasted Chicken
What you need:
2 whole chickens
5 cloves of garlic
2 onions
1 stalk of celery
2 carrots
2 cups of water
4 tsp of seasoning salt (2/chicken)
1 bay leaf
1 tsp of rosemary
1 tsp of sage
½ cup of butter or margarine soft
½ tsp of pepper
Method:
Preheat oven to 350℃

Clean, and put chickens together into one nice big roasting pan and lightly pat dry the best you can.

Prepare all your vegetables, chop them and then mince your garlic.  

Take your soft butter or margarine, add your garlic, rosemary, sage and pepper to it and mix till incorporated.

Put your roughly chopped veggies and put all around and inside your chickens where and however they will all fit. They will roast down in size.

Take your soft butter and herb mix and work it underneath the breasts skin on both chickens, rubbing any excess for the outside of your birds.

Pour water into the bottom of your roasting pan and add your bay leaf submerging it best you can.

Sprinkle your chickens with your seasoning salt and tent with foil, place into oven and cook until your chickens read a temperature of 85℃ on your thermometer. Remember to baste with love and untent ½ way through your cooking process to encourage a nice brown.

Once cooked, let rest outside the oven for 7 – 10 minutes tented before carving. Carve and pre serve to plates and fully remove all meat from carcasses.
** You will want to keep your chicken carcasses and fatty bits to the side in order to create a beautiful chicken stock later on. Save a portion of the meat for the next meal I will be showing you (approx. 2 ½ cups minimum shredded chicken you will need to set aside – use the meat the family prefers to not eat fresh: thighs, back etc… it is all useable!).
Serve your roasted chicken with whatever you have on hand, a simple rice (make LOTS and you can use it for this next meal!) and frozen veg; or even a nice salad with roasted potatoes.
Second Meal:
Chicken Fried Rice With Veggies
What you need:
2 ½ cups of shredded cooked chicken
4 cups of cooked rice
1 cup of frozen peas
2 celery stalks
1 onion
3 carrots
2 cups of bean sprouts (optional)
3 cloves of garlic minced
½ tbsp of minced fresh ginger
1 cup of beef stock (using oxo with water is fine)
1 tbsp of peanut butter
¼ cup of soya sauce
splash of lemon juice
pepper to taste
Method:
Chop your veggies into nice bite sized pieces. You want to keep them all roughly even sizes so that their cooking times are similar.

Heat up a nice big, deep to a medium high heat with a bit of oil of your choice. Once heated throw in your veggies

(NOT including frozen peas and bean sprouts save those for later)

, onion, garlic and ginger all at once and cook up till your onions are translucent.

Pour in your beef stock, soya sauce and peanut butter and stir until fully mixed. At this point add your frozen peas, bean sprouts, chicken and rice.

Cook until peas are cooked, add pepper to taste and serve.
A nice easy one pan meal that can easily be eaten out of bowls and with chopsticks! Sprinkling with a little bit of toasted sesame seeds and green onion can really get that flavor going.
Third Meal: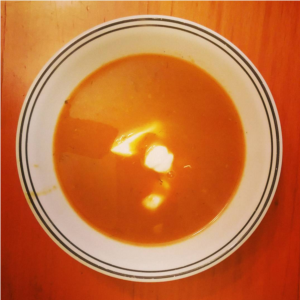 Ginger Infused Chicken Stock – a base for ANY soup
What you need:
2 chicken carcasses
1 large onion
2 tbsp of roughly sliced ginger
4 cloves of garlic crushed
2 stocks of celery
2 bay leaves
2 tsp of rosemary
1 tsp of oregano (or 2 drops of oil of oregano)
salt and pepper
Method:
Find your largest pot and break up the chicken bones and fatty bits the best you can and fully submerge into the pot, covered in water.

Add all your other ingredients and cook as long as possible covered on a low medium heat, topping up with water as needed and stirring. Personally I like to do this on a weekend and I will start it at 8am and cook all the way until I am ready to strain it and use the liquid as my soup base.
It is honestly that simple and the longer you can cook it the better, best part is you will make more than enough for two batches of soup so technically this last one can get you two meals for a family of four (2 chickens, 4 meals). Take half the liquid to create a soup base then freeze the other half flat in a ziploc for another day.
To take this stock from just a base to a soup all you need to do is strain it to just liquid and add in whatever you like. At our house we love a nice sweet creamy thick carrot soup so I will add in a bunch of chopped carrots, onions, garlic and a dash of dill and salt/pepper to taste then puree it all together. Super easy, super cheap and super delicious!
I hope this helps you save a pretty penny and help brings out the creative chef in you! Do you have a go-to whole chicken recipe? Share it with us!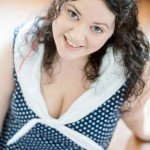 Eschelle Westwood is the writer behind mumfection.com, mother to two crazy little boys and a social media junkie just see for yourself and follow her on Twitter, Facebook or Instagram!