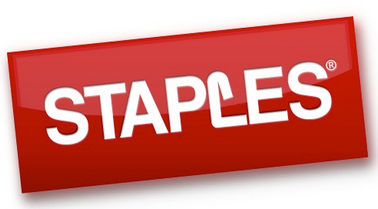 I love a good sale, I love it even more if it means I can start stocking up on items I'll use for other projects or that I can donate without breaking the bank!
I've noticed a lot of stores in my area are all price matching one another so I was able to hit the closest store to me; Staples, and fill up my basket to my heart's content. Staples has a guaranteed in stock promise happening right now that their competitors aren't offering as well so it's a lot easier to get the "hot" deals. Combine that with the ability to earn air miles on my purchases and I'm sold!
I can walk through Staples for hours, I have a love for beautiful paper, organizing and endless amounts of pens in every shape and color and they do not disappoint! I had to talk myself out of buying 3 calendars at one point.
I apologize for the quick iPhone photo, I was pretty eager to get it all unpacked and dive into some organizing and since we got home pretty late, this was the best I could muster! I managed to score everything in the photo for just over $40, included were 9 packs of crayons (I'll be going back for more, goodie bags for next years birthday!), a new binder/legal pads for momma, pencil crayons, chalk, note books, 10 packages of lined paper, glue, erasers, pens, and some super fun $1 activity books for stocking stuffers.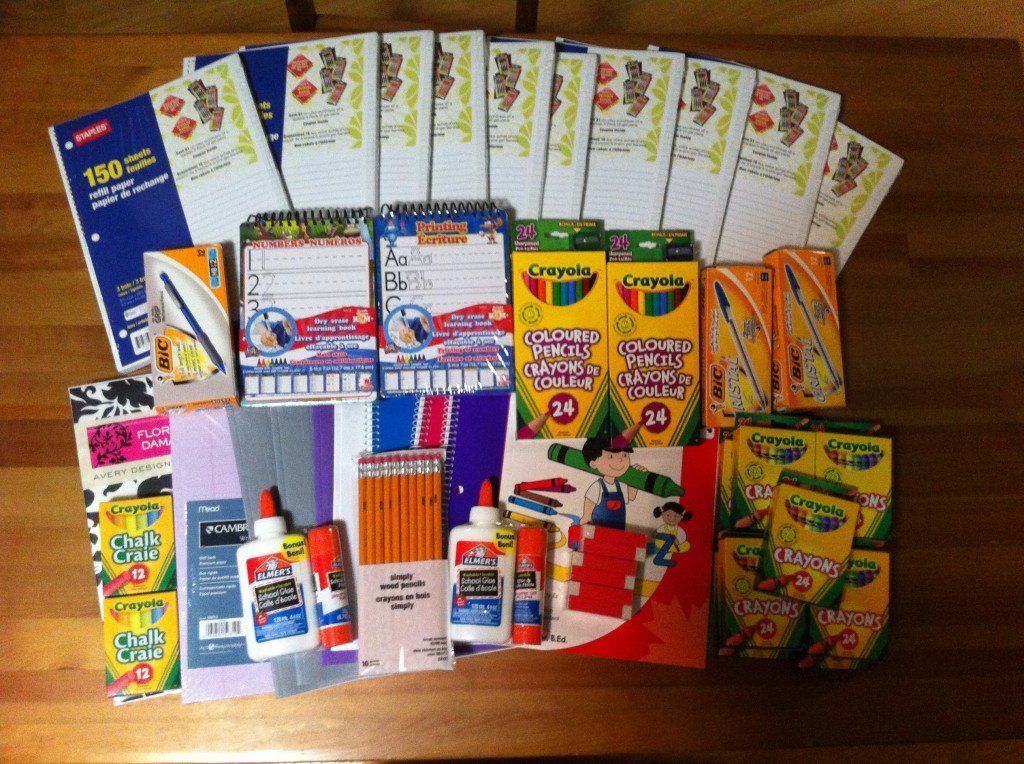 Noteable deals ending AUGUST 12 (today! hurry!):
– Crayola 24ct crayons – $0.25 each
– Staples 150ct lined paper – $0.10 each
– Lined notebooks – $0.95
– Crayola 24ct pencil crayons with sharpener – $0.94
– Elmer's glue with bonus glue stick – $1.39
– Duo-tang report covers – $0.05
There were plenty of other deals to be had but seeing as Alivia doesn't start school until next year I wasn't in a huge panic to stock up. Most of the items I purchased will be donated to Alivia's strong start class for arts & crafts. If your children are set for their back to school supplies why not take a minute to pop in and grab the max on paper, duo-tangs and some much needed items to donate to their class, no child should be left out and it will ultimately cost you very little to help out!
There's some more notable deals starting AUGUST 13-19;
– Duo-tang report covers $0.05
– Hilroy coil notebooks – $0.05
– Bic 5 ct mechanical pencils – $1.00
– Crayola 24ct pencil crayons – $0.94
– Highlights, poly binders & pencil cases – $1.00
– 96ct construction paper – $3.00
Check out their online flyer for $1, $2, $3 and $4 deals, combined with deals on back packs, lunch kits and accessories, sending your kids back to school doesn't have to break the bank!

VISIT: Staples.ca or connect on facebook to watch for deals @Staplescanada
Did you love back to school shopping growing up? I remember getting very excited when I would get home and fill up my new pencil case, label my ruler and pack it all into my backpack for September! Anyone else have a backpack full of Lisa Frank? This girl did!