Meal time in our house is no easy feat with a little one under 2 and Ava being 7, going on 17, her taste buds change so frequently and my husband having a much more sophisticated palate than mine. Being able to shop frugally is essential for a happy wallet.  Finding ingredients that have multi-uses to help keep costs down will help in keeping the grocery bill down. With a large bag of potatoes taking up shelf space in our home, there are only so many things you can do with a potato before everyone says no thanks and we can only have the same Taco Tuesday so many times before the sign of another tortilla shell will make me want to scream.
This Mexican Shepherd's Pie was a great way to make use of the potatoes, turn Taco night into something a bit more fun and took my love for comfort food into a frugal success, which had us all craving more!

Ingredients
Beef Mixture (Bottom):
1 lb extra lean (at least 93%) ground beef
1/2 cup sliced green onions/li>
1/2 cup Salsa/li>
1/2 package of Taco Seasoning/li>
1tsp Red Pepper Flakes/li>
1tsp Garlic Powder/li>
1/2c Frozen Corn/li>
1/2c. Celery
Mash Potato (Top):
4 Russet Potatoes for Mashed Potato
Splash of milk
TBSP of butter
Garnish:
1/2 cup shredded Cheddar cheese
1 medium tomato, sliced into thin wedges
Tortilla chips, great way to entice kids to eat, chips for dinner… YES PLEASE!

Directions:
In a large frying pan, cook ground beef and 1/4 cup of the green onions over medium-high heat 5 to 7 minutes, stirring occasionally until beef is thoroughly cooked; drain grease from frying pan!  Stir in salsa, Pepper flakes and Garlic. Add corn to beef mixture in skillet. Cover and cook over low heat until mixture is thoroughly heated. Empty into oven safe casserole dish
Meanwhile, bring potatoes to a boil.  Once they easily slide off the fork, remove from water, add milk and butter and proceed to make mashed potatoes. Spread potatoes over the beef mixture in casserole dish. Sprinkle with cheese and remaining 1/4 cup green onions. Place in over for 5-10 minutes or until cheese is fully melted.  Place tortilla chips around outside edge of casserole dish and top with medium tomato if you wish.
To purchase all the ingredients to make this meal cost roughly $35, however that was for full size items and you may have some of these items already on hand. In breaking it down by what we actually used, this meal cost roughly $20-25 for a family of 4.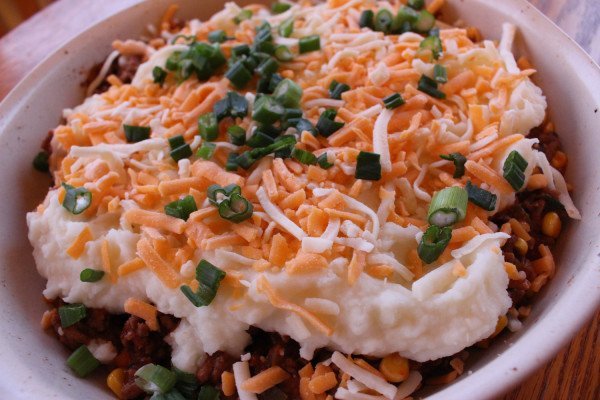 We used to chips to scoop up the shepherd's pie, which was a fun twist on finger foods for Ava to eat without complaint. It was a huge hit with the family and thankfully, there was a serving left over for lunch the next day!  It's a fun frugal twist on a classic comfort food, which has now become a family favourite!
Janette Shearer is a Parent Blogger for Vancity Mommy D, wife and mother to two little girls, 7 year old Ava and 15 month old Zoe. You can find her over at Vancity Mommy D, or follow her on facebook, twitter or instagram. All Photos courtesy of Janette Shearer.