I don't know about you, but I'm over the dreary days and already looking forward to a beautiful sunny Spring and Summer! With all of our holiday decorations taken down we are now filling our spaces with art that brings some of the sun fun inside.
We've rounded up some of our favourite fun – and easy – Suncatcher crafts that are easy enough for kids to do on their own, or with a little bit of supervision for the younger crowd. Many of these can be made with items you already likely have in the craft drawer and adapted for accompaniment to at home curriculum.
22 Easy DIY Suncatchers Kids Can Make
Eric Carle Inspired Firefly Suncatcher Craft -I Heart Arts n Crafts – A super easy and great accompaniment craft to some at home reading of any Eric Carle books! Switch it up and make a caterpillar or spider just as easily.
Spring Butterfly Suncatcher – Crafty Mama – Another easy favourite that can be switched up easily with a different silhouette. Create a garden with bees, ants and butterflies – all on your window!
Jellyfish Suncatcher -I Heart Arts n Crafts – Easily one of my favourites, these beautiful Jellyfish creations can shimmer a little bit more with glitter ribbon to reflect the sunlight.
Rainbow Pony Bead Prism Suncatcher – Rhythms of Play – A simple bead craft that can be expanded on for all ages. Add a prism to the end to reflect beautiful rainbows through the room.
Handprint Suncatcher – The Best Ideas For Kids – I absolutely love any and all handprint crafts for kids, mainly because I keep them *ALL* so highly recommend this fun one!
Spring Daffodil Suncatcher – Fun at Home With Kids – This fun craft can easily be adapted for yours or kiddos favourite flower, or aim for seasonal flowers and create an entire orchard on the window.
Jeweled Milk Bottle Suncatcher – Kids Craft Room – Another fun one for the older crowd, you could also use broken up costume jewelry for a bit more pizzazz!
Washi Tape Heart Suncatcher – Kids Craft Room – Our local DollarTree always has an abundance of different washi tape designs that would make for some fun crafts. These would also make great end of the year teacher gifts.
Crayon Heart Suncatcher – Red Ted Art – I used to make these all the time when I was younger, and if you have a Cricut EasyPress you could also use that in place of an iron.
Salt Dough Suncatchers – Home Grown Friends – A great option for the older crowd, the Salt Dough can be made in lots of variations with cookie cutters.
Shark Suncatcher – Buggy and Buddy – This mess free option for kids of all ages uses contact paper in place of tape or glue for an easy way to stick your colours.
Ocean Animal Coffee Filter Suncatcher – A Little Pinch of Perfect – Did you get a coffee maker that came with cone and basket filters? And just threw the basket filters in the cupboard? Well! Do we have a craft for you…
Patriotic Suncatcher – A Little Pinch of Perfect – I'm Canadian, but absolutely loved this Patriotic idea! You can easily switch it up with punched out maple leaves and with red and white tissue paper to bring in the Canadian love.
Flower Petal Paper Plate Suncatcher – Messy Little Monster – Another easy favourite that uses contact paper. You could also switch this one up with leaves during the fall too!
Pokemon Pokeball Suncatcher – And Next Comes L – Because every great Pokemon trainer needs decor right? Your kids will love this easy and fun Pokeball craft!
Elmer Book Inspired Suncatcher – Learning and Exploring Through Play – Another great idea to accompany at home reading, this craft does require a laminator though but you can find self adhesive laminating sheets on Amazon here.
Monster Suncatcher – I Heart Arts n Crafts – How many googly eyes is *too* many googly eyes? Asking for a friend.
Black Glue and Paint Embroidery Hoop Suncatcher – One Savvy Mom – A different take, this one uses puffy paint and beautiful paint colours to create a unique design.
Glass Gem and Glue Suncatcher – Preschool Inspirations – Ever walk by the aquarium rocks at the Dollar store and wonder what you could make with them? Look no further.
Tissue Paper Suncatchers with Embroidery Hoops – Artful Parent – Another fun idea using embroidery hoops, feathers and tissue paper making it easy to hang and have around as a keepsake.
Sun Shaped Paper Plate Suncatcher – Make and Takes – Switch up this easy design with a storm cloud, rain cloud, snow or sunset to accompany at home learning for weather as well.
Upcycled CDs into Gem Covered Suncatchers – My Bright Ideas – I love a good upcycle DIY and making use of old kids dvd's that neither I, nor anyone else would like to be subjected to any longer to make beautiful art is the perfect way to give them a new life!
---
We hope you'll try out some of our favourite crafts and love them as much as we do! We may switch out our window displays more frequently than I care to admit with how easy so many of these are! Want to find more fun crafts to try? Make sure to head over to our craft page for more ideas.
Don't forget to PIN this post so you can try them all out.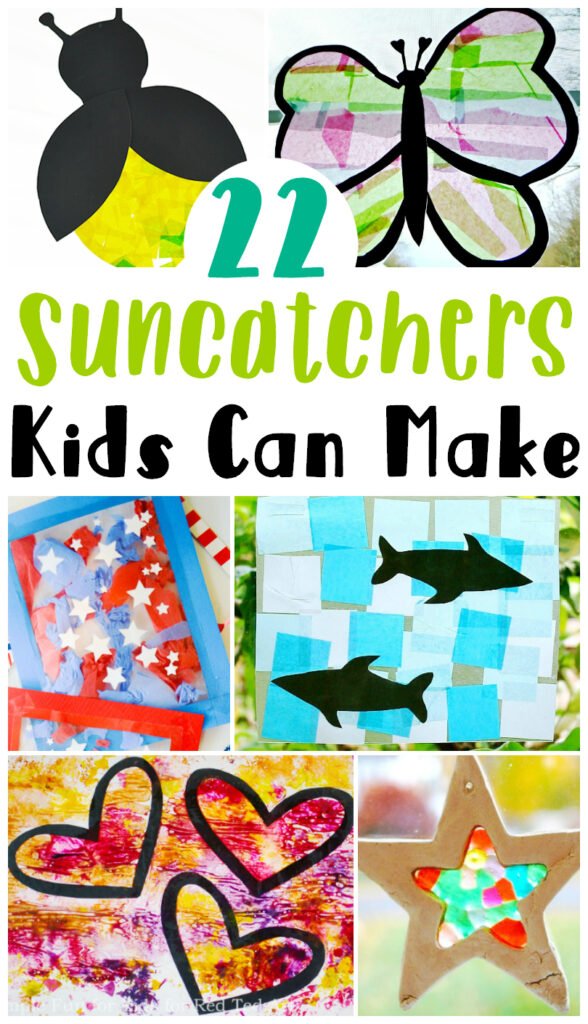 (This post contains affiliate links. As Amazon Associates we earn from qualifying purchases)