I am a greater Vancouver girl at heart, I've lived here almost my entire life, in fact I wasn't much older than Alivia when I first moved to British Columbia, having moved all over the lower mainland I'm no stranger to the awesome parks we have.
We were fortunate enough to attend a fun afternoon at Splashdown Park with #YVRBloggers and had a blast, I haven't been to Splashdown for a few years and was eager to see how Alivia would react when she saw nothing but water slides!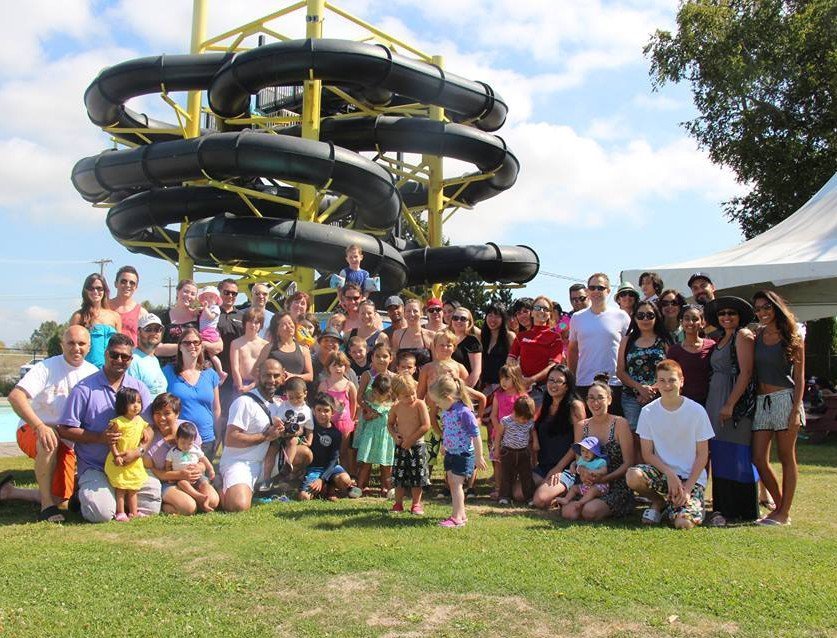 Splashdown Park spans over 7 acres in beautiful Tsawwassen, B.C., with 80,000-100,000 visitors annually it is clearly a favorite during the hot summer months! Boasting 13 different slides and a generous toddler/children area it really has something for the whole family.
Daddy wasn't able to make it to the  park so Livvy & I primarily hung out in the children's area, a great little spot with five smaller slides and six pools. We had tons of fun going down the yellow slide over and over again (at a tiny person's request!). Being on my own I really appreciated there being a shallow pool area for the littles to splash in while I enjoyed a coffee on the sidelines.
Whether you choose to pack a lunch or sample their concession stocked full of traditional hot dogs and hamburgers along with hand-made pizzas you are certain to work up an appetite! Our summer trips are never complete without a stop for a treat, make sure to save room for the Goodies concession where you will find a delicious selection of ice cream, sno-cones, specialty coffees and candies. The cotton candy ice cream receives Alivia's full-face-covered stamp of approval!
On the frugal side of things;
I found the prices great for the amount of time you could spend at the park, a family of four is roughly $84 (but tots 3 and under are free!) and for an entire day of fun in the sun and water slides, the cost per person is pretty reasonable to me. With access to the park, slides, volley ball and basketball courts it's easy to pack up for the day and spend it at Splashdown Park.
We saved a bit of money by bringing a packed lunch but did check out the concession on our way out, the prices are very reasonable and the servings quite generous, I was even more thrilled to hear they source a lot of local ingredients from farmers in the area!
A huge thank you to Harold, the general manager and the great staff at Splashdown for hosting our group, with beautiful sunny weather and no shortage of ways to get wet and cool off, Splashdown is definitely on our families summer outing list. I'll be back to tackle the slides this summer!
Check out this awesome video of how much fun you can have when you Wet Your Pants at Splashdown Park! Big thank you to Robin Wong for keeping Alivia laughing all day!
VISIT: Splashdownpark.ca, don't forget to sign up for their newsletter which also includes a savings coupon!