As a mom my life is full of craziness. Between activities, work, daycare and playdates as well as keeping up with the laundry and house, the last thing I want to add to it is stress while shopping. My favorite part of the holidays is finding that perfect gift for each person on my list at the mall, but it can be quite stressful trying to find parking, lugging around packages, coats and kids and then trying to balance it all back to the car. I was thrilled to hear that the RBC Avion Holiday Boutique would be re-opening in Coquitlam Centre this year!
You may remember my post last week about my upcoming visit to the RBC Avion Holiday Boutique and I can say with great confidence that this is a place you NEED TO GO. Need! It's a necessity during the holidays to just have a place you can sit, relax and refresh before tackling more of the hustle and bustle of Christmas. If you are an RBC Avion cardholder you can enjoy a number of free perks that will help take the stress out of your holidays, I know it took the stress out of mine.
We went later in the evening, we had recently had our first dump of snow so the roads were a bit slippery, wet and slushy. I was so grateful for the Valet parking located right outside the food court entrance. There is nothing more wonderful during the holidays then not having to worry about finding a parking spot. The Valet's will take care of it for you! I really appreciated being able to drive up, put on Alivia's coat curb-side and head right inside. It is literally the quickest process I've ever seen! So much better than driving around trying to find an available spot.  It's also kind of cool to feel like a bit of a rockstar….
The Holiday Boutique is located just past the food court in Coquitlam Centre and it's hard to miss, the large lounge is bright, cheerful and inviting with a helpful Concierge desk to address any of your questions or concerns. They were very helpful at getting us checked in and letting us know what we could expect inside. It was also such a treat to have a beautiful piano right at the entrance, we walked in to a melody of upbeat Christmas music played beautifully (and enchantingly!) on the piano. Alivia stared in awe at our pianist and couldn't help but ask if she would try the piano as well. Heavy coats? Scarves? Check them at the Coat Check desk towards the back of the Lounge, they'll keep them safe for you until you're all done your shopping! There is seriously nothing worse than being all sweaty in a winter coat.
Our favorite part of the Holiday Boutique was how sweet they are with the kids. When I am shopping it seems most of my battle is a cranky child who is ready to just flop down. No amount of pleading, bribing and promising we are almost done works with Alivia, she needs a chance to re-charge just as much as we do! They have thought of everything with a full rack of very fun Christmas books for kids of all ages and the seating area is a bit separated from one another, so you can enjoy a bit of privacy while you unwind with the kids.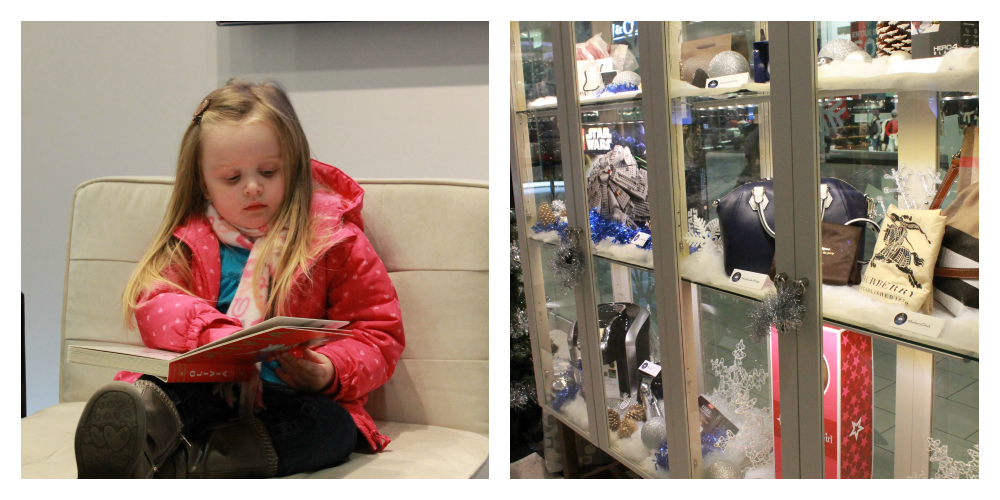 One of our first stops was the Cafe (Exclusive to Avioners!) to try some of the drinks they offer, with everything from hot chocolate, peppermint hot chocolate, coffees, teas, milk and lime infused water there is something for everyone. Alivia was treated to a drool-inducing hot chocolate with the help of the Avion Boutique staff, from whipped cream, marshmallows, candy canes and sprinkles, she dove right in!
They were even kind enough to give her a small cup of sprinkles and marshmallows to take on her travels. It really warmed my heart to see them interact so kindly with her, they caught her little "excuse me's" from across the Cafe and would always come down to her level to chat. Alivia had nothing but smiles on her face the entire visit. While it is important for me to have a chance to just take a breather at the mall, I find it equally as important that Alivia has a chance to recover from the over-stimulation as well. We also received a coupon exclusive for Avioners, giving us a free photo with Santa! What a better way to end our shopping trip, a sweet treat and a visit with Santa!
The atmosphere was inviting, warm, classy and Christmassy, exactly what I am looking for when I want to grab a quick rest to check my emails, make a quick phone call or take a moment to assess who I have already crossed off my list and to plan my next attack. I decided to just sit, enjoy some laughs with Alivia and focus on this valuable time just with her.
Have a parcel you'd like wrapped while you enjoy a coffee? The wonderful Avion Boutique staff had an assortment of beautiful wrapping paper, complementary bows and ribbons and I watched wrapping paper fly! These guys were busy, efficient and cheerful as they wrapped cherished holiday gifts for Avioners in the boutique. If you aren't an Avioner, you can still enjoy the efforts of the wrapping elves for a pre-set free depending on the size of the item.
The Avion Holiday Boutique offers some pretty amazing perks if you happen to be an Avioner,
Valet parking – at the mall.. during Christmas time… this is worth it's weight in gold!
Coat and parcel check – Ditch the winter coat and shop comfortably, and no need to carry around those heavy parcels, simply check them at the Avion Holiday Boutique.
VIP lounge and café – Enjoy comfortable seating and a variety of hot & cold drinks, as well tasty snacks. Go ahead.. try the cookies!
Gift wrapping services – A donation to charity is made on your behalf, just for being an Avioner! The gift wrap is beautiful and the staff puts some serious love into those packages.
Charging stations and free-wifi access
Concierge services
Not an Avioner? Don't worry.. the friendly staff on site would be happy to introduce you to the RBC Avion Credit card and all it's perks, apply on-site and become an #AvionVIP and enjoy all the Holiday Boutique has to offer. Let them take the stress out of your Christmas shopping! Non-Avioners can enjoy the valet parking, coat & parcel check and gift wrapping for a pre-set fee (all coat & parcel check & gift wrapping fees are donated to charity, so make sure to drop in!).
So, how was my experience? In short, we found it relaxing, comfortable and delicious. It was nice to have a moment to just enjoy the music, read a magazine and have a cup of coffee in the lounge. As someone who loves free goodies (who doesn't?) I was hooked by the contest they have at the Holiday Boutique. Simply take a photo of one of the gifts on display, tweet who you think deserves something incredible for Christmas, include the hashtag and cross those fingers! There were some pretty memorable prizes in those display cases, from an Xbox One for him, a Pandora bracelet or Michael Kors for her, Lego or Dolls for littles to name a few and my personal favorite.. a stunning, Christmas red Kitchenaid (Hello, Santa?)
Where you can find the Avion Holiday Boutique; (More Info)
– Halifax Shopping Centre – Dec 1 to 24th
– Yorkdale Shopping Centre and Square One Shopping Centre – Nov 22nd to Dec 31st
– Coquitlam Shopping Centre – Nov 22nd to Dec 31st.
Disclosure: I am part of the RBC Avion Holiday Boutique Blogger Campaign with Mom Central Canada and I receive special perks as part of my affiliation with this group. The opinions on this blog are my own.