I am an eager Christmas fan, I start to get giddy as soon as I see Christmas lights going up, as soon as the music starts flooding through the malls, I am in the thick of it, I really enjoy the season.
One of the things I look forward to the most is the Vancouver Christmas Market, a traditional German Christmas Market located in Vancouver, B.C. This year happens to mark their 5th annual celebration and we were invited to check it out on opening day! A group of 8 of us headed to the Market after the Canucks open practice and were eager to explore this year's offerings. 
Immediately the kids bee-lined it for the Carousel in the middle of the plaza, the Vancouver Christmas Market boasts Vancouver's only Christmas Carousel and it does not disappoint, a traditional carousel offering a unique experience for the entire family, the location of the carousel really makes for a fun ride as you can see so many of the vendors around the market as you ride.
It's hard to ignore the aromas of the market as you ride the carousel, with 17 different food options available to sample, we highly recommend coming on an empty stomach! The portions are quite generous so it's easy to grab a few different items to try and share among the group. From dutch mini pancakes, Ukrainian crepes, vegan options and more; including a chocolate fountain there is something for everyone to enjoy! Our personal favorite were the poutine and the beaver tails from BeaverTails Pastry & Poutine, of course we also sampled the kettle corn and the hurricane potatoes!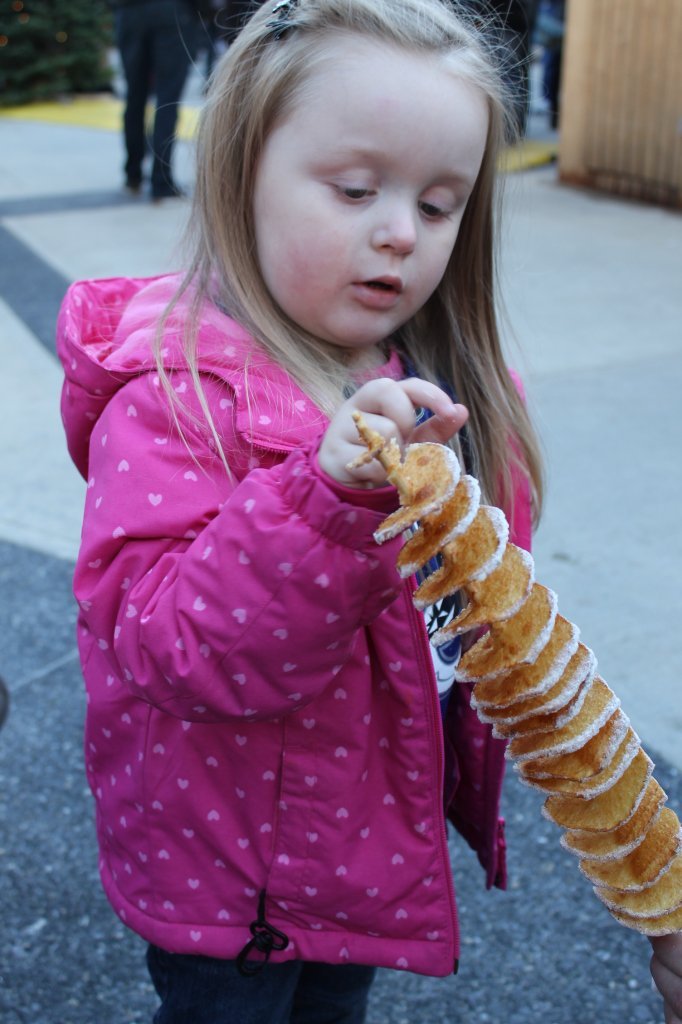 If I haven't sold you yet on visiting the market just based on the food (and it is sooo good!). How about the opportunity to visit over 50 unique vendors offering local and international flavours? We couldn't help but stop to look at all of the beautiful wooden Christmas ornaments, hand made soaps, gingerbread cookies, and more. We weren't allowed to take photos inside the Käthe Wohlfahrt gallery but we highly recommend stopping inside. Showcasing thousands of Christmas ornaments and decor, I could have easily spent hours inspecting each one. From traditional German pieces to more modern pieces, snow globes, pickles and more; you won't have any issues finding something to match your tree inside.
Alivia had so much fun decorating her very own gingerbread man, for $7 (or 2 for $10) they can decorate a cookie to take home (or in our case, eat 5 minutes later), they have a great booth set up with a decorating station and each child gets to choose 3 toppings to use to decorate their treat, Alivia chose sprinkles, marshmallows and gummy bears. After decorating it's packed into a container for safe keeping while you explore the other vendors. We didn't have a chance to make a Herrnhuter star as it was quite busy, but we're looking forward to going back to make a keep sake.
It was quite an experience to walk around with our commemorative Vancouver Christmas Market mugs sipping apple cider and authentic Gluhwein (which is DELICIOUS by the way!) and sample all the delicious treats, we took a break at their giant Christmas tree and listened to the live music and just soaked in the environment, at the end of our adventure we let Alivia pick an ornament to take home; she chose a beautiful, tiny hand crafted train to hang on our tree next week, a very cherished memory will be added to our collection.
Event Information;
Dates: November 22nd to December 24th
Hours: 11am to 9pm daily; 11am to 6pm on December 24th
Location: Queen Elizabeth Theatre Plaza, 650 Hamilton Street, Vancouver
Admission: Adults (13+): $7 – Mon-Fri 4pm-9pm & Weekends 11am-9pm
Adults (13+): $4 Special! Mon-Fri 11am-4pm
Seniors (60+): $1 off regular admission
Youth (7-12): $3
Child (0-6): FREE
Carousel Rides: $3 per ticket; $10 per package of 5 tickets
Don't forget that  returning again for 2014, for the price of any paid admission, visitors will be given a FREE Season's Pass so that they can enjoy the Vancouver Christmas Market time and again over the course of the 33-day event. Also, those who come from 11 am to 2pm on weekdays can beat the crowds and enjoy 2-for-1 lunch admission, perfect excuse to stop in for some warm food and peek around the market on your lunch break!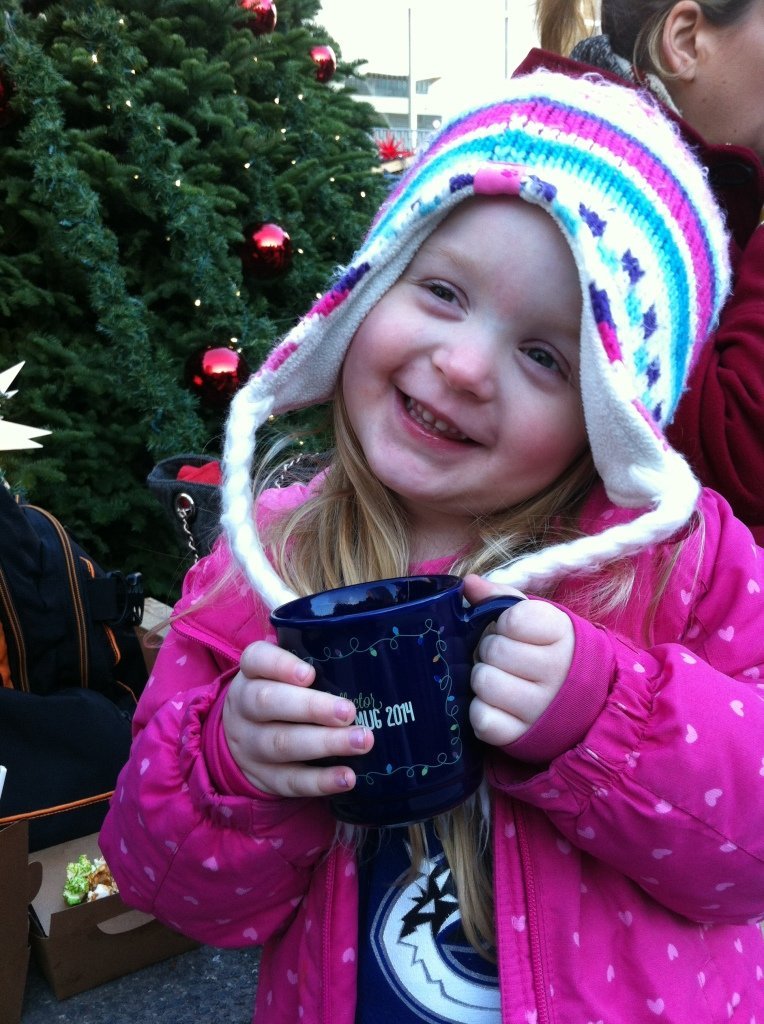 Will you be visiting the Vancouver Christmas Market this year? What are you looking forward to most? Tell us in the comments!
(Disclaimer: We were provided with complimentary passes in exchange for promotion/review of this event, all opinions remain our own, your experience may vary; but probably won't, because it's an awesome event!)