Raise your hand if your Christmas morning usually consists of the mad dash to find batteries for all those new toys? Or hunting for the screw driver to start assembling toys that need to be opened RIGHT NOW, only to discover you need an hour (uninterrupted) to put them together. Yep, that is my house on Christmas morning in a nutshell. This year we wanted to focus more on engaging toys that promoted imagination and physical activity.
Introducing, one of our absolute favorite items on our Holiday Gift Guide, the PlaSmart Plasma Car. With no need for batteries, gears, or pedals, PlasmaCar uses the natural force of inertia to power this award winning car! The original PlasmaCar is celebrating 10 fun years and counting, having won countless awards for being innovative, it was at the top of our Holiday Gift Guide list.
Assembling the PlasmaCar took me less than 10 minutes from start to finish, I didn't have a wooden mallet so I made do with what I had – a small hammer with a block of wood to protect the plastic. I loved that it was literally as easy as popping the wheels on and adjusting the steering wheel. Easy, peasy!
Once I had this bad boy put together and snuck it into our living room, Alivia couldn't resist hopping on for a ride! We have seen PlasmaCar's in a few local stores and I have to physically pry her off the car to get her out of the store, she loves that she doesn't need to use her feet to pedal, or worry about falling off. She just needs to lift her feet and turn the wheel and she's off! It was exciting for both mom & dad to watch her sit down, start to push off with her feet and realize that if she wiggles the steering wheel she could go faster, she was very animated that she was doing it all by herself!
We have a bit of a chicken when it comes to trying new things, she's a fun kid and loves what she knows, but she's always afraid she is going to fall or hurt herself and we were excited to see her gravitate towards a toy so quickly and not ask us for help! The car is lightweight, easily transportable to different parts of the house and replaces the need for other ride-on toys.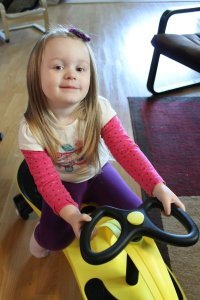 PlasmaCar is innovative in the sense that it is completely battery, gear and pedal free. Every part of the car is powered by the 5 wheels underneath, your child not only controls their direction with the steering wheel, they also control the speed depending on how quickly they move the wheel. Oh.. the weight limit is also 220lbs, so you better bet that I was riding on it around the house to, I have to give an honest review right? I wanted to have fun too.
The car can reach speeds of 10km (6 miles) provided you have a smooth, flat surface and nerves of steel! We had so much fun zipping around the living room with our PlasmaCar. We even invited Breton over to try out the car from a little boy's perspective and suffice to say, it is littles approved. Recommended for ages 3+, it's a fantastic way to help your children gain confidence as they buzz around the house at their own speed, controlling everything from the tips of their fingers! Keep in mind, PlasmaCar isn't recommended for usage on wood floors, the wheels can damage the flooring. My floors are already a bit beat up so we just let her use it in the living room!
We especially love that it promotes physical activity and keeps the kids moving (and wheeling!).
Do you want to WIN one? We have a PlasmaCar to give away to one lucky reader, enter below! Open to US/CAN