Around the holiday's it's easy to come up with gifts for mom, dad and the kids.. but what about the expectant mom & dad!? I remember at my baby shower receiving so many clothes I had no idea what to do with them all, tons of diapers and toys but what we really lacked was bath items for baby, one of the last things you end up thinking about until you get home and realize you need it.
In our home, natural products that are hypoallergenic with no additives are extremely important in our bath time routine, as a parent we want to offer the absolute best we can for our children and while we can choose for them, we should choose the best!
I was introduced to Aleva Naturals by a friend of mine who recommended their Breathe Easy Chest Rub when Alivia had her first cold, I did my research and was impressed to find that Aleva Naturals is a perfect blend of organic ingredients, natural and vegan. All their ingredients are sourced from plants and nothing is tested on animals. That sounded like a company I was not only proud to support, but one that I could trust with my daughter's sensitive skin.
Aleva Naturals carries everything from baby skin care essentials to maternal care, covering both mom & tot with a wide variety of products for everything from everyday use to cold & flu season.
We are reviewing our top 5 must-have list of Aleva Naturals products!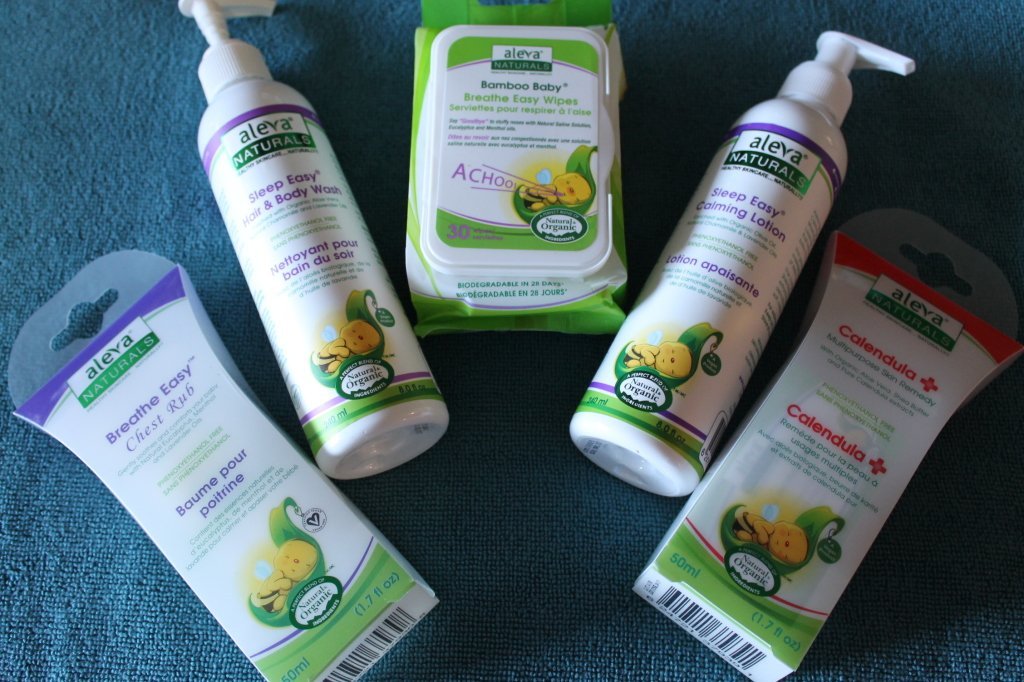 Sleep Easy Hair & Body Wash
This is something we believe should be in every bath time routine, at the end of a busy day it is so hard for littles to settle down, we live in such a over-stimulating world and it seems to strike the kids harder then us most days. Sleep Easy Hair & Body wash is enriched with organic aloe vera, natural chamomile and lavender oils, sounds pretty fantastic doesn't it? It is soothing, calming and the perfect addition to bath time to help ease little minds in preparation for bed time. I personally love the smell of this stuff so much it isn't unheard of for me to use a bit on a shower pour when I've had a lot day! It is completely phenoxethanol free.
Sleep Easy Calming Lotion
The perfect companion to the Sleep Easy Hair & Body Wash, it includes organic olive oil, natural chamomile and lavender oils. Sleep Easy Calming lotion is perfect for your after bath routine to keep baby's skin smooth and supple. Try using it during baby massage to keep skin moisturized. We have been using it after our bath time routine for just over 2 weeks and love the results. Normally lotions make Alivia's skin break out pretty much immediately due to sensitivities to ingredients, with nothing yucky in the bottle we will definitely continue to use it. We recommend using both products together right before bed time, the lavender essentials oils soothe and calm, helping littles drift off to dreamland after a long day. It is non-greasy and rubs completely into skin!
Bamboo Baby: Breathe Easy Wipes
Cold season, Check. Flu Season, Check. Ugh, it's THAT time of year again, snotty runny noses are running rampant around every children's play area, classroom and home. Ever tried to wrangle a 3 year old to wipe her nose with a tissue? You might as well try jumping as high as Michael Jordan, because it is NOT happening, especially in our house. Little noses get raw, irritated and swollen with repetitive wipes and it hurts! When we were introduced to Breathe Easy Wipes I loved that they have eucalyptus and menthol oils, both proven ingredients to help with irritation and dryness. The wipes are not only super soft, they are STRONG, perfect for circumstances when you need to wipe mid-run!
Calendula Multipurpose Skin Remedy
I have so many friends with littles who suffer from eczema and skin irritations, as mentioned above Alivia is very susceptible to rashes and breaking out when we switch soap or laundry detergents. Regular lotions can help to keep the skin moisturized but they don't form a barrier to protect as the skin heals. Calendula Skin Remedy offers just that, a barrier to protect against further irritation while the skin heals itself. We tried Skin Remedy after noticing a bit of a reaction from oranges, applied generously and rubbed in and waited, we kept applying throughout the day (recommended 2-3 times daily) and were impressed that the irritation cleared up by the following day! Skin Remedy is gentle on face, body and diaper area so banish that diaper rash the natural way!
Breathe Easy Chest Rub
By far our favorite product in the review, we have been using the Breathe Easy Chest Rub for over 3 years, it is always on hand during cold and flu season and gets a pretty good work out when the house is sick. Even though can find this product in the baby section it is NOT just for babies, in fact both mom & dad both use the chest rub when we are sick. With natural ecucalyptus, menthol and lavender oil the smell is gentle and soothing, with a non-greasy formula that rubs smoothly into skin, we rub it on Alivia's feet and cover with socks, and a little bit on her chest, it is a necessity in our home.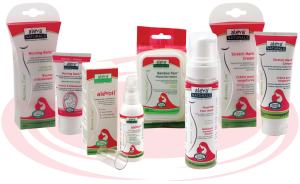 Don't forget that Aleva Naturals doesn't just cater to baby, they have products for expectant and new mothers as well as washes, lotions and wipes that can be used by children of any age. We are confident that after trying these products, they will become staples in your home, as they are in ours!
We have been generously given a Newborn Travel Package to giveaway to one of our readers! Included are a sampling of a couple of our favorite products. Enter below! We can't ask you to like a page for an added entry, but if want to keep up to date on contests and information, we highly recommend it!

a Rafflecopter giveaway

(Disclaimer: We were provided with complimentary products to facilitate our review, opinions within this post remain our own. Your experience may vary.)