Shying away from disposable items in favour of reusable ones is always a good trend. Our schools are big on reusable water bottles and litter-less lunches, there's a growing number of parents opting for cloth diapers, and thrift stores and online bidding sites are incredibly popular for buying second hand goods. All these small changes add up to a greater positive impact on the environment. It should come as no surprise really that there are also a lot of reusable menstrual products on the market too.
From menstrual cups to reusable pads, there is something our there for every woman to help them cut down on their personal waste. There is a great variety of both on the market now, because women are not one size fits all, so you might have to test out a few options before finding your perfect fit. But it's worth it; one menstruating person's disposable pad waste adds up to over 38 20-gallon garbage cans in their lifetime! Blushing Bluebirds Essentials is a local company contributing to the waste solution with their eco-friendly, organic cotton reusable pads.
Seriously, that's a lot of waste for a completely natural process. And it takes roughly 500 years for disposable pads to break down vs roughly 2 years for cotton. So even if you made a partial switch to reusable products or 100% cotton tampons, that small step adds up to a huge positive impact over the course of your lifetime.
There are personal benefits too. After having kids, it seemed like I had developed an allergy to something in disposable pads. Or maybe it was the fact that disposables are not very breathable and my sensitive skin revolted. Either way, I was suddenly unable to wear them, even if I usually only wore them at night anyway. I made the switch to a menstrual cup pretty quick after that, but it still left me without 'backup'.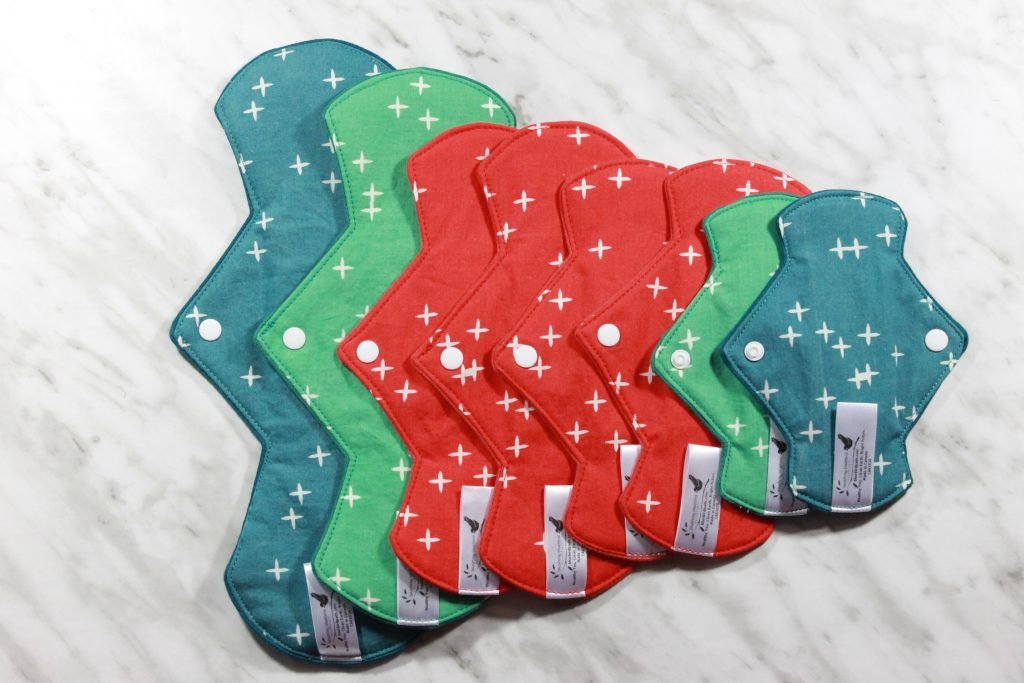 Blushing Bluebird has created a high-performance reusable line, in various sizes and absorbance ratings. Made of soft organic cotton outer layers and a waterproof polyester/polyurethane layer to protect panties, Bluebird Essentials are free of all the different chemicals that are found in disposables that can irritate the skin. There is no adhesive backing, making them breathable, instead, they are held in place with a snap, and snug fitting underwear.
But…do they work? And how do you, you know, clean them?
They actually can absorb 10x their weight in moisture! And they wick it away in seconds. The amount and rate of absorbency increases after a few wash/wear cycles too. And don't worry about the clean up, it's easier than you think. You can pre-rinse them in the tub while you shower, or the sink or a pail, or not at all! Many users don't feel the need to pre-rinse at all and toss them in the laundry with everything else with no issues. Just don't iron them, use fabric softener or bleach with them. Otherwise treat them like the rest of your laundry. I wash mine and then hang them to dry in my laundry room. Easy-peasy. Even after many washes they still remain soft and absorbent. Blushing Bluebirds recommends that if you plan to start a journey with cloth pads that you start with a set of 8 to make sure that you have every thing ready – just in case!
It's so comforting (literally) to know I'm covered for any possible leaks, for lazy days when I just don't wanna deal with the cup, the days I'm not sure if I'm starting (or finished) and even days I want to hit the trampoline park with my kids since they also work for mild incontinence. Blushing Bluebird Essentials protect me and my skin as well as the environment. That's a win.
If you're eager to support a Canadian owned and run business with a passion for introducing women to eco-friendly options available to them. Who has a team who truly has your best health interests at heart we highly recommend checking out Blushing Bluebirds Essentials and their entire line of re-usable products, there is something for everyone and there is no better time to start than now. As the ladies behind Blushing Bluebird Pads would say – "You don't like them, so you say. Try them, try them and you may! Try them and you may I say.– Dr. Suess" 
Connect with Blushing Bluebird Essentials