If you have ever wanted to introduce the young people in your life to live theatre, there is no better time than now! Broadway Across Canada has brought the Tony Award winning Broadway musical Cinderella to the Queen Elizabeth Theatre here in Vancouver, and it is absolutely magical. Rodger + Hammerstein's Cinderella is a re-imagined fairy tale favourite that is suitable for all audiences, with no shortage of laughs, spectacular costumes and catchy songs you'll find yourself humming again and again. I took my own musical theatre bug with me to opening night, and it definitely did not disappoint!
This lush production features an incredible orchestra, jaw-dropping transformations and all the moments you love—the pumpkin, the glass slipper, the masked ball and more—plus some surprising new twists! Be transported back to your childhood as you rediscover some of Rodgers + Hammerstein's most beloved songs, including "In My Own Little Corner," "Impossible/It's Possible" and "Ten Minutes Ago," in this hilarious and romantic Broadway experience for anyone who's ever had a wish, a dream… or a really great pair of shoes.
Make no mistake though, Ella is not your typical fairy tale girl longing for her Prince Charming. She wants change. Real change. Not just for her but for all of the people. And, though they do find love together, our main characters are more concerned with finding their voice, and themselves. This retelling of a classic tale is more modern and has a focus of love and compassion for all, rather than finding true love, giving one of our favourite princesses a welcome update.
The casting in this performance was brilliant, every character perfectly brought to life. And, while Ella and Prince Topher shone as the stars of the show, it was Charlotte's character, one of the mean but not too evil step-sisters, who became our fast favourite with her sarcastic wit and comedic delivery.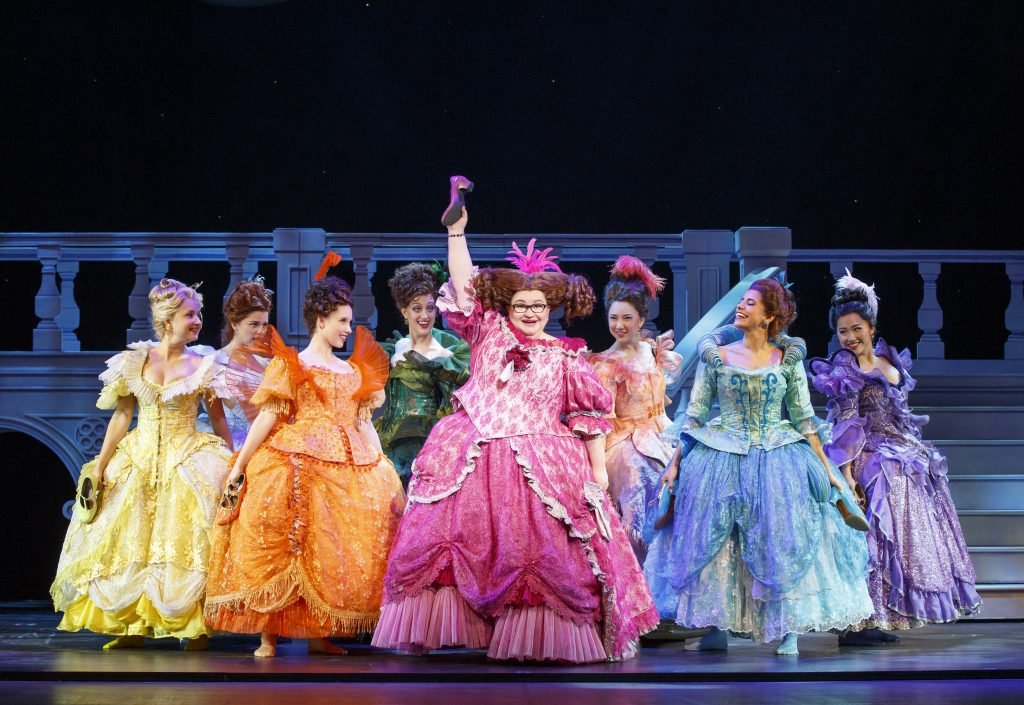 The set design and costumes were gorgeous and the magic was truly magical. The musical score was not only lovely, but so were the musicians! They happily talked to the many children peeking into the orchestra box before curtain and during intermission to see where the musical magic happens. My daughter even got advice with cleaning her trumpet!
I don't want to give too much away though, you really have to see it for yourself! Tickets are on sale now and Cinderella is showing through April 16, 2017…that's only Easter long weekend to see this spectacular, family-friendly Broadway production. There are matinee showings on both April  15 & 16 which may be more suitable for younger viewers in light of bedtimes.
A big thank you to Broadway Across Canada for inviting Amy and I to experience this incredible show it has definitely ignited a passion for live theatre in both of us!