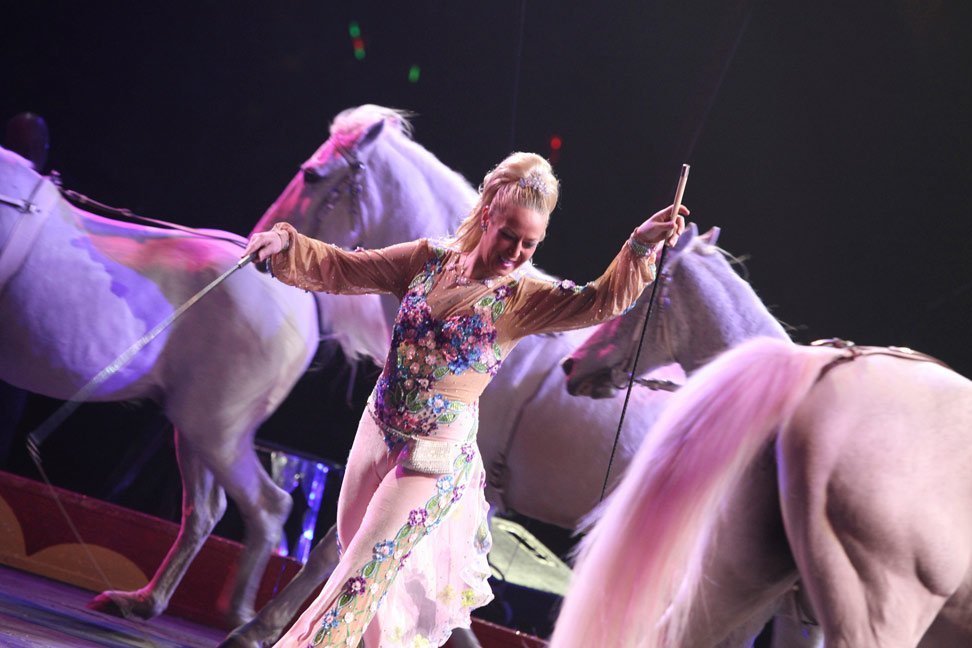 As a mom, I may have fantasized about running away to the circus once or twice.  As a child I have gone only once that I can remember; high wire acts, trapeeze artists, funny clowns and their physical comedy, I even got to ride on an elephant! Yes, I know, not particularly animal friendly, but I was 6 and it was thrilling at the time.  I don't think of taking my own family circus with me during these visualizations, but this ringleader will be taking them to see the Royal Canadian Family Circus SPECTAC!™ 2017 when the big top comes travelling through Metro Vancouver, and we want you to go too…in VIP style!
The Royal Canadian Family Circus is a bit of a throwback to the traditional days of families honing their skills and performing together; entertainment by families for families. With internationally renowned acts including the thrilling Argentinian High Wire, the Motor Cycle Cyclone, the Acrobatic Aerial Strap & Silk act, beautiful Zerbini Liberty Horses, Acrobats, Hula Hoop maze, world class performing Poodles, TZ Motorcycle Wheel of Destiny, Clowns and much more, I know my own crazy family circus will love it! And rest assured, there are no exotic animals on display or associated with the tour at all.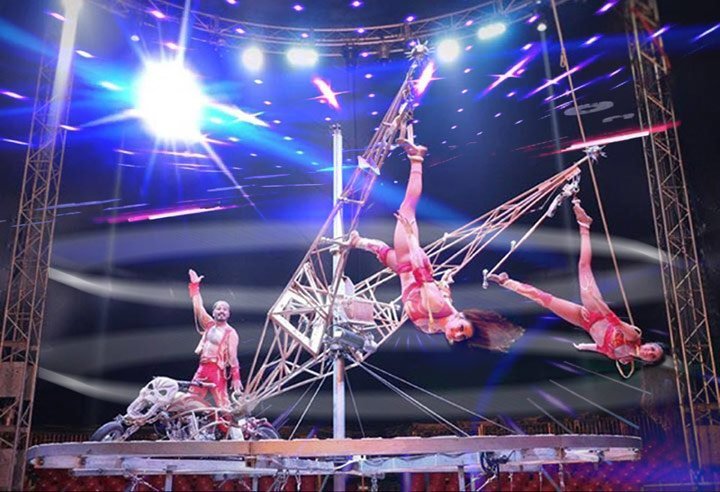 The Royal Canadian Family Circus SPECTAC!™ 2017 will be performing for delighted audiences of all ages under the Big Top at three different Metro Vancouver venues during the month of May. With so many different shows available, there is a show for everyone! Tickets are on sale now – don't forget to scroll down for your exclusive promo code.
Event Details:
When: May 5-22, 2017
Where: Surrey, Vancouver & Abbotsford BC
Tour Details:
Surrey, BC * Cloverdale Rodeo & Exhibition, 6050A- 176 St *  7 Shows * May 5-7, 2017
Fri,   May 5, 2017

 4pm & 7:30pm

Sat,  May 6, 2017

 12Noon, 4pm & 7:30pm

Sun, May 7, 2017  1pm & 5pm   

                 
Vancouver, BC * PNE * 7 Shows, 2901 East Hastings St,  * May 12-14, 2017                                                     
Fri,   May 12, 2017

 4pm & 7:30pm

Sat,  May 13, 2017

 12Noon, 4pm & 7:30pm

Sun, May 14, 2017  1pm & 5pm                    
Abbotsford, BC * SEVENOAKS Shopping Centre, 32900 S. Fraser Way * 10 Shows * May 19-22, 2017   
Fri,   May 19, 2017

 4pm & 7:30pm

Sat,  May 20,  2017

 12Noon, 4pm & 7:30pm

Sun,  May 21, 2017

 12Noon, 4pm & 7:30pm

Mon, May 22, 2017  1pm & 5pm
Tickets:   On sale now – available online at http://www.royalcanadiancircus.ca/tickets/
General Admission $25
VIP Seating $35
Ringside Seating $50
Use promo code BCMOM and enjoy 2 for 1 ticket pricing! Valid on general admission tickets only.
Many of us visited the circus as kids and will never forget the fun! We want to give one lucky British Columbia Mom fan the chance to experience the Royal Canadian Circus in an incredible way that is sure to create some lifelong memories. One lucky fan is going to win a VIP experience for 8 so you can run away to the Big Top with us! Prize includes 8 VIP Tickets to the show of their choice, Behind the Scenes Tour, Introduced as Honorary Ringmaster, Photo Op with Cast – an amazing value of $650! Want to win? Enter below!




Want another chance to win? Head over to visit Mumfection.com (ends April 30) or Valleymom.ca (Ends April 28)for another chance to win a VIP package! 
{This post is sponsored by the Royal Canadian Family Circus, all dreams of running away to the Circus are our own and not influenced by the sponsor.}