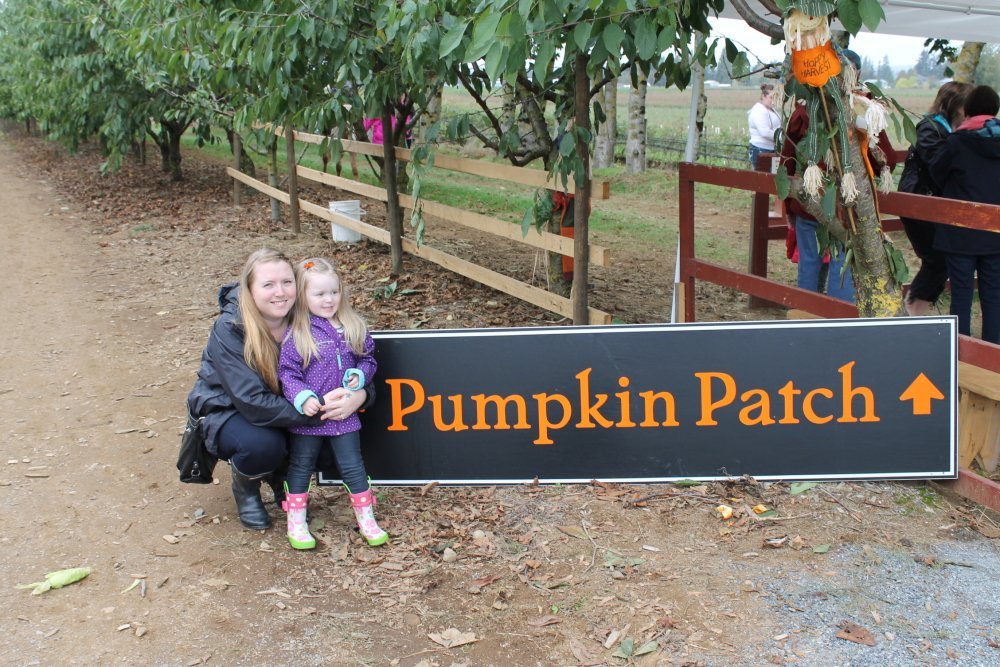 In our family, nothing says Fall and Halloween like a trip to our local pumpkin patch. We discovered Taves Family Farms AppleBarn last year and already decided that was where we were headed again this year! Located in Abbotsford, British Columbia, this farm is not only family run and in their 24th season but they have also been awarded the best u-pick in Abbotsford!
When we head out to a pumpkin patch, we really want it to be worth our trip, with most patches about an hour away from our house, we're pretty picky on where we choose, it has to be able to keep Alivia entertained! The Applebarn does not disappoint, with U-pick Apples, a huge pumpkin patch, tons of activities and play areas for the kids and tons of farm animals to pet, feed and find (hint; look up!) there is something for everyone at the farm.
We lucked out with the weather, with slightly overcast, cooler weather it was the perfect day to explore the farm with Daddy, Livvy, Grandma & Papa! Parking was pretty awesome, with a lower and upper lot, there is ample parking both at the patch and on the street, with a fairly decent turn around, you don't usually wait too long for a spot to open up.
So, what can you expect when you get there? A day of FUN. Pack your rubber boots and get ready!
Corn Quest Maze
Bunny Town, hayrides & ponyrides
Pumpkin Patch
Jumping Pillow & Pumpkin Pillow
Tractor Trail
Pumpkin Cannon & corn gun (Open on weekends)
Concession Stand (Open on weekends)
Zipline Playground & Slides (lots of slides!)
Petting Barn & Farmville
Bee Hive Viewing Window
Cider Press Demonstrations
U Pick Apples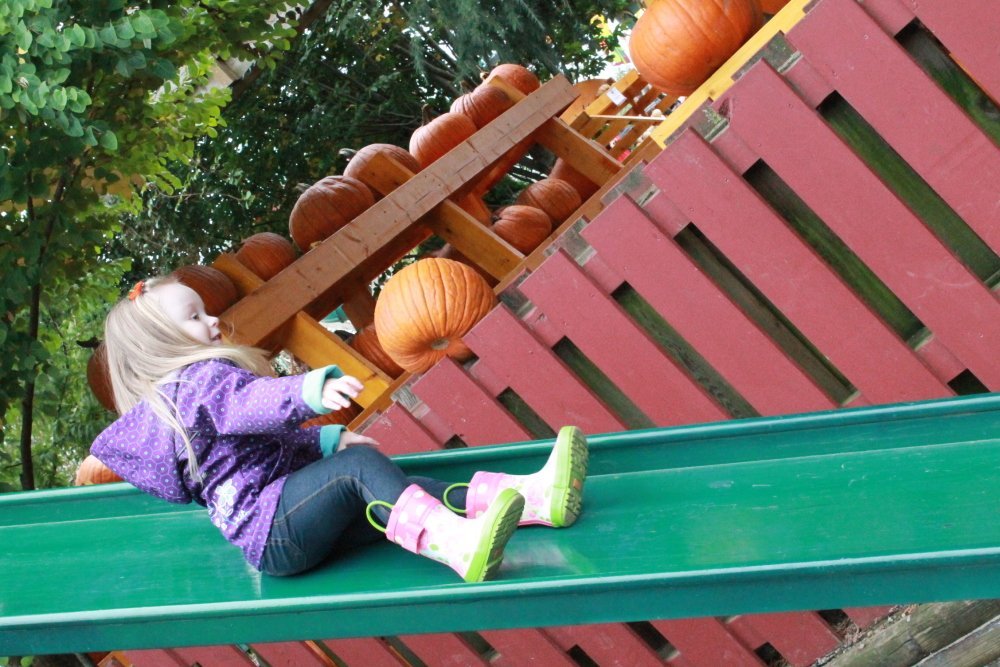 We started out our day in the corn maze and true to form, I am incredibly directionally challenged! We somehow managed to walk all the way around and find the entrance again… Not sure how that happened, but it's pretty typical for me. Alivia had so much fun with the little activities scattered throughout the maze, kids can collect fun color chalk on their fingers to match a map at the start of the maze!
Alivia is pretty noise sensitive so we didn't stick around this side of the farm very long, the pumpkin cannon was enough to make her run everytime! It's loud, but definitely fun. We highly recommend taking your kids up to see what is making the noise, it helps to alleviate some of the fear behind it.
We didn't make it past the concession on our way over the hill. Once you are within wafting distance of the roasted corn it's really hard not to stop. There can be a bit of wait on a busy weekend for the corn but it is WORTH IT. Wait, trust me, wait! Alivia munched on her popcorn while the rest of us enjoyed our roasted corn, the concession is very reasonably priced, generous with the portions and really has something for everyone! We recommend trying the Apple Cider Slushie, but be prepared to share.. it's pretty yummy.
The petting zoo area is top on our list to visit, make sure to bring a few quarters with you to grab some feed for the goats, they are incredibly gentle (though they like to get a little up close and personal!). We had a great time feeding the goats before heading out on our hayride.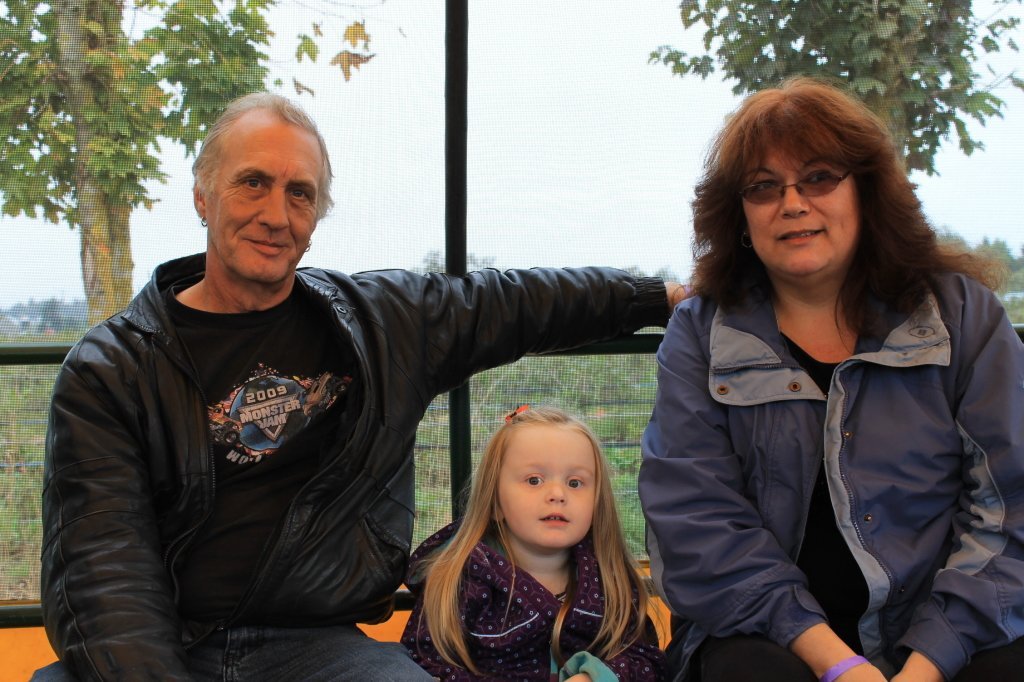 The best part about the farm for us is always the hayride, the kids love climbing up, sitting on the bales of hay and giggling at every bump along the path. the ride isn't terribly long and the great thing is, it drops you right in the pumpkin patch!
We did a lot of walking around the patch in the picture up above, Alivia had a hard time choosing her "best" pumpkin (as you can see, she's quite perplexed on which one to pick); there is a separate area taped off for little pumpkins so the kids can choose their favorite and actually carry it. The quality of the pumpkins available were impressive as well, we had a hard time choosing with her. If you aren't up for a big walk around the pumpkin patch and just want to grab one and go, there are plenty available for purchase by the main entrance.
Once we had our "best" pumpkins we headed back on the hayride and picked up some delicious fresh Apple Cider from the country store for dinner and headed home. Alivia has not stopped talking about her adventures and we can't wait to go back again!
Visit:
Location: 333 Gladwin Road, Abbotsford British Columbia – Get Directions
Website: tavesfamilyfarms.com
Facebook: @tavesfamilyfarms
Instagram: @tavesfarms
On the frugal side of things;
The Taves family understands that outings with large families can be quite expensive, with their family pass you never pay for more than 2 children regardless of how many you have, the super fun family pass is only $29.50 – See Rates Here
5lbs bags of apples are only $5 at the country store, this is HALF price from the regular grocery store (I know this, I buy Gala's every week!). For even cheaper, keep an eye on the u-pick prices and go grab your own!
Thank you!
We had a fantastic time, a huge thank you to the Taves family for having us! We will definitely be back to do some u-pick apples before the season is over.
(disclaimer: we were supplied with a free afternoon at the Taves Family Farms AppleBarn in exchange for a review; all opinions are our own; we had a blast!)