When you imagine a toy store, you likely have visions of shelves stocked with plenty of puzzles, dozens of dolls, legions of Lego, a plethora of plushies, tons of trains and a great deal of games. The Toybox toy store is no exception, but they are exceptionally good at what they do. Gary and Misti Mussatto, owners and buyers for not one but three toy stores in the BC Lower Mainland , are some of the warmest people I have had the pleasure of meeting. Their love for what they do truly shows in their interactions with customers of all ages, whether it be tricks and jokes for the young or knowledgeable product information for the parents, and their staff follow in their footsteps.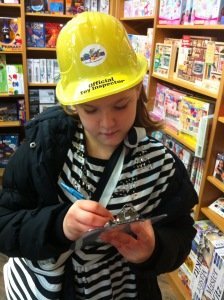 This past Saturday, Toybox had its Grand Opening at its new location located at 2933 West Broadway. Having been at their their previous location of over 40 years in the Kitsilano community (Gary and Misti took over in 1997),  they were thrilled to secure a location right across the street allowing them to continue to serve the neighbourhood. With a new space, the Mussatto's were free to create a new a new look, and create they did! They went with a toy factory theme and, with dozens of upcycled items, recreated a whimsical factory overhead. Helium tanks and batteries, switches and crane hooks, pipes and tracks line the ceiling with a fun flair giving customers a lot to view as they cruise the store. Gary has not only designed and created the interior of Toybox while helping to run the other stores, but he has penned a children's book too!  *cough* Tooky and the Toy Jungle out Nov 29th *cough*
To celebrate opening their doors in their new location, Toybox welcomed everyone inside with balloons, magic shows, glitter tattoos and, because no celebration is complete without one, cake! The larger than life mascots were a hit with the kids, and they all looked so cute with their Toy Tester hard hats on. Each child was given a checklist for their age and was asked to select the best toys for a chance to win one and to donate a top pick to children in need. This seemed like very serious work for some!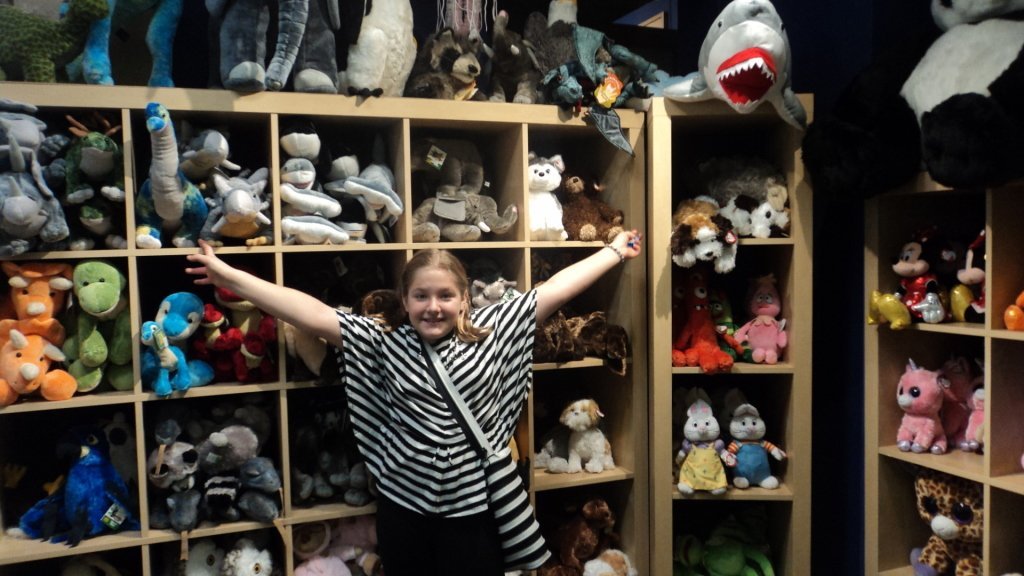 The Toy Couple, as they are often called, are parents themselves and when buying stock, they do so from a parents point of view. You won't find any video games here. What you will find is an abundance of toys, kits and games that encourage imagination, creativity and communication. Wooden playsets, a huge dress up selection, crafts and mechanical toys, and the largest Playmobil collection I think I've seen, all at prices comparable to big box stores, but with a personal touch that is rare, and welcome. And speaking of personal touches, they will also gift wrap using Kooky Tooky's special jungle wrap at no extra cost for that special birthday boy or girl.
Since birthdays are always cause for celebration, Toybox has a free Birthday Club too! Sign up in store or online and your child will receive a postcard in the mail good for $10 credit at the store. Once inside the store, your birthday boy or girl will get to ring the special birthday bell ! Always a fun experience for all ages.
With points offered on every purchase, three locations, an online store and a gift registry option, I think I have found my new favourite toy store!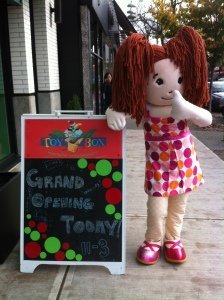 The Toy Couple and I would really like for you to experience the Toybox toy store too! One of our lucky readers will win a $25 gift card good at any of their three locations, enter below! We can't ask you to like a page as an entry option, but if you'd like to stay up to date on contests & promotions, we highly recommend it!



a Rafflecopter giveaway

(Disclaimer: We were compensated to attend and review this event, opinions within are our own. Your experience may vary, but we think you'll have lots of fun!)