The last time I had popcorn in my drink, it certainly wasn't on purpose. By me anyway. And, to be honest, I never would have thought about incorporating popcorn into a beverage – that's more my 3 year old's style. A few evenings ago, while getting ready to brew a cup of Holiday Treat Steeped Tea to try, I noticed a couple popped kernels of popcorn in the blend. Popcorn? In tea? Upon further inspection I also found what looked like tiny caramel squares. Curiosity piqued.
Founder and President of Steeped Tea Inc Tonia Jahshan fell in love with loose leaf tea while on vacation shared her new find with her friends upon her return by hosting a tea party. A friend asked her to host a similar party at her house, and the idea snowballed from there. Soon she found she was running a small business and other women began to approach her wondering how they too could be involved. Adopting a direct sales method allowed motivated women to be their own boss, determine their own hours, and spend more time with family while sharing a passion for business and the product itself. Appearing on Dragon's Den in 2012, their pitch successfully netted two Dragon investors and their business has flourished, even being listed as 27th on PROFIT 500's list of Canada's Fastest-Growing Companies.
I watched that episode. I rooted for them, the passion for their product evident. And yet, I thought tea was tea. Sure there are different varieties and flavours, but my grocery shelf is full of them. And then, I met Ashleigh Topliss, Independent Consultant with Steeped Tea Inc and my mind has been forever changed.
My first experience was with the aforementioned Holiday Treat tea. I'm still a little blown away by the popcorn, but this tea is beyond delicious-full, layered with flavour and slightly sweet. This enchanting tea is a delicious blend of caramel, coconut, and vanilla. A holiday treat to share with loved ones.
Ingredients: Rooibos, genmaicha (green tea, rice kernels, popcorn), coconut flakes, red peppercorns, vanilla bits, natural flavor. Less than 1%: caramel bits (condensed skim milk sweetened, sugar, glucose syrup, butterfat). Contains milk.
I also tried Toffee Crunch, another rooibos tea whose ingredients include caramel bits and almonds reminiscent of dessert and Harvest Spice, a warm you from the inside black tea containing cinnamon pieces, cloves and jasmine buds that is perfect on a crisp fall day.
Being a loose leaf tea gives you a chance to really see and appreciate the ingredients that go into these blends as well as gives an unbeatable flavour vs bagged tea. With roughly 100 unique blends and several tea types, there is something for every tea drinker in your life and non tea drinkers too, it's that good. White, green, black, rooibos, fruit, they have it all and any tea accessory you could think of to make your tea drinking experience exceptionally enjoyable. Like iced tea? Maybe cookies or some scones to nibble alongside? Perhaps some tea based seasonings to cook or bake with? They have all that and more.
Steeped Tea Inc also loves to give back and are proud supporters of the Juvenile Diabetes Research Foundation with 3 of their Fruit Teas: Jenna Cherry Jubilee, Lady Layla and Sami Sweetheart. A donation of $1 is made for every 100g bag that is purchased, and with November being Diabetes Awareness Month why wait?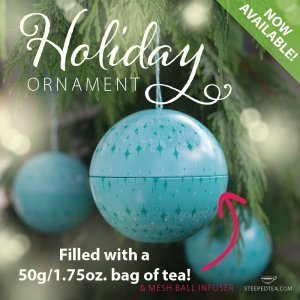 While you can order directly from a consultant through their online website, it is recommended to host a tea party with some friends and earn some hostess benefits like half price items and discounts, which is helpful since you will have such a hard time choosing which teas to try! You and your guests will also get to sample some of Steeped Tea's custom blends while enjoying a visit with each other.
To get you started on your tea journey, Ashleigh is giving one lucky reader a Key West Brew Mug (Orange or Blue) AND 50g of Holiday Treat Rooibos!
We can't ask you to like a facebook page as an entry option, but if you'd like to stay up to date on our promotions and contests, we highly recommend it!
*Disclaimer: I received free samples to facilitate this review, however all opinions are my own.*