There is something absolutely invaluable about children's cd's that you can listen to over and over again without wanting to pitch them outside on the highway, amiright? We are so incredibly blessed that we have a few amazing local children's artists in Vancouver that keep our kids bopping, without annoying us! In fact, between Bobs & Lolo, Jessie Farrel and CBC Kids Star Will Stroet, we have a steady mix of wonderful children's tunes that even I find myself jamming along to! We especially love that Will Stroet has CD's in both english and french, which are perfect for kids that are in the early stages of French Immersion, or just kids who love learning new languages.
We're pretty excited to share that one of our faves – Will Stroet Music – is releasing a brand new children's album and you can come celebrate with us at the CD Release party! This event is sure to get you shaking out the sillies, grooving along with the kids, AND… of course we have a giveaway! 
We were given exclusive access to Wordplay before it's release to check it out and I have no shame admitting that I have been giggling away to this album, Wordplay encourages silly rhyming, which research has shown really helps children with phonetic ability, word recognition, practicing patterns and of course improving their ability to memorize. So.. throw on some Wordplay, and have fun learning! I was so impressed with how easily Alivia could follow along with the songs, there's a jam for everyone!
Wordplay brings together 2 of Will's passions, Music and Language, he shares that one of his favourite activities is solving the NY Times Crossword puzzle (a feat in itself!). When he's on tour and has downtime, you can usually find him working on the latest puzzle. This album features some gems such as: "My Pal Indrome" about a pal of Will's who likes to speak in palindromes; "Grama An's Anagrams" about a Grama named An who loves to anagram; "Boris Thesaurus Tyrannosaurus" about a T-Rex who has an amazing vocabulary; "Scott Spell" about a kid who loves spelling; and "Wordplay" where I have a lot of fun with puns, spoonerisms and even his very first rap. Sounds cool right?
Event Details:
What: Will Stroet "Wordplay" CD release concert
When: April 17 at 11 AM (doors open at 10:30 for screening of new videos),  The 11am show is SOLD OUT, so a second show has been added! 4:30pm tickets are still available!
Where: Jewish Community Centre Wosk Auditorium – 950 W. 41st Avenue, Vancouver
Tickets:  $15 each/$50 for a 4 pack when purchased online, or $18 each/$60 for a 4 pack at the door. Buy them online through us, and save $3 per ticket! Grab yours now.
Connect: For more information visit willmusic.ca, Wordplay is available for pre-sale now on iTunes and  online at: willmusic.bandcamp.com/album/wordplay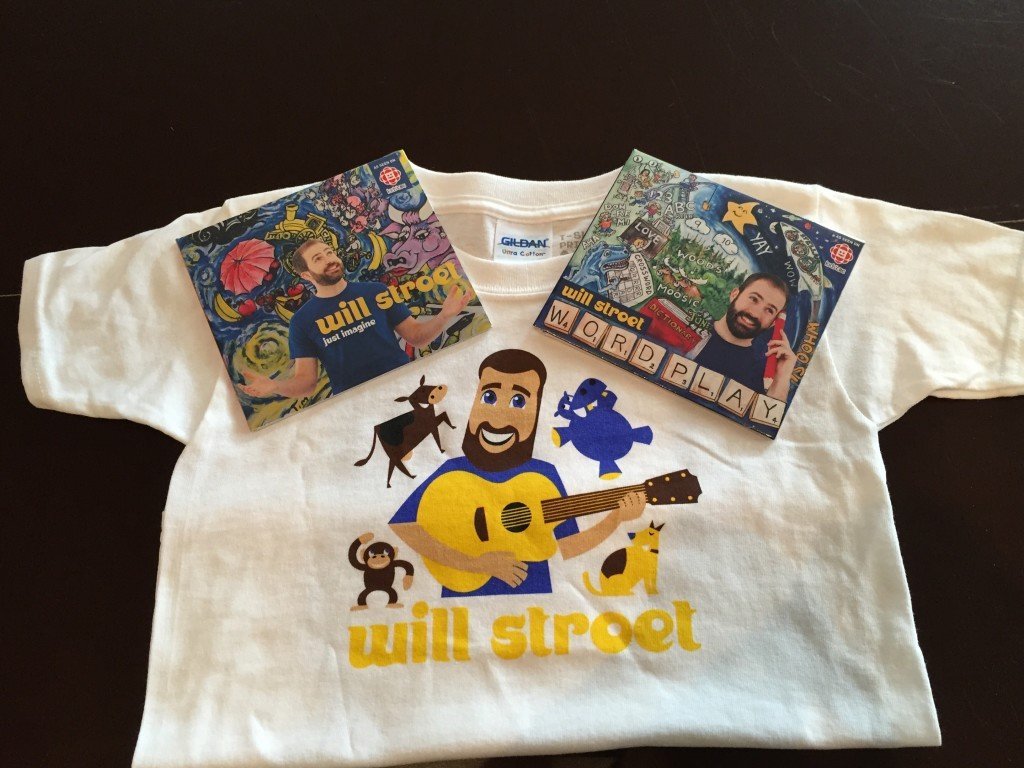 Ready to enter to win? One lucky fan is going to win 2 CD's, and a Will Stroet T-shirt! Just Imagine is one of our faves, so make sure to enter below to win!