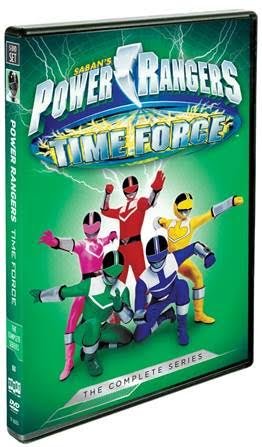 Go, Go Power Rangers! Ry has been bugging me forever to find him the original Power Rangers movie, I figured that having the Power Rangers: Time Force on hand might be the next best thing! This DVD features the complete series, that's 40 episodes folks. Surely this would keep a Power Rangers fan happy, right? The original Power Rangers debut was originally in 1993, with a cult like following of this live action pop culture series it's easy to see how the series quickly become one of the most watched Children's television show in North America. To say Ry's eyes lit up when this showed up would be an understatement, and he's powered through it like only a true fan could!
In the distant future, a team of Power Rangers known as the Power Rangers Time Force act as a time-traveling police force capturing and freezing criminal mutants. When the notorious criminal mastermind Ransik stages a daring escape, he fells the Red Time Force Ranger Alex and takes the entire cryogenic prison full of dangerous, incarcerated mutants back in time with him to the year 2001. There he seeks to unleash a new wave of crime against our modern world, helpless against his vastly superior technology. In pursuit of Ransik, Pink Ranger Jen – grieving fiancée of Alex – leads a team of Time Force officers back in time to apprehend the escaped criminals. In modern times they ally themselves with Alex's distant ancestor, Wes, whose shared DNA with his future descendant allows him to take up the powers of the Red Time Force Ranger.
Sounds pretty cool right? If you have a fan at home, they're going to love the futurist feel of this series. As with the entire series, The Power Rangers does feature some "live-action" bad-guy fights, so if you're iffy about showing your kids that kind of thing, we suggest pre-watching it. We didn't see anything to be concerned about, and used it as an opportunity to talk about team-work, responsibility and helping others. If you have a martial arts lover at home, it's pretty cool to watch some of the stunts too! Alivia was lucky enough to meet a martial arts Olympian and has been practicing a bit at home, Power Rangers: Time Force was the perfect way to encourage a healthy conversation about responsibility when play-fighting and encouraging her to try her best.
Connect with Shout! Factory Kids
Facebook | Twitter
This DVD features 40 episodes on a 5 DVD set from the iconic show's ninth season, and it could be yours! Want to win? Enter below.




a Rafflecopter giveaway


Giveaway open to residents of Canada, contest ends April 18, 2016. Good Luck!