There is seriously something so delicious and comfortable about fair food – whether you indulge in cotton candy, mini donuts or candy apples, chances are you have a favourite at the fair. Just recently we were invited to The Fair @ The PNE for a media food tour and let me tell you… there is some amazing twists on old favourites up for grabs this year, and you better come hungry!
One of our favourite stops on the tour was at Reel Mac & Cheese where we were treated to a delicious twist on an old favourite – the Slumdog Millionaire Mac & Cheese perfectly blends south asian with a Canadian favourite by adding curry, peas and crispy onions to their already delicious seven cheese mac & cheese. Owners Suzanne & Perry Poudrier are PNE veterans with 14 years under their PNE Food Family Belt – and it's easy to see why! Make sure to stop by and try one of their Hollywood inspired dishes.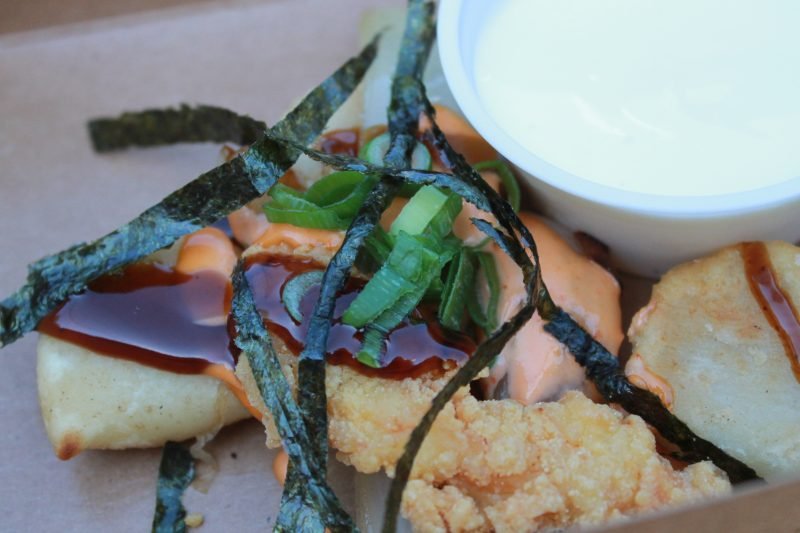 Next on our stop was International Perogys – located conveniently right across from Reel Mac & Cheese (try them both!) where we sampled a delicious spicy spin on a traditional perogy. The chicken teriyaki perogy incorporates a traditional perogy with a perfectly crispy chicken strip topped with both a delicious spicy sauce and a teriyaki sauce. With the added flare of the green onion and seaweed strips it's the perfect savoury mix.
If you're dying to try something completely outside of the box, pop by and visit Handmade Burgers for this creative twist on an American favourite – a Mac & Cheese stuffed hamburger! This mouth watering creation is created with locally sourced meat with a freshly baked glossy top brioche bun. The cheese is cheesey and the burger is melt in your mouth delicious. I was actually surprised at how much I enjoyed this one, and wanted to go back for more! Jason Au and his family have mastered taking traditional Fair Food and giving it a 20th century twist.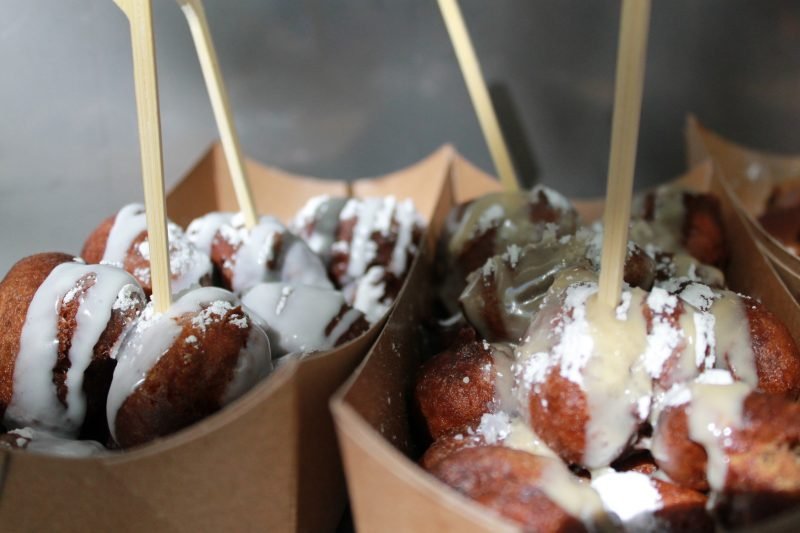 When I saw our menu for the trip one of the items I was most intrigued by was the Deep Fried Coffee from Ogopogo Concessions, Lorne Beckett the mastermind behind this booth took an adult favourite and gave it a sweet twist. Enjoy toppings such as Mocha Chip, Salted Caramel, Espresso Flake and French Vanilla with Cream & Sugar – you can even grab a combo  that includes a blended coffee drink with 6 of these bad boys. Out of all of them, my favourite was the salted caramel – but our group certainly didn't mind trying (and finishing!) them all.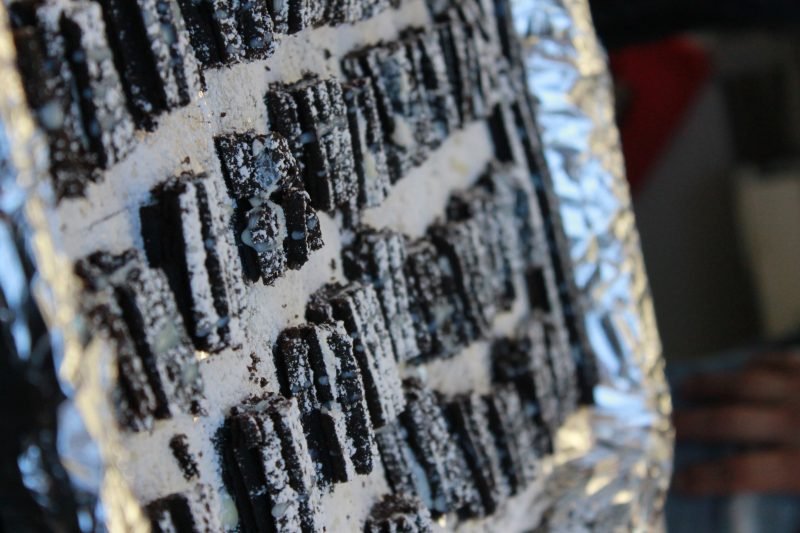 If you're in the mood to try something completely new, head over to Steve O's for unique twist on a Mexican favourite – the Oreo Churros incorporate 2 of my favourite things! I am a total Oreo junkie and while yours will be MUCH bigger, I found this little bite just enough to curb my sweet cravings.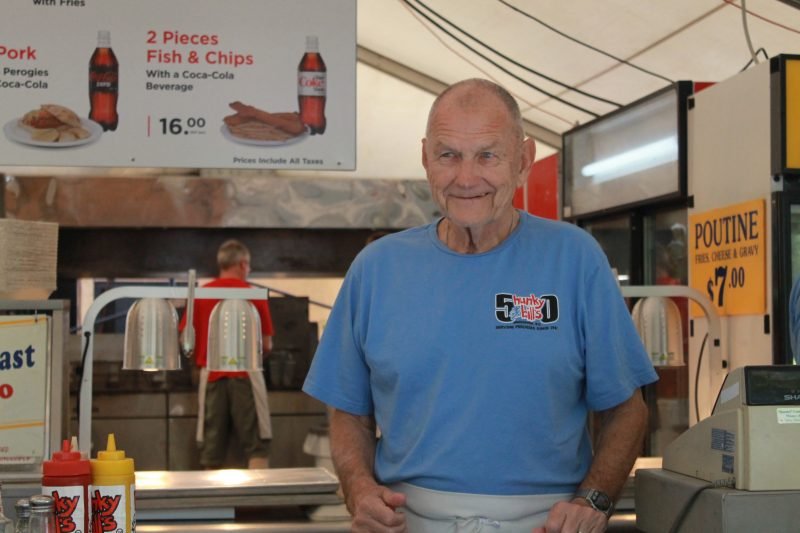 This lovely gentleman is arguably the most handsome of booth owners- Bill Konyk is a PNE Food fair veteran with 50 years under his Perogie slinging belt. Back in 1967 a friend made a bet with him that he couldn't get a booth at the Fair to sell his homemade Ukrainian style perogies. Well, little did they know Bill's determination to make this happen! After chatting with the then Head of the PNE booth sales department for over an hour and a half they finally gave him a chance and well… the rest is iconic history.
Stop by Hunky Bill's to sample some of their delicious homemade Ukrainian fair from sausages, smokies and their famous perogies. On the flipside, you can also enjoy fish and chips as well at Barnacle Bills – right next door!
If you're feeling super brave, head over to visit Gourmet Burgers to tackle the behemoth aptly nicknames The Hercules. The Jones's family have been concessionaires at the PNE for the past 15 years and operate a number of booths on site and on the Fair and event circuit. Their latest burger – The Hercules – isn't for the faint of heart! This burger tops the scales at 10lbs and takes an hour to cook. If you're willing to take the plunge, make sure you have an hour to spare!
Last, but certainly not least is my hands-down favourite food that we sampled. Hailing from the Chicky's Chicken booth the Deep Fried Pickle Corn Dog is something that has to be tried! Scott and Karlye Dennis used their friends as guinea pigs to come up with this recipe and it was warmly received! This delicious snack combines a cored out pickle, with a hot dog inserted, battered and deep fried. Top it with a little bit of mustard and it is something you definitely won't want to share!
When you're done eating your way around The Fair and ready to settle down to relax, make sure to end your day (or start it!) with a trip to the Craft Beer Festival, you can find this little gem nestled in by the fountains and have a chance to try 25 featured craft breweries. Sample the diverse craft drafts being developed within and around the Lower Mainland. Our personal favourite? I really enjoyed the Dead Frog Brewery Match Honey Kettle Sour, an adult twist on a kid favourite – it tastes just like a super sour candy! Admission information is available at PNE.ca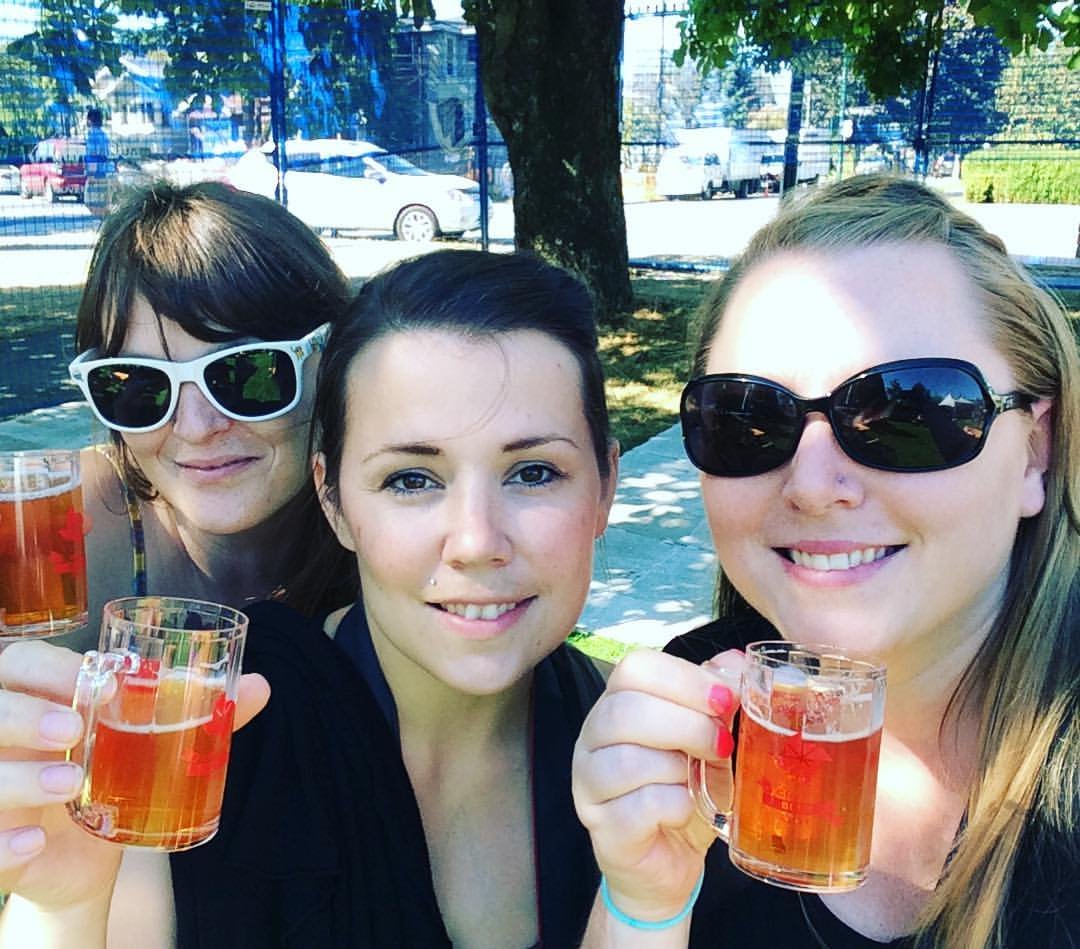 All in all, we had a fabulous time and discovered some new (and re-discovered some old) favourites. We really loved how deep the roots are for so many of the concessionaires at The Fair and encourage you to support these local businesses and show them some love. If you visit the fair, make sure to share your favourite finds on Facebook, Twitter or Instagram using the hashtag #fairfood. If you're feeling SUPER brave… pop over and check out the new Bacon Candy Floss… no pigs were harmed in the making of this interesting new addition.
The Fair at the PNE is open until September 5th, plenty of time to run down and grab some grub! Happy snacking.