One of my fondest memories of the holiday season growing up was our traditional stop at the mall to get our photo with Santa. My mom would brush my hair (a challenge in itself, I had a lot of hair!), throw me in a super cute Christmas dress and tell me to smile! It was always a fun little trip with a candy cane treat and a memory to share through December. "Remember how silly Santa was?" "How pretty were the lights?". All questions that I've since started asking my daughter after our trips to see Santa!
We were pretty stoked to hear that Santa had arrived at Metropolis at Metrotown, I've always been incredibly impressed with their events and displays and had very high expectations for Santaland in the Grand Court. I wasn't disappointed!
Santaland is located squarely in the lower Grand Court, with a dazzling light curtain spanning 3 stories with 70 large strands of lights that are 70! feet long, you can imagine how incredible this light curtain looks up close. Alivia was in awe and kept looking up to watch the colors change as we learned a bit more about the new interactive, innovative photo set-up this year at Metropolis! Metropolis starts planning Santaland in February and it takes an impressive crew of elves 2 weeks to set up this eye-catching display.
Photos with Santa are by donation (minimum $2.00 per photo) with all proceeds going to the Burnaby Christmas Bureau. They are available digitally, you'll receive a unique code and website to download your photos and print as many as you like for friends & family! You can also feel great knowing that you are not only going to receive a photo that you LOVE but also that you have helped out an amazing charity. This charity is very close to our hearts, we firmly believe that every child deserves a Christmas and the chance to cherish these memories. Metropolis has collected over $500,000 from Santa Photo donations for the Burnaby Christmas Bureau in the past 24 years, how amazing is that? Approximately 76,000 people  visit Santa at Metropolis every year!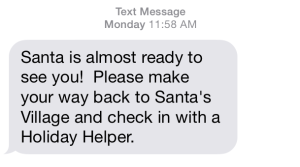 If you're anything like me, line waiting during the holidays is enough to put a major damper on your outing. 3 year olds do NOT stand still. Ever. Between chasing them, bathroom breaks, needing a drink, wanting to ride the train and more it can be frustrating when the Santa photo line gets long; not to fret this year though!
TELUS is offering a line saving option with an interactive sign-up located towards the end of the main line. The sole purpose of these wonderful touch screen computers are to register your place in line! You can leave.. and come back! Sounds pretty great doesn't it? No more potty dances, you can grab that much needed coffee or quick breath of fresh air or even get that important last minute shopping done and you won't lose your place in line. Simply input your information (Name, Email & Phone number) and one of the super helpful Telus elves will hold your place in line and send you a text when your turn is approaching. I so love this system.
If you don't mind the lines, you can hang out while the kids play on the new interactive game kiosks throughout the line, have fun playing whack an elf or put yourself in a Christmas photo while you wait!
Lastly, and what we think to be the most important; How is SANTA? Lucky for us(and you!), Metropolis also has a pretty awesome Santa and a team of elves. He was jolly, cheerful and was great at encouraging my shy little bug to get close for a photo! The photographer is quick and efficient, snapping each moment as it happens to make sure they get that perfect shot for you. We definitely recommend checking out the Winter Wonderland display at Metropolis at Metrotown and enjoy the decor, experience and merriment that it offers!
Santa Hours:
Monday – Saturday (and Sunday, December 21st ) 11am-1pm, 2pm-5pm and 6pm-8pm
Sunday 11am-2pm and 3pm-6om
Santa heads back to the North Pole at 5 pm on Christmas Eve!
* Photos are by donation, a minimum $2 per photo. You'll receive instructions on how to download your photo as well as a coupon for a free Orange Julius when you're all done.
Don't forget to hashtag your adventures with #METSanta and follow to be kept in the loop on promotions and fun during the holidays!
(Disclaimer: we were provided with compensation to review this event, all opinions within are our own)