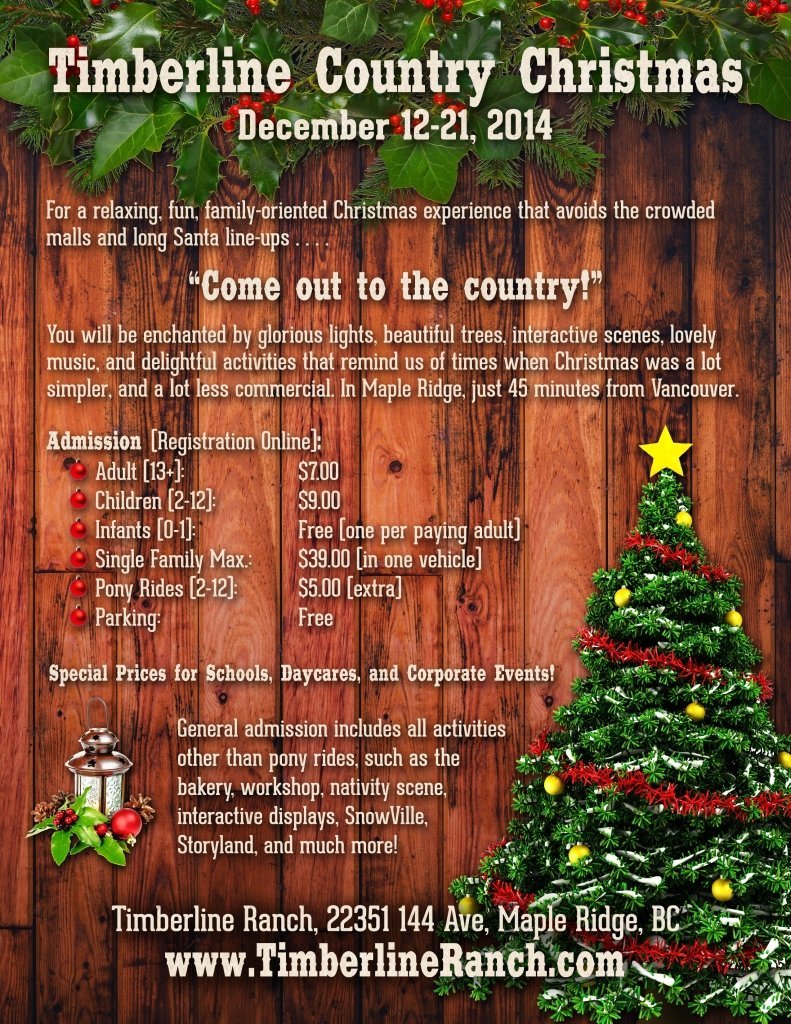 Have a holly jolly Christmas… it's the best time of the year…right? I'm so excited for all the upcoming events for families! Timberline Ranch is offering a Country Christmas event for the entire family. 
Starting December 12 – 21, 2014 you can purchase tickets to this wonderful Country Christmas event. Leave the hustle and bustle of the city and enjoy a short drive to over 73 acres of this gorgeous horse ranch that has been transformed into a Winter Wonderland!  On the ranch you will be enchanted by dazzling light displays, beautiful decorated trees, interactive scenes, memorizing music and activties that will remind you of when Christmas was a lot more simple.
Pricing for this event is incredible reasonable, starting at $7 for adults and $9 for kids, the whole family can pile in for just $39 (provided you all come in one vehicle). Kids 1 and under are free with a paying adult.
So what is included in your ticket price? Oh… just about everything you can imagine!
Bakery – Decorate a large, yummy cookie.. and then eat it!
Petting Zoo – Meet some friendly animals including a llama, donkey, miniature horse, bunnies and more!
Workshop – Tinker away and make a Christmas ornament you get to take home!
SnowVille – Snow-themed ball pit.. with snowman targets.. fun? Yea!
Covered Wagon Ride – a 10 minute ride around the ranch and off and on at the Barn.
Origins of Christmas – Interact with small displays that explain where Christmas traditions come from, such as Mistletoe, Christmas Trees, Santa Claus and more
Nativity Scene – See Mary, Joseph, Baby Jesus, and the Shepherds at the manger.
Storyland – Hear a back-country story about a time when Christmas was more about others.
Family Photo Spot – Bring your camera and get your photo taken in a booth set up with a Country Christmas feeling.
What isn't included? Pony rides, those can be purchased for an additional $5.
What can you expect? The event will  take approximately 2 hours, depending on how long you stay at each station. The staff at Timberline Ranch encourages you to take photos and the staff will even take photos for you (so mom AND dad can be in the photos!). Their Timberline Ranch Cafe will be open and stocked with drinks, desserts, snacks, hot dogs and more so you can grab a nibble while you explore.
As there is limited space in each time slot, they highly recommend that you purchase your tickets in advance. Showing up may not guarantee that they can accommodate you at that time. Registration is super easy and can be done online! Register Here.
Event Details:
Where: 22351 144th Avenue – Maple Ridge (Directions)
When: December 12 – 21, 2014
Cost: Adults $7, children $9, under 1 FREE
Prebooking Required: YES, Register HERE
More Information: Country Christmas FAQ
Are you joining us for Country Christmas at Timberline Ranch?