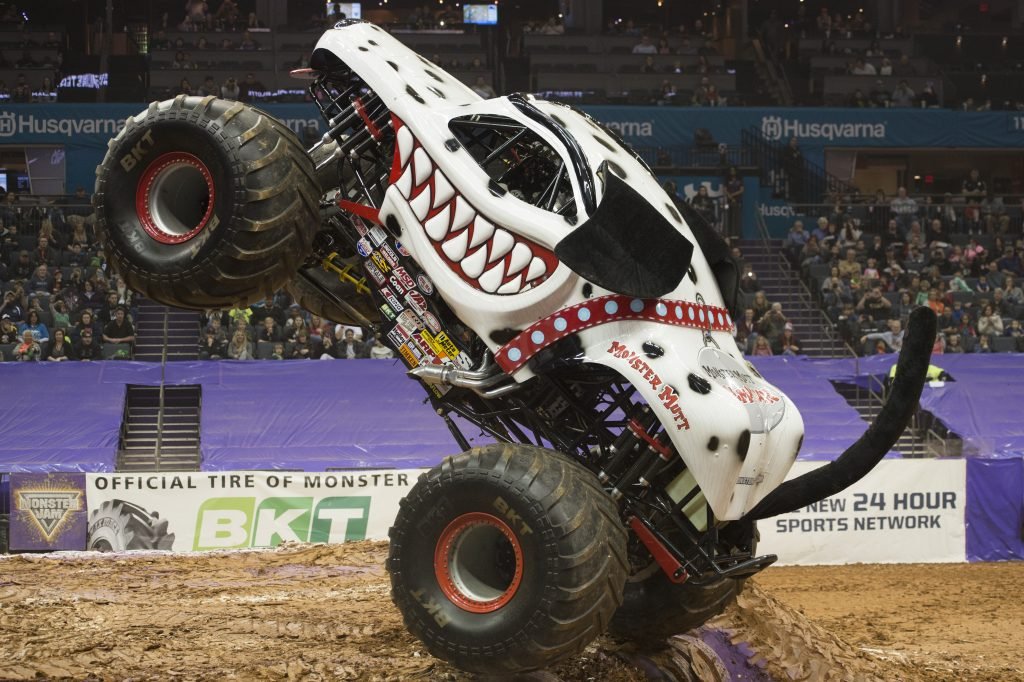 VROOOOOOM!  Get ready for the biggest, baddest Monster Jam YET! The infamous 2,000 horsepower engines are revving up again and ready to roar full throttle back into Vancouver as the Monster Jam® Triple Threat Series™ presented by AMSOIL, the most adrenaline charged motorsports experience for families on the planet, comes to the Pacific Coliseum with an exciting new competitive points-paying endurance showdown unlike any other Monster Jam event ever experienced before in B.C.! Growing up, Monster Trucks was THE place to be, from rip roaring loud noise and excitement to complete and utter destruction, every kid knew when the trucks were coming to town!





The Monster Jam Triple Threat Series presented by AMSOIL can only be seen in select cities across the country and features the most extreme athletes of Monster Jam competing against one another in a points-based format that showcases the best lineup of Monster Jam vehicles to deliver what fans want to see most – more trucks, more racing, more freestyle, more donuts, more wheelies, more action!
Unlike any other Monster Jam event, the Monster Jam Triple Threat Series is the definitive test of endurance, versatility and driving skills that showcases these premiere athletes as they go head-to-head in seven unique endurance competitions driving three different vehicles:  Monster Jam trucks, Monster Jam Speedsters and Monster Jam ATVs; ultimately battling for points in both racing and freestyle events that push themselves and their machines to the limit.
Who can you expect at the show? Monster Jam Triple Threat Series team athletes vying to be Vancouver champions are:
Grave Digger® driven by Cole Venard
Max-D® driven by Jared Eichelberger
El Toro Loco® driven by Mark List*
Monster Mutt® Dalmation driven by Cynthia Gauthier*
Zombie™ driven by Tyler Groth
New Earth AuthoritySM (N.E.A.) driven by Travis Groth
Scooby-Doo™ driven by rookie Myranda Cozad
Mohawk Warrior driven by rookie Bryce Kenny*
Plus, fans are always encouraged to come to the arena early on Saturday for the Monster Jam® Pit Party pre-show experience which provides unprecedented access to the Monster Jam trucks and drivers – you can see the trucks up close, meet the athletes, get their autographs and take photos to brag about! *Pit Pass required for entry; purchase price $10 for all ages.
A is always crazy excited to get to see the trucks up close, they dwarf anyone who stands near them and they are crazy impressive to the kids. A usually asks me after the show if my car can do anything the trucks can.. and no, it definitely can not! We recommend ear protection if you've got a noise sensitive kiddo, and with the venue being at the Pacific Coliseum this year, it's going to be louder than ever. This show has been a tradition for A and her dad since she was big enough to sit in the seats on her own, and she's already revv'ed up for this year's show.
EVENT DETAILS:
WHEN:           Friday, April 7, 2017 : Event Time:  7:00 PM
Saturday, April 8, 2017 : Pit Party open from 10:30 AM – 12:00 PM
(Sat. 1PM ticket & Pit Pass required for entry; Pit Passes available to purchase for $10 each)
Event Times:  1:00 PM and 7:00 PM
Sunday, April 9, 2017 : Event Time:  1:00 PM
WHERE:       Pacific Coliseum at the PNE – 2901 E Hastings St, Vancouver
TICKETS:     Grab your tickets online now at Ticketleader.ca or charge by phone at 604-252-3700
Tickets are affordably priced for the whole family with seats starting at just $15 each*
Pit Passes available to purchase for $10 each
More Information: Want more details about the show? Check out  www.MonsterJam.com or for information on the Vancouver leg of the tour, visit https://www.monsterjam.com/en-CA/events/vancouver-bc
Get Social:
We hope you'll make it out to enjoy the show! Vrrooooom!