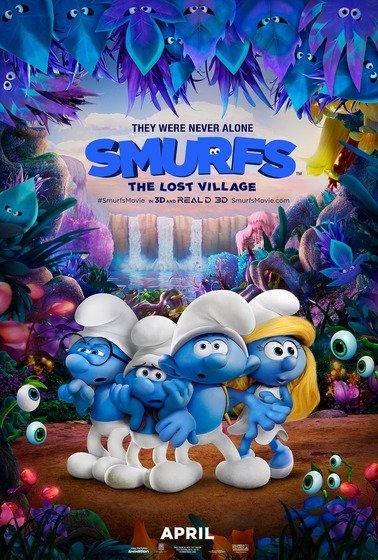 Growing up, the Smurfs are a Saturday morning tradition in our house! There was always a fun adventure with Smurfette, Papa Smurf and of course Gargomel that always had me tuning in and now you can enjoy Smurfs on the big screen! If you're looking for a family friendly move to check out just in time for Easter, Smurfs: The Lost Village has you covered. It's always fun and a must-see when a favourite from my child hood hits the big screen and I can't wait to take the family to see our little blue friends on the big screen.
Have you ever wondered if the Smurfs village is truly the only one? If there might be more Smurfs out in the world? Well, you're in for one crazy adventure as the Smurfs go on a journey to find the lost village! Voiced by some well known actors/actresses including Ariel Winter, Demi Lovato, Michelle Rodriquez and Julia Roberts it's easy to fall in love with these little blue friends and cheer on their adventure.
In this fully animated, all-new take on the Smurfs, a mysterious map sets Smurfette and her best friends Brainy, Clumsy and Hefty on an exciting and thrilling race through the Forbidden Forest filled with magical creatures to find a mysterious lost village before the evil wizard Gargamel does. Embarking on a rollercoaster journey full of action and danger, the Smurfs are on a course that leads to the discovery of the biggest secret in Smurf history!
Just in time for a family movie night, Smurfs: The Lost Village hits theatres nationwide on April 7, 2017 and you could win your way to see it! If your kids haven't been introduced to the Smurfs yet like mine – since we don't have cable there isn't much in the way of re-runs or anything anymore, you can check out fun activities on the Smurfs Movie webpage including a meet the characters area, fun printables and games, how to draw a smurf and so much more.
Flyby Productions has generously given us 2 passes to see the Smurfs: The Lost Village to share with one of our readers! If you'd like to see this fun family movie, enter below! Passes are valid until April 16th, 2017. Giveaway ends April 10th, 2017 at 12:00pm PST and winner will have 12 hours to claim their prize due to limited time to redeem. Open to residents of Canada. Good luck!
How to enter;
LIKE British Columbia Mom on Facebook (1 entry)
FOLLOW British Columbia Mom on Twitter (1 entry)
COMMENT with your favourite Smurf (1 entry)
Tweet this: (1 entry, daily!) [Tweet "@SmurfsMovie hits theatres Apr7! Can they find the lost village? Enter to win 2 passes! #Flyby #Giveaway"]
SHARE this giveaway via one of the buttons below. (1 entry, daily)
That's it! Good luck and make sure to come back daily to increase your chances of winning.
{Many thanks to Propeller Consulting, LLC for providing this prize for the giveaway.  Choice of winners and opinions are 100% my own and NOT influenced by monetary compensation.  I did receive a sample of the product in exchange for this review and post. Only one entrant per mailing address, per giveaway.  If you have won a prize from our sponsor Propeller /FlyBy Promotions in the last 30 days on the same blog, you are not eligible to win.  Or if you have won the same prize on another blog, you are not eligible to win it again.  Winner is subject to eligibility verification.}