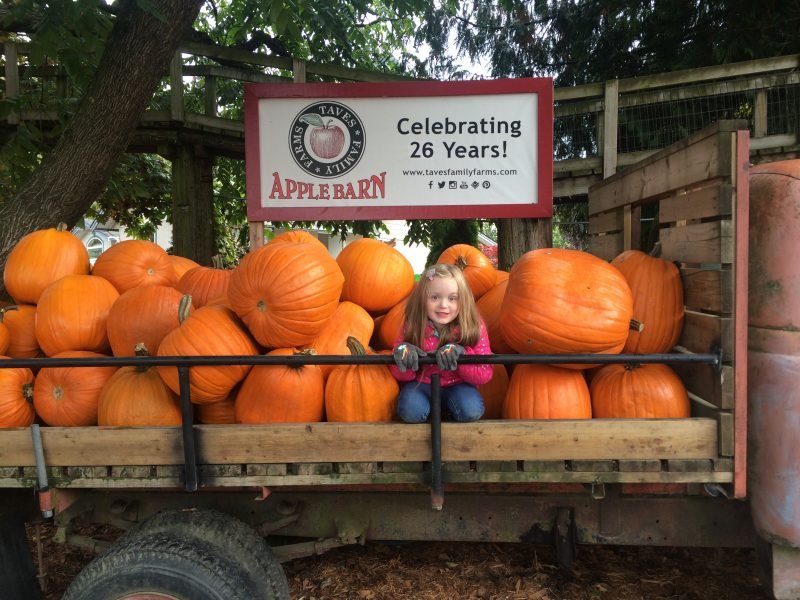 Fall, leading in to Winter is when our family seems to have the most "traditions" – we have things that we do every single Halloween, and Christmas! With October just sneaking up on us we knew we had to make a trip to one of our favourite pumpkin patches to celebrate all things Fall! 3 years ago I discovered the Taves Family Applebarn on a whim suggestion from a friend when we had nothing else to do, suffice to say my mind was blown – how was there SO MUCH to do in one area!?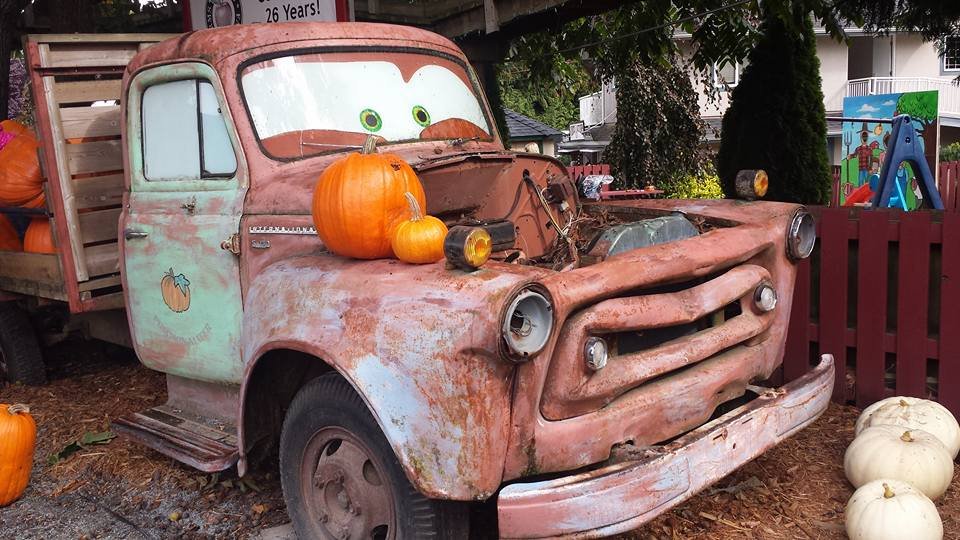 If you're looking for something to get in to the Fall/Autumn/Halloween spirit, we highly recommend making a visit out to the Applebarn, a family run farm in Abbotsford that celebrates all things Fall! From Apples, to apple cider made right on the farm to dozens of different types of pumpkins and everything in between!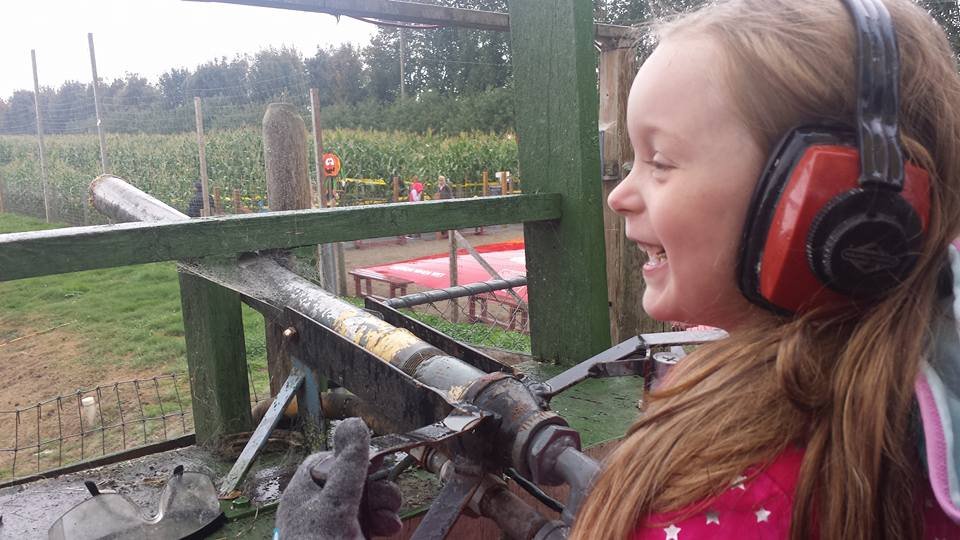 We picked a weather grumpy day to visit and did end up caught in a little bit of rain but that didn't stop the fun – with umbrellas in hand we tackled the Kid-friendly corn maze (there's a big adult one too, don't worry!) and then went to check out A's favourite thing at the Applebarn – the Pumpkin and Corn cannons! A was super excited that she was able to hit the car at the end of the alley with her 2/3 shots and earned 2 suckers for her awesome shots!
There is a ton of different things to do at the Applebarn and you can easily spend a day wandering, sipping on apple cider or enjoying apple slushies! From the Corn maze, to the petting zoo (make sure to bring a couple quarters for some feed), the playgrounds (yes there is more than one!), the hayrides, the jumping pillows and of course the pumpkin and apple patches, there is so much to see and do!
We had a specific plan for our trip but the rain did throw a little monkey wrench in it, we had hoped to head out to grab our pumpkin right when we got there but we ended up waiting until the rain cleared to head out to the patch. You can walk to the patch from the main area or you can hitch a ride on the Hayride which is included with your Applebarn admission!
Once you hop off the hayride you have about 7 minutes before the ride leaves again, or you can wait for the next round to come back or even walk back with your pumpkin spoils! We opted to grab our pumpkin and head back early after a little photoshoot in the patch, the pumpkins are HUGE already this year, we couldn't even pick some of them up! If you want a big one, grab a wheelbarrow from the front area and walk down to the patch, trust me.. you'll want help, they are huge.
We had such a great afternoon at the Applebarn and with so much to do, even the rain couldn't keep us down! Pack your boots and umbrella and enjoy all the indoor activities available, and pack a big bag and a change of shoes for when you get back to the car and you're set!
If you have a large family, I highly recommend taking a trip out to take advantage of the Taves Family Applebarn Family Pass which for $31.50, it's valid for 2 adults and 2 or more children – meaning you won't pay anymore regardless of how many children you have! I have friends that have quite large families and this can be a major money saver during family outings!
Corn Quest Maze
Bunny Town, hayrides & ponyrides
Pumpkin Patch
Jumping Pillow & Pumpkin Pillow
Tractor Trail
Pumpkin Cannon & corn gun (Open on weekends)
Concession Stand (Open on weekends)
Zipline Playground & Slides (lots of slides!)
Petting Barn & Farmville
Cider Press Demonstrations
U Pick Apples
Getting there;
Location: 333 Gladwin Road, Abbotsford British Columbia – Get Directions
Website: tavesfamilyfarms.com
Facebook: @tavesfamilyfarms
Instagram: @tavesfarms
The Taves family wants you to experience all the family fun at the Applebarn and has generously given us a VIP family pass to share with one lucky reader! Your pass will include admission to the Applebarn for you and your family, apple slushies for everyone (yum!) and a pumpkin to take home! Ready to win? Enter below!
How to enter;
Please leave a SEPARATE comment for each entry for them to count. Winner will be drawn at random on October 20th and will have 24 hours to claim their prize. Contest is open to residents of British Columbia.
LIKE British Columbia Mom & Taves Family Applebarn on Facebook (1 entry)
FOLLOW Taves Family Farms & British Columbia Mom on Twitter (1 entry)
Tweet this; [Tweet "RT: I want to win a family pass to @TavesFarms to find our perfect pumpkin! #Fall #Abbotsford"]
Leave us a comment telling us your favourite fall activity
That's it! Make sure to check back to see if you've won on October 20th! Good luck.